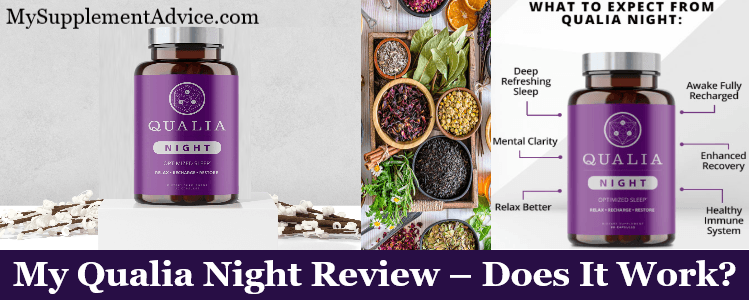 It's time for my Qualia Night review – a sleep supplement that is actually pretty good:
promising formula

a bit pricey

doesn't always work
So is it really effective in reality?
Well, there's a chance that it is – but let's find out.
I know you're curious about this product, so let's take a look at its details.
Note: This review is based on my opinion + research on Qualia Night.
Review Summary
---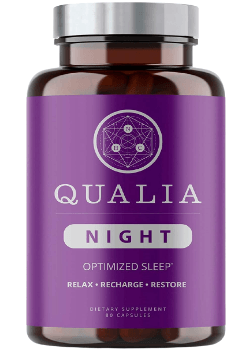 Full Name: Qualia Night by Neurohacker Collective

Product Type: Sleep Supplement
Best Actual Prize: Around $72
Cheapest Place To Buy: Amazon
Designed For: Supporting an optimized sleep:
improves deep sleep

promotes immune system

supports mental clarity
My Rating: 7.5 out of 10
Recommended?: Yes and no – it's a promising supplement but there are some problems:
very expensive

tricky to use

doesn't work very fast in many cases
I have another option for you – it's the best sleep supplement I know that is really worth investing in.
What I Liked About It
---
Excellent formula with original ingredients

Some of its compounds are trademarks

Trusted producer

Very informative website

Available on several retailers
What I Didn't Like About It
---
Very high price tag

Has a tendency to work slow in some cases

Not easy to take (4 pills/day)

Not a lot of reviews available
---
Qualia Night In A Nutshell
---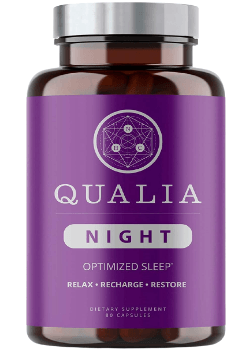 In my view – Qualia Night is a promising supplement.
It comes with an impressive formula based on herbal extracts.
Also – it has a professional website and company background.
However, there are some disadvantages about it:
hard to take

tends to work slow in some cases

quite pricey
Now – the recommended serving is 4 capsules per day, 5 days/week.
That's not the easiest dosage, in my view.
That especially for people who are not used to taking medicines.
In terms of side effects, I haven't seen any complaints so far.
That's probably because there are still not enough reviews about it.
Also, one bottle (80 capsules) costs $72 – which is only enough for 20 days.
It's honestly pricey and you can find some better options in terms of quality/price.
---
#1 – Claims & Producer
---
Let's first look at some important details about Qualia Night:
the health issues it helps

how it works

who is the company behind
1. Claims
---
Based on Qualia Night's website – this product is designed to offer comprehensive support.
This is possible by "optimizing your body's regenerative power at night."
Here are the possible benefits of the supplement:
promotes deep sleep

supports gut bacteria

recharges the body

clarifies the mind

improves immune system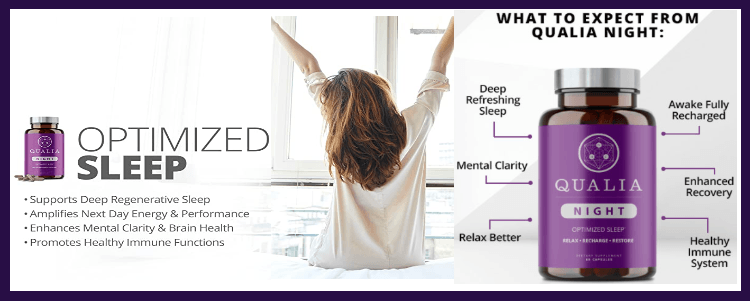 Also – I found out from their website that Qualia Night is non-sedative.
This means that you actually need to take it an hour before you sleep.
Other than that, it's also vegan, non-GMO and gluten-free.
If you ask me, the supplement seems to help with gut health as well.
Overall – its claims look legitimate and promising.
2. Company Behind
---
The producer of Qualia Night is a company called Neurohacker Collective.
It comes with a professional website with the following details:
products for cognition, longevity, immunity, beauty and vision

offers bundles for various products

contact info includes phone number, email link and mailing address

official website ships to Canada, UK, Ireland, Australia and New Zealand

shipping to other countries is through different online marketplaces
Also – the company was founded in 2015 and there are a lot of good reviews about it.
So in my view, it looks authentic and you can buy safely from it.
But just make sure that you're buying from legit 3rd party sellers.
---
#2 – Ingredients

(9 out of 10)
---
Now – Qualia Night's formula is a mix of good ingredients:
essential sleep compounds

herbal extracts
Based on my observations, it has more herbal ingredients than vitamins and minerals.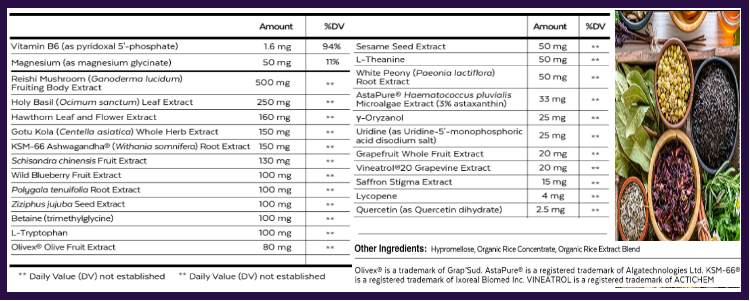 Also – the doses of each ingredient are just right.
Honestly, the overall formulation is really good.
So I did some research to give some info about the formula's benefits:
1. Essential Compounds
---
Firstly – this category includes vitamins, minerals and other essential ingredients:
Vitamin B6 – helps produce sleep hormones [1]

Magnesium – promotes body relaxation

Betaine – assists in regulating brain and body function [2]
L-Tryptophan – decreases sleep latency or time to get sleepy [3]

Y-Oryzanol – improves sleep and reduces anxiety

Uridine – enhances the quality of sleep [4]

L-Theanine – helps the body to relax before sleeping

Lycopene – decreases the difficulty in falling asleep [5]

Quercetin – provides antioxidant and anti-inflammatory effects
If you ask me, the individual benefits of these compounds are very helpful.
So imagine what all of them can do when they are combined together.
However – some ingredients are not too focused on sleep improvement.
2. Herbal Extracts
---
Let's move on to the majority of Qualia Night's ingredients:
Reishi Mushroom Extract – supports quality sleep [6]

Holy Basil Extract – provides calming properties to the body

Hawthorn Leaf Extract – helps the digestive problems and blood pressure [7]
Gotu Kola Extract – reduces anxiety and stress [8]

Ashwagandha Extract – improves sleep and relaxation

Schisandra chinensis Extract – prevents weakness and early aging [9]

Wild Blueberry Extract – supports the reduction of physical stress

Polygala tenuifolia Extract – improves the memory and brain
Ziziphus jujuba Extract – calms the mind neural activity [10]

Olive Fruit Extract – reduces stress and uneasiness

Sesame Seed Extract – improves sleep quality and sleep hormones [11]

White Peony Extract – maximizes the sleep effects of other ingredients

Haematococcus pluvialis Extract – protects improves the immune system functions [12]

Grapefruit Extract – provides antifungal, antiviral and antibacterial properties

Saffron Stigma Extract – restores sleep and treats insomnia and sleep problems [13]

Grapevine Extract – improves blood flow and brain functions
As you can see, there's indeed a lot of herbal compounds present in the product.
Also – some of them are registered trademarks or patents from laboratories.
This means they are the improved versions of the original substances.
If you ask me, we can consider the product as an herbal supplement for sleep.
---
Conclusion
---
In summary, Qualia Night has a mix of great ingredients:
herbal compounds

classic sleep boosters
On paper, its formula looks very promising and it has a series of studies behind it.
So I would recommend a composition like this.
---
#3 – Pills & Dosage (6 out of 10)
---
Let me give you some info you about Qualia Night at this chapter.
1. Pills
---
Based on its looks, here's how I would describe this product:
normal pill size

brown/moss green color

slight herbal scent
Honestly, it looks like a typical herbal supplement, just like the rest.
Also – it comes in a capsule form, not a tablet or caplet.
2. Dosage
---
Now – Qualia Night's dosage can be tricky for most people.
Based on its instructions, it requires 4 capsules per day.
The recommended time to take it is around dinner or several hours before bedtime.

Also – you should take it 5 days on and 2 days off each week.
It doesn't matter if you take the product off consecutively or apart.
Again, I mentioned that it's non-sedating and it wouldn't make you sleepy right away.
So you really need to take it hours before sleeping or wait for it to work.
If you ask me – it serving size it quite high:
taking 4 pills at once isn't easy

you may have a hard time swallowing them all
For this reason, I personally would go for an alternative that is easier to take.
---
#4 – Results

(6 out of 10)
---
Now – I looked for some authentic reviews for Qualia Night.
If you ask me why, it's because I want to see how it works for other people.
I do it to avoid giving you an biased opinion and to share the experiences of others.
Note: I only analyzed authentic reviews, not promotional or fake ones.
1. Positive Opinions
---
Firstly – I looked over the comments from Amazon, since they are more honest there.
So here's what satisfied buyers say about Qualia Night:
A lot of people experienced a better and uninterrupted sleep.

Others mentioned that their sleeping patterns improved.

Some said they felt rested and had some good mornings.

The rest stated that it prepared them for a good sleep every night.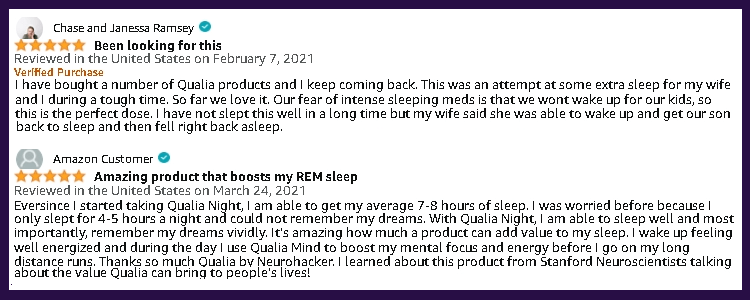 The majority of the previous buyers gave it a rating of 3.9/5 stars.
Honestly – I expected a higher number, because it has a lot of positive comments.
So even though others like its effect, I still have some slight doubts.
2. Negative Opinions
---
Let's now move on to the complaints of other buyers:
Most of them said that it took more than one hour to make them sleepy.

Some mentioned that it's very pricey for a sleep supplement.

Others experienced no effects for their insomnia (even after many days).

There are few people who commented that it made them awake instead.
So in my view, Qualia Night looks seems a little weak for a lot of people.
Maybe the reason is that it's not potent enough for more serious issues.
But so far, the most common negative feedback is related to its price.
---
Conclusion
---
To sum it up – Qualia Night has a mix of varied reviews.
But most of them are positive, so it looks effective for many users.
However, I also agree about the comments of some buyers about its price tag.
Overall – I recommend you to look for options that are better in all aspects.
---
#5 – Side Effects

(6 out of 10)
---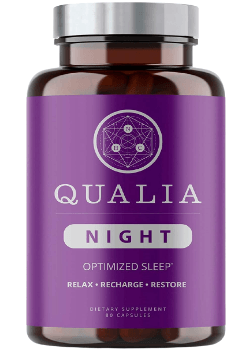 So far – I haven't seen any complaints about this product at this chapter.
However, it's also true that Quality Night has pretty few reviews overall.
For this reason – it's hard to judge it fairly.
Now, there were some users who complained about:
worsened insomnia

trouble falling asleep
It's true that these are not some classic side effects.
But they are somehow worsened symptoms.
As for allergies and digestive issues – Qualia Night seems to be free of that.
Even so – if you still doubt it, you can look for other alternatives.
---
#6 – Price (4 out of 10)
---
In my honest view – Qualia Night is very pricey compared to other products of its kind.
So I think it's not the best option for a sleep supplement.
1. The Exact Price
---
Now – Qualia Night is available on its official website.
But I chose the offers on Amazon, since it's cheaper there:
The price of a bottle is $72

Subscription will give you a 5% or 10% discount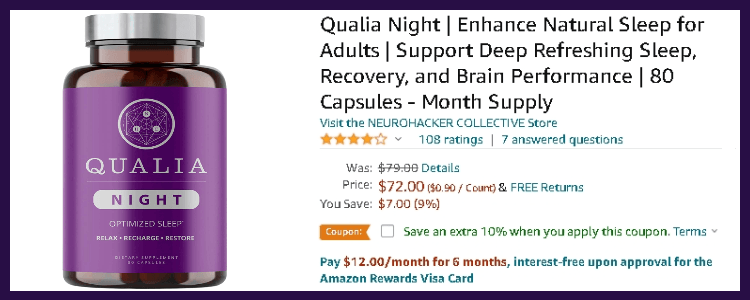 There is a discount on its official website as well – but the overall price is higher.
Upon subscription:
it will cost $39.50 for the first shipment

$69 is the price from the second delivery on
Honestly, I'm not a fan of products that don't have a constant price.
Besides, $69/bottle is a lot, to be honest.
And if you don't sign up for a subscription, you pay over $70/bottle.
Plus – I want to highlight that a bottle has 80 capsules of the supplement.
If you follow the suggested use (4 pills/day), it will only last for 20 days.
However, since it advises you to take it 5 days a week, a bottle should last a month either way.
But even so, it's quite expensive – so it's not among my personal favorites.
2. Competitors' Price
---
I would suggest you to try a better option, it's my #1 recommended sleep supplement.
The product I'm telling about is Sleep Support Plus: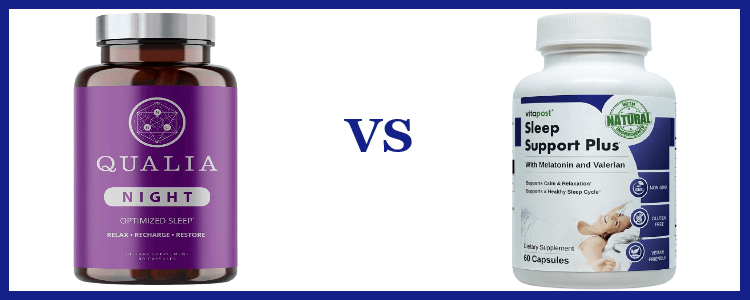 Sleep Support Plus contains a mix of clinically tested and unique ingredients.

It's a formulation meant to help and treat mild to serious sleep problems.

Qualia Night has some essential compounds for sleep with herbal extracts.

The overall formula is promising as well.

Sleep Support Plus requires only 2 pills before bedtime.

Meanwhile, Qualia Night needs 4 capsules daily for 5 days/week.

Sleep Support Plus can be bought for only $19 from $28 (original price).

A bottle of Qualia Night is around $72.
In my view – both supplements are good on their own.
But Sleep Support Plus excels more in some aspects, compared to Qualia Night.
For its value, it's incredibly affordable.
So it's my personal recommendation, because its price is more worth it.
---
Conclusion
---
If you consider Qualia Night at this chapter, it's quite pricey:
one bottle (80 capsules) is $72

it's enough for 30 days
Again – it's not a bad product at all.
But I still believe there are options that work better and are more affordable.
---
#7 – Final

Conclusions
---
Let me summarize my views on Qualia Night in this chapter.
1. Promising Formula
---
Firstly – Qualia Night has a good set of ingredients:
several herbal extracts

essential sleep compounds
If you do your research too, you will find out they are all beneficial.
So if you're into more herbal content, then it's the product for you.
2. Credible Background
---
Now – Qualia Night comes from a brand called Neurohacker Collectiv.
Upon checking its website, it offers a lot of promising supplements.
Also, it has a very informative website where you can learn a lot about it.
So I think it's safe to buy from this company and it's not a scam (so far).
3. Pretty Expensive
---
For the last part – Qualia Night is quite pricey:
a bottle costs $72

has 80 capsules

lasts for one month
In my view, you can find an even better option at a lower price.
---
My Verdict – Worth It Or Not?
---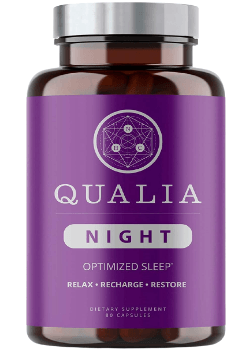 Short answer: Yes and No – Qualia Night has some good aspects.
But there are also some cons about it:
Hard to take (4 capsules/day)

Pretty expensive price tag

Tends to work slow in some cases
If you ask me, Qualia Night is a decent sleep supplement.
You can rely on its ingredients and you can get a lot of benefits from it.
However – the price it has is not the best, in my view.
So I have an affordable option for you that I also consider better.
I urge you to try my #1 recommended bone supplement.
It's called called Sleep Support Plus:
Excellent mechanism of action

Few chances of triggering side effects

Created for insomnia and sleep problems

Contains a unique and original mix of ingredients

Lots of satisfied users behind
If you ask me, Sleep Support Plus is the best sleep product from the market.
Not only because it has a lower price – but it's also really effective.
So it's really worth investing it, as it helps with mild to serious sleep problems.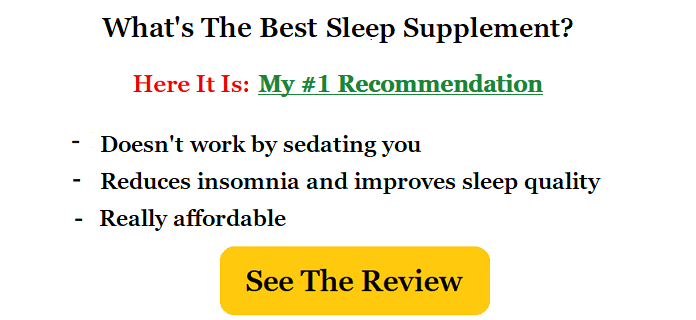 References:
1 – https://pubmed.ncbi.nlm.nih.gov/-29665762/
2 – https://www.ncbi.nlm.nih.gov/-PMC8224793/
3 – https://pubmed.ncbi.nlm.nih.gov/-6764927/
4 – https://pubmed.ncbi.nlm.nih.gov/-30685492/
5 – https://www.ncbi.nlm.nih.gov/-PMC3703747/
6 – https://www.healthline.com/nutrition/-reishi-mushroom
7 – https://www.healthline.com/nutrition/-hawthorn-berry
8 – https://www.ncbi.nlm.nih.gov/pmc/articles/-PMC3116297/
9 – https://www.ncbi.nlm.nih.gov/pmc/articles/-PMC5378736/
10 – https://www.ncbi.nlm.nih.gov/pmc/articles/-PMC4698858/
11 – https://www.healthline.com/-sesame-oil-benefits
12 – https://www.ncbi.nlm.nih.gov/pmc/articles/-PMC7093296/