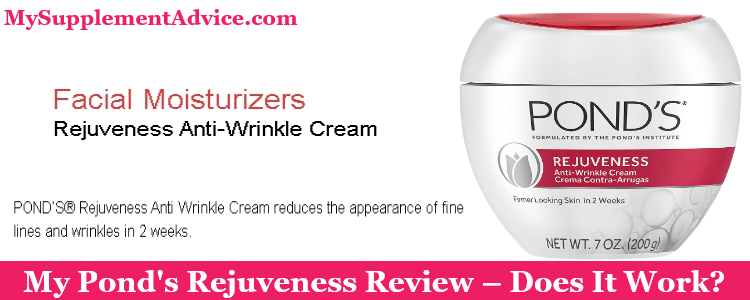 It's time for my Pond's Rejuveness review– that seems like a very affordable anti-aging cream.
In fact, if you're close to any drugstore, you can easily find it.
Still – the question is, are there any chances that it's a scam?:
low price

varied ingredients

possible side effects
So what's the truth behind Pond's Rejuveness?
I tried to look and analyze it in detail, so that I could give you the real facts about it.
Note: This review is based on my opinion + research on Pond's Rejuveness.
Review Summary
---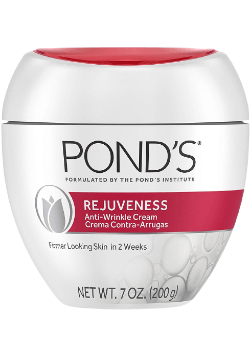 Full Name: Rejuveness Anti-wrinkle Cream by Pond's
Product Type: Anti-Aging Cream
Best Actual Prize: Around $13
Cheapest Place To Buy: Amazon
Designed For: Moisturizing the skin– it claims to:
reduce wrinkles

firm the skin

remove dullness
My Rating: 6 out of 10
Recommended?: Not really. It's not a bad product, but it doesn't stand out either:
Lacks strong anti-aging components

Basic formula overall

Not suitable for sensitive skin
If you want an anti-aging cream that really works, I personally recommend a much better anti-aging product instead.
What I Liked About It
---
Quite affordable

Many authentic opinions

Easy to find in several retailers and shops
What I Didn't Like About It
---
Weak formula

Lacks strong forms of anti-aging compounds

Not really made for wrinkles

Causes mild side effects
---
Pond's Rejuveness In A Nutshell
---
Shortly, this cream seems an excellent choice if you're on a budget.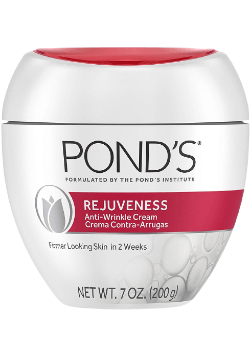 That's because of its low price (compared to other skin care products).
However – is this low price really worth it?
If you ask me – there are several reasons why I prefer other products:
Absence of strong anti-aging ingredients

Takes a longer time to see the effects

Weaker formula

Works better for hyperpigmentation and protecting skin barrier
Now – you surely get a decent amount of the product for its price, 200 g or 7 fl.
But this cream actually requires using a higher quantity of product (than others).
Still, such a low price isn't a great sign of quality when it comes to this cream.
So I'm not so sure it's very effective, given its price and user reviews.
It is indeed a good deal – but not a product I would recommend.
---
#1 – Claims & Producer
---
Here are some general info about this cream:
how it works

who is the company behind it

which skin issues it targets
1. Claims
---
There's nothing much when it comes to this product's description on its official website.
Its main claims is that it "reduces the appearance of fine lines and wrinkles in 2 weeks."
According to its Amazon listing, here's what the claim means:
reduces wrinkles

removes dull surface skin cells

smooths fine lines

supports skin firmness and elasticity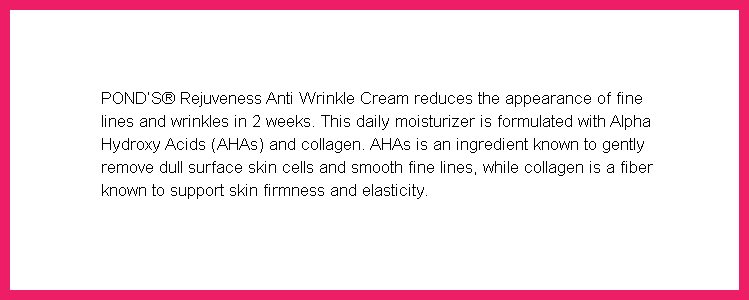 Now – this cream's description states it helps preventing the early signs of aging.
Also, it claims to be sold every 10 seconds (which means it's very popular).
Given its low price, that's totally possible – since people tend to go for cheaper products.
But still – I doubt it can work in 2 weeks, as it claims.
As I kept telling you throughout my reviews, there's no anti-aging cream that can work so miraculously.
2. Company Behind
---
The brand behind this cream is Pond's (which is currently owned by Unilever).
Here's some info about it:
the brand only sells skin care products

product ranges from facial cream, sheet masks, cleanser, etc.

it has been on the market for a long time
I would say that Rejuveness cream is quite a staple of this brand.
That's because it's one of the most popular and easy to find products from Unilever.
So if you ask me, it's totally safe to buy it.
---
#2 – Formula (7 out of 10)
---
Normally – the full list of ingredients should be available on Pond's official website.
However, I managed to find it on Amazon: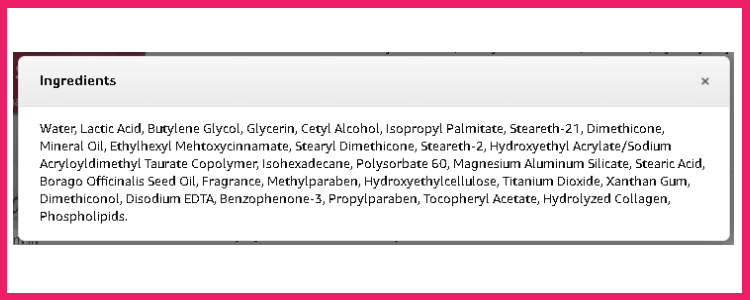 My first impression is that it looks decent:
varied ingredients

contains some less common ingredients
Don't imagine that it's an amazing composition, but it's better than others.
Now – there are 3 key ingredients highlighted and I will explain them briefly.
1. Lactic Acid
---
There's a very promising ingredient when it comes to anti-aging called Alpha-Hydroxy Acids (AHAs).
And in this cream, it comes as Lactic Acid:
treats hyperpigmentation and age spots [1]

improves skin tone

reduce pore appearance
Overall, Lactic Acid will help your skin look even and balance out the uneven complexion.
2. Collagen
---
In general, collagen is naturally produced by our body.
As we age, its production slows down (as well the amount that is produced).
What does collagen do to your skin?:
improves its overall health

reduces fine lines [2]

promotes skin elasticity
Now, this compound comes as Hydrolyzed Collagen in Pond's Rejuveness.
That's a big advantage, as this form is easier to absorb (than others).
3. Vitamin E
---
Adding vitamins to skin care is a very common practice, as most creams contain various vitamins.
When it comes to Vitamin E itself:
provides antioxidant benefits [3]

reduces UV damage

promotes skin healing
In short, this compound will help your skin heal and strengthen its protective barrier.
4. Other Ingredients
---
There are some other ingredients present in this product:
Titanium Dioxide – acts as a UV filter

Borago Officinalis Seed Oil – has anti-inflammatory properties [4]

Phospholipids – helps with hydration
I mentioned these compounds because they can contribute good benefits to the skin.
And they are also present in almost any skin care product.
---
Conclusion
---
Pond's Rejuveness has a promising formula:
contains Collagen, AHAs and Vitamin E

also contains other common skin care ingredients
However – I noticed that it lacks other strong anti-aging ingredients.
Plus, it also lacks a high-quality ingredient for skin hydration.
So its formula is decent, but not amazing.
---
#3 – Consistency & Dosage (5 out of 10)
---
Let's talk about this cream's texture.
1. The Consistency
---
Based on its physical appearance, here's how I would describe it:
white color

thick texture

strong perfume scent
I would also note that it looks just like a regular cream (similar to a lotion).
Plus – it may take a little time to be absorbed by the skin.
2. The Dosage
---
Here's how you should use this product, based on its directions:
Clean the face first.

Scoop the cream and apply it to the face and neck.

Apply this twice daily.

There's also an additional reminder for people with sensitive skin types.
It says you should wait 10-15 minutes after cleansing (before applying this cream).
Now, what I noticed is that you definitely need to use more amount of cream.
That's because you should also apply the product onto your neck as well.
So there is a chance that it will not last longer than most products (as you initially have the impression).
---
#4 – Results

(7 out of 10)
---
In order to avoid giving you a biased opinion, I solely count on the reviews of customers.
I usually do that because that's how you know if the product really works or not.
Plus – I prefer to look at reviews from retailers, because those are more authentic.
Note: I only analyzed authentic reviews, not promotional or fake ones.
1. Positive Opinions
---
I checked this cream's reviews (both on Amazon and on its official website).
At first, I expected it to get a solid 5 stars – but most of its reviews have an average of 4 stars.
On Amazon, here's what most users praise it for:
Some people say that it definitely made their skin firmer.

A lot of users were satisfied with how their skin looked after using it.

Others claim their skin became shinier and smoother.

The rest swear that it works overall.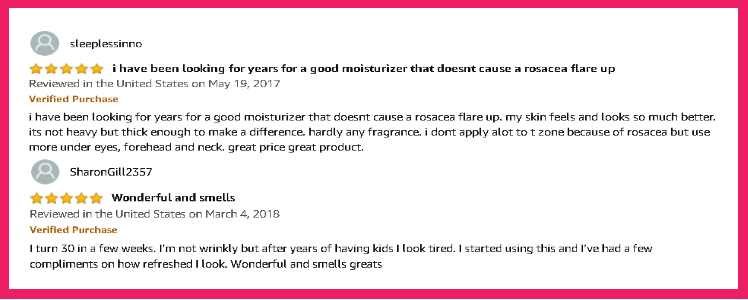 Overall – it got 4.3/5 stars on Amazon, which is higher than its rating on its the website.
However, I didn't find many praises in terms of wrinkles and fine lines.
So even though the product works, its anti-aging effect doesn't seem to be the best.
2. Negative Opinions
---
9% of all reviews gave this product 1 star, which is a pretty high per cent.
This means the number of unsatisfied users was quite high.
Now, here's what most customers didn't like about this cream:
Most experienced breakouts after a day or two of using it.

Some didn't notice an improvement in terms of wrinkles and fine lines.

People with sensitive skin didn't like this products'effect.

A lot of users also complain about its strong perfume scent.

There are also a significant number of customers who experienced side effects.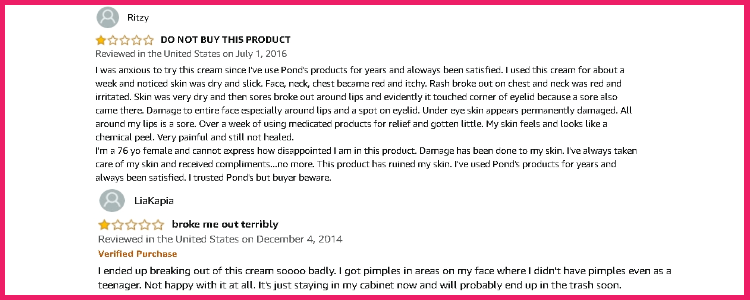 Honestly, I find it ironic that this cream is made for people with sensitive skin.
That's because it's clearly not suitable for this category (given so many complaints).
---
Conclusion
---
This cream has mixed reviews overall.
But most people didn't praise it for its effect on reducing wrinkles.
For this reason – it's not an anti-aging product I would recommend.
It might work well for hydration and protection, but it's not so effective against wrinkles.
---
#5 – Side Effects

(6 out of 10)
---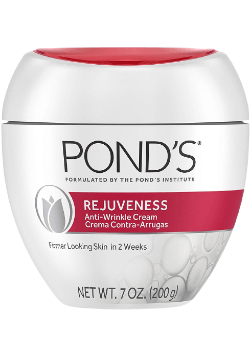 As I said – there are a couple of complaints at this chapter.
However, a big part of them is from people with sensitive skin.
Other than that, some users experienced issues like:
Acne and breakouts

Burning sensation/burned skin

Allergic reaction due to fragrance

Chemical peeling sensations
These side effects are the best proof that this cream is not good for people with sensitive skin.
Its side effects are surely more common for this skin type.
But even so, there are still enough complaints.
So it's not the safest product from the market, to be honest.
---
#6 – Price

(8 out of 10)
---
Pond's Rejuveness is affordable, without a doubt.
But still, I don't consider it such an amazing choice. Let me explain why.
1. The Exact Price
---
Even though it's featured on its own website, there's no available price listed there.
That's why I looked over into Amazon to see the deals for this cream:
Standard price is $13.27

A jar contains 200 g(7 fl. oz.)

It offers free shipping and returns (with Amazon Prime)

There's only one version available and there are no bundles offered.
Overall – I would say that it's a fair price for its quantity and ingredients.
But still, just so you know, there are no strong anti-aging ingredients inside this cream.
2. Competitors' Price
---
I only want to compare this product with the best anti-aging product I know.
I'm talking about Kollagen Intensiv by Skinception: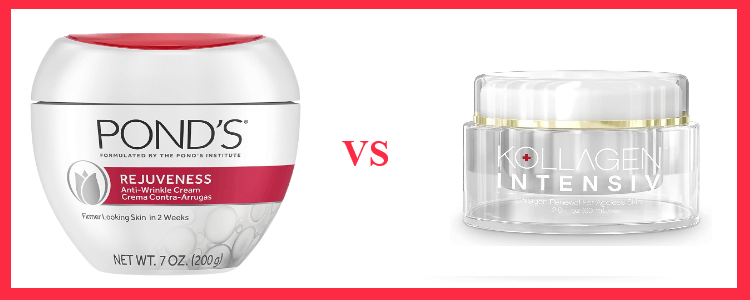 Kollagen Intensiv has the best formula with a very potent effect.

Pond's Rejuveness has a decent formula but it's clearly inferior.

You can buy Kollagen Intensiv for $60.

In the best case, you can get it for about $36 (due to discounts).

As for Pond's Rejuveness, it costs $13.27.

Still, it's not so effective against wrinkles.

In my case, a jar of Kollagen Intensiv can last up to 6 weeks.

Pond's Rejuveness should normally last about a month.
So between these 2, I consider Kollagen Intensiv as the better choice.
It has much strong anti-aging ingredients, so its effect is clearly much better.
And that's what you should look for in the product you want to invest in.
---
Conclusion
---
I can say that Pond's Rejuveness is a decent product.
However – I don't think it's strong enough to reduce the visible signs of aging.
The price is affordable for what it can do.
But don't expect too much from it, as it can only give you a small improvement.
So in terms of quality/price, it's not anything special.
---
#7 – Pond's Rejuveness In 3 Ideas
---
Here's the summary of my opinions on this product.
1. Weak Formula
---
I analyzed this cream's ingredients and they don't look amazing:
only one vitamin

there's also AHA and collagen

formula has a mix of common skin care components
This composition is quite decent, but it lacks strong anti-aging ingredients.
They would definitely be more effective against the visible signs of aging.
2. Many Negative Reviews
---
Despite it having a lot of positive reviews, I find the negative ones very significant.
That's because those complaints are related to packaging – but to skin reactions:
pimples and breakouts

burning sensation

chemical peel feeling

skin redness and itchiness
Now, these reactions are surely not minor.
That's why I advise you to take care when using this cream.
3. Affordable Price
---
When it comes to this cream's price, there's no doubt that it's cheap.
Plus – it's also very easy to find online and in drugstores:
standard price is $13.27

one jar contains 200 g (7 fl. oz.)
That's a very good offer, but don't expect too much because you will definitely get what you pay for.
The improvement won't be too significant in terms of wrinkles and fine lines.
---
My Verdict – Worth It Or Not?
---
Short answer: Not quite.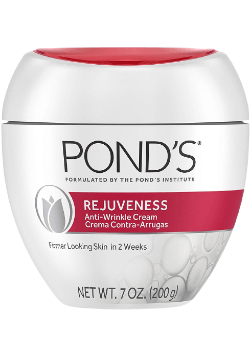 It's a decent product and it's definitely not a scam.
However – I don't think it's strong enough to diminish visible signs of aging:
Weak formula overall

Better for brightening and hydrating skin

Not suitable for sensitive skin

Isn't effective to everyone
There are enough users who are satisfied with its effect, but it doesn't mean that it's excellent.
If you're on a budget, you can try this – but again, don't expect too much.
Still, if you really want to see some significant changes, I recommend Kollagen Intensiv:
It has some excellent anti-aging ingredients.

Several specialists and professionals endorse it.

A lot of satisfied customers tried and liked it.

You can get deals such as a 40% discount and freebies.

One bottle tends to last longer.
Now, this cream can be pricier – but the effect you will get is much stronger (in terms of anti-aging).
So I really suggest you try this cream instead, if you want to see some real changes.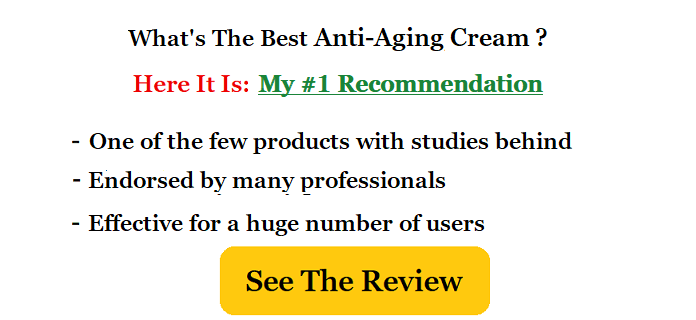 References:
1 – https://www.ncbi.nlm.nih.gov/pmc/articles/-PMC6017965/
2 – https://www.ncbi.nlm.nih.gov/pmc/articles/-PMC7070905/
3 – https://www.ncbi.nlm.nih.gov/pmc/articles/-PMC4976416/