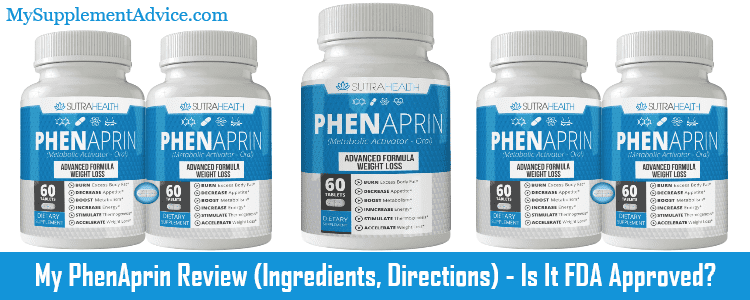 It's time for my PhenAprin review, because it used to be a very popular product.
And if you ask me, it's a promising weight loss supplement:
normal price range

many real user reviews

does cause some side effects
But a lot of people have asked me "Is it FDA approved?".
Well, I will answer your question (and a lot more) in the following lines.
Note: This review is based on my research + opinion on PhenAprin.
Review Summary
---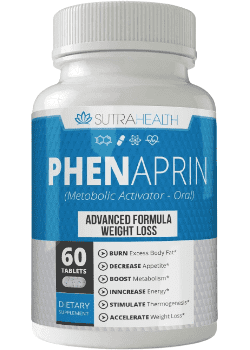 Full Name: PhenAprin Diet Pills by SutraHealth
Product Type: Weight Loss Supplement
Best Actual Price: Around $40
Cheapest Place To Buy: Amazon
Designed For: Promoting weight loss and appetite suppression, as well as:
enhancing metabolism

stimulating thermogenesis

accelerating weight loss
My Rating: 7 out of 10
Recommended?: Not quite – it has its own problems:
high risk of side reactions

formula is pretty weak

contains DHEA (pretty dangerous)
If you ask me, the supplement is effective enough for weight loss, but it does come with some risks.
You can find a much safer alternative that would help you lose weight.
This is why I recommend that instead.
What I Liked About It
---
Contains some helpful ingredients

Many honest reviews from people who tried it

Not very difficult to consume (2 capsules/day)

Decent doses (within the limits)

Price is pretty average
What I Didn't Like About It
---
Only effective if you work out

Contains DHEA, which is dangerous for women

A little expensive for the risk it comes with

High risk of serious adverse reactions

All ingredients are listed in a blend (no separate doses)

Caused weight gain and cravings in some users
---
PhenAprin In A Nutshell
---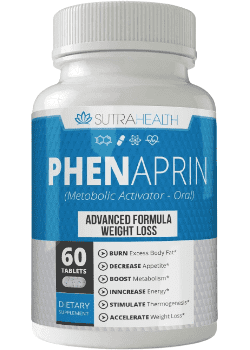 PhenAprin is a promising weight loss supplement.
It's a thermogenic product and its mechanism of action is easy to understand.
So basically, it burns your excess fats in order to produce more energy.
However, all of its ingredients are listed in a blend.
There are no individual doses or mentions.
But the question is – is it FDA approved, as a lot of people wonder?
Not really, unfortunately:
Doesn't have any studies/clinical trials behind.

FDA didn't make any statement about it.
So it's not one of the few FDA approved supplements.
Sorry to disappoint you, but that's the truth.
And that's not all:
contains a stimulant and DHEA (an androgen hormone)

both ingredients are risky for certain people

caused increased weight gain in some users

has a high risk of side effects

only works if you exercises intensely
So if you ask me, these are all some big red flags.
Just think about it…
You're taking a weight loss supplement to melt off excess fat.
You don't really want the other way around, which seems to have happened in some cases of PhenAprin.
So even if it's not that pricey ($40/bottle), it's not the best deal from the market.
I'm pretty sure you can find other alternatives that won't make you gain more weight.
---
#1 – How It Works & Producer
---
I will start this review with the general details about PhenAprin:
its mechanism of action

the company behind

how it targets weight loss
1. How It Works
---
PhenAprin claims to be an "advanced and revolutionary" new diet thermogenic booster pill.
So its mechanism of action is pretty clear.
It works by burning your excess fat, in order to give you more energy.
In this way, you manage to lose more weight exercising.
However, this means it's a supplement that works best if you also work out.
That's why it's not suitable for all categories of people.
With that, here are the other promises of the supplement:
boosts metabolism

decreases appetite

burns excess fats

accelerates weight loss

increases energy level

stimulates thermogenesis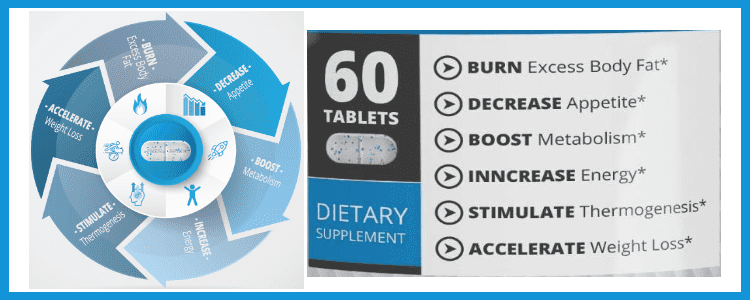 If you ask me, there's nothing wrong with the supplement's approach.
You just need to pair it with physical activity, which not everyone does.
However – I want to say some words about its DHEA content.
DHEA is an androgen hormone that can be risky for women.
It tends to cause male-like side reactions (acne, body hair, etc.).
That's why I never recommend products containing DHEA to women (unless they're prescribed by a specialist).
For this reason – I would not recommend the supplement for losing weight.
2. Company Behind
---
Now – the company behind PhenAprin Diet Pills is SutraHealth.
Actually, its official website is the same one as PhenAprin's, which is very weird.
But this makes sense if I tell you that it doesn't have any other products in its portfolio.
Let me give you some quick facts about it:
only sells PhenAprin as its main product

contact info includes submitting a complaint ticket
In my view, it's not a sketchy brand.
So it's safe to purchase from it, if you're planning to.
---
#2 – Ingredients (6 out of 10)
---
Honestly – I have some mixed feelings about PhenAprin's formula:
has some promising compounds

also contains stimulants and androgen hormone

composition includes several amino acids

all ingredients are listed in a blend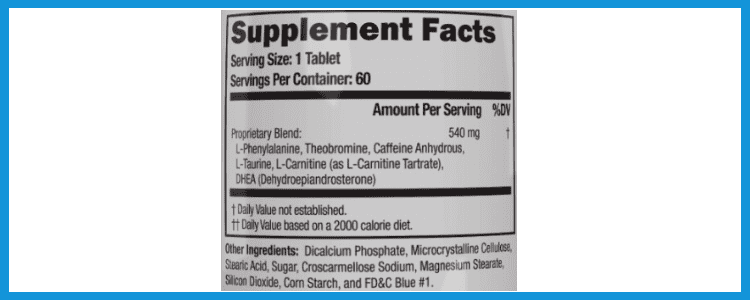 The first thing I dislike about its formula is the lack of individual doses.
The blend's overall dose isn't huge – so the actual ingredients are most likely under-dosed.
Back to its formula – it contains caffeine, which is a famous stimulant.
But unfortunately, it increases the risk of side reactions (palpitations, headaches or jitteriness).
We're going to talk more about this later on.
Also – it contains DHEA, which is an androgen hormone.
This hormone is definitely very risk for women:
causes several side effects specific to men

they include excessive body hair, acne and everything specific to hormonal imbalances
Lastly – theobromine is also present in the formula.
Basically, it enhances other ingredients' effect, especially the thermogenic compounds.
Let's now list down the entire composition of PhenAprin's Proprietary Blend:
L-Phenylalanine – modulates gut hormone release to promote satiety [1]

Theobromine – supports the effects of other weight loss ingredients

Caffeine – increases the chances of losing weight and fat reduction [2]
L-Taurine – boosts energy expenditure and decreases fat mass [3]
DHEA – reduces the accumulation of abdominal fats [4]
L-Carnitine – allows the breakdown of fats to produce energy [5]
Since there are no individual doses, it's hard to analyze each ingredient's potency.
That's why the risk of side reactions is still high.
The formula can indeed support weight loss and appetite suppression, but I don't recommend it.
---
Conclusion
---
Overall – PhenAprin's ingredients are all combined in one blend.
But I'm not too excited about its formula anyway, since it also contains DHEA.
Again – it doesn't have the best results on women, on the contrary.
So I just urge you to look for alternatives with some better and safer ingredients.
---
#3 – Pills & Dosage (7 out of 10)
---
So far – PhenAprin is looking pretty good at this chapter.
1. Pills
---
Here's what you should expect from PhenAprin in terms of appearance:
white pills with small grains of blue

designed as caplets

their size is a bit larger than usual
If you ask me, its caplets are quite different than most weight loss pills.
The difference is not huge, it's just that they are a bit larger.
However – some people might have a harder time swallowing them.
2. Dosage
---
In my view – PhenAprin is pretty convenient to take.
You just need a total of 2 tablets daily.
You should also consider the guidelines below:
take a tablet on an empty stomach (in the morning)

take the other tablet about half an hour before lunch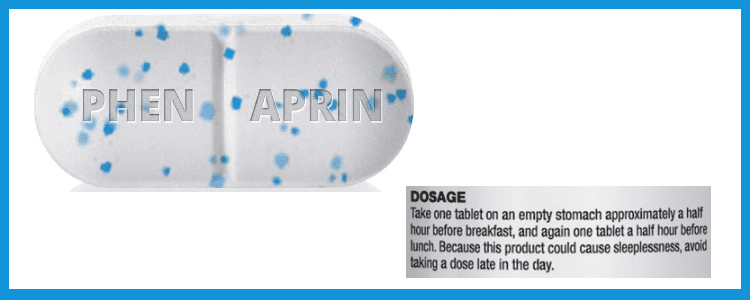 Also – it's mentioned that it can cause sleeplessness and insomnia.
So it's not recommended to take it later in the day.
But to be very honest, I'm not a huge fan of taking a supplement on an empty stomach.
In most cases, this leads to stomach cramps and pain.
You can try taking the pills before eating – and if this happens, it's better to eat first next time.
Overall – I would say that PhenAprin is easy to take.
---
#4 – Results

(7 out of 10)
---
So far, PhenAprin has a considerable amount of user reviews.
They are be a great tool for us to analyze how it works in terms of weight loss.
Note: I only analyzed authentic reviews, not promotional or fake ones.
1. Positive Opinions
---
PhenAprin has an official Amazon store.
So we will feature the reviews there, since they're a lot more legit and honest.
With that, let's now take a look at the things people liked about it:
Most of them experienced weight loss.

Some also mentioned how it suppressed their appetite.

Others felt full the whole day after taking it.

The rest stated that it gave them more energy for the day.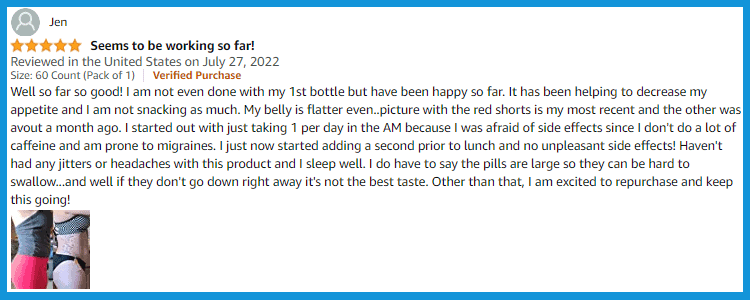 Honestly, there are a lot of good reviews about the supplement.
However – it still received an average rating of 3.4 out of 5 stars (only).
I was expecting a higher rating, after all the positive feedback I found.
I mean, it really seems to have helped with curbing the appetite and losing extra fat.
But even though it looks very effective, there are a lot of other reasons why its rating is rather mediocre.
2. Negative Opinions
---
Now, let's list down the reasons for the not-so-high rating of PhenAprin:
A lot of customers experienced serious adverse reactions.

Others mentioned getting the opposite results of its claims (especially gaining more weight).

Some said that it's just a waste of money and time.

The rest commented that it's not effective at all.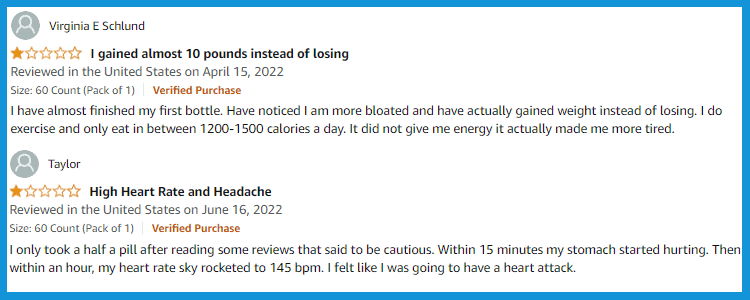 If you ask me, most complaints were about how it caused the opposite of what it promised.
To be exact, a lot of customers experienced adverse and even weight gain.
Honestly – that's not what you expect when you want to lose weight.
So I strongly recommend that you consider the negative feedback before deciding to try this product.
---
Conclusion
---
To summarize, PhenAprin has very mixed reviews.
Some people experienced positive outcomes that followed the product's claims.
However – there were also complaints about weight gain and side effects.
So even though it's effective in some cases, I would still not recommend it.
There are better alternatives that won't worsen your current weight problems.
---
#5 – Side Effects

(3 out of 10)
---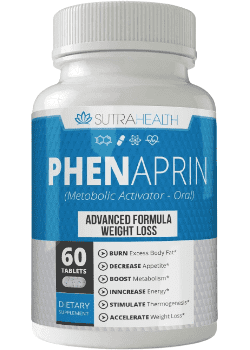 We already know that PhenAprin caused several adverse effects.
So if you're curious, here are the most common ones mentioned by previous users:
dizziness and headache

jitters and palpitations

anxiety and depression

brain fog and loss of focus

fatigue and lethargy

diarrhea and stomach pain

increased weight gain

constant hunger/cravings
Obviously – these side effects are very alarming.
Again, the product contains a stimulant as well as DHEA, which are pretty risky.
Speaking of DHEA – an increase in these hormone can cause a lot of issues in women:
excess body hair

acne and breakouts

scalp hair loss

irregular periods and infertility
Now, the problem is that the rate of secondary effects in this supplement is quite high.
Compared to other products, PhenAprin does seem to have a lot more.
That's why I consider it pretty dangerous.
It's not just because of its DHEA or caffeine composition, it's because of its entire formula.
Overall – I would skip this and look for a safer and more effective alternative.
---
#6 – Price (7 out of 10)
---
Honestly – PhenAprin's price is not too controversial.
In fact, it's in the middle range, compared to similar products.
1. The Exact Price
---
If you plan to buy from PhenAprin's website, bad news – you will be directed to its Amazon page.
But there's no difference in the pricing.
So let me list the full deal for you:
Single bottle costs $39.95

2 bottles cost $59.95

Free delivery (on selected days)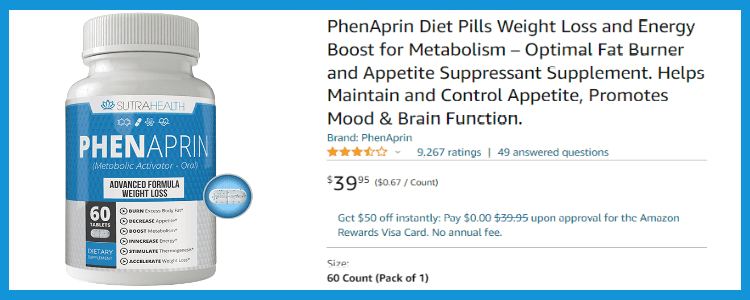 Now, the price of PhenAprin would be decent if you didn't know the threats it poses.
But I already mentioned the side effects and bad results it can lead to.
Honestly, I don't think you should risk your money just to see if it works or if it makes you gain more weight.
You basically pay the money just to see in which category you will be (and it's mostly a matter of luck).
Sure enough – if you work out regularly, it should most likely help you burn more fat.
But this is all up to you.
So even though it's not super expensive, I don't recommend it.
Better invest your money in an alternative that won't leave you guessing.
2. Competitors' Price
---
Here's an option that will definitely give you your money's worth.
It's called PhenQ – and it's my top recommended weight loss supplement: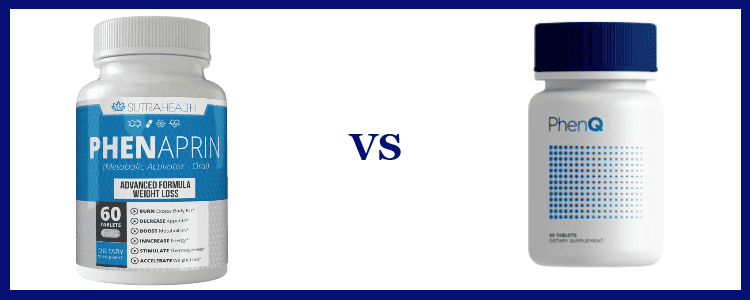 PhenQ contains more additional ingredients besides its blend.

It doesn't have any androgen hormones, so it's super safe for women.

The risk of side effects is almost zero (the risk of weight gain is actually zero).

PhenAprin's formula is only designed as a blend.

It contains amino acids, stimulants and DHEA.

However, it has a high risk of side effects (especially hormonal ones).

PhenQ is designed as capsules, while PhenAprin comes in caplets.

The regular price of PhenQ is $69, but it can be bought for only $37.

One bottle of PhenAprin is $40 (2 pack costs $60).
Now, both supplements are pretty famous for weight loss.
But if you look closely at their formulas, PhenQ is much more effective.
Not to mention that it works in 5 different ways.
So besides its fat-burning and appetite-suppressing effect, you will get even more benefits.
Most importantly, it's very safe to take and very well tolerated.
Overall – it's a much better product for weight loss.
It will help you melt off pounds safely, but for real.
---
Conclusion
---
Overall – PhenAprin's price falls in the middle range.
It's not too expensive and it's not super affordable either.
However, it caused weight gain and several side effects in some people.
So I don't think it's a good investment at all, in this situation.
---
#7 – Final

Conclusions
---
Overall – here are my summarized views on PhenAprin.
1. Risky Formula
---
PhenAprin's formula is not my personal favorite:
only had one blend

contains DHEA

is designed as a thermogenic
Well – it's effective for some people who tried it.
However, a lot of customers also experienced the opposite of its claims and some serious side reactions.
If you ask me, those red flags only mean that the product is risky.
Besides, it only works if you work out intensely, giving its mechanism of action.
2. Comfortable Serving Size
---
If you ask me, PhenAprin has a normal serving size.
Although it has some slightly bigger pills, they are still bearable.
You only need a total of 2 caplets on a daily basis.
Just make sure to not consume the product in the evening.
It has caffeine, so it can keep you awake for longer than you planned.
3. Not The Best Deal
---
Lastly – one bottle of PhenAprin is $40.
You can also get the bundle of 2 bottles, for a significant discount.
If you ask me, the price would be more than decent if the product wasn't as risky.
But since it has some dangerous side effects, I don't think it's worth it.
---
My Verdict – Worth It Or Not?
---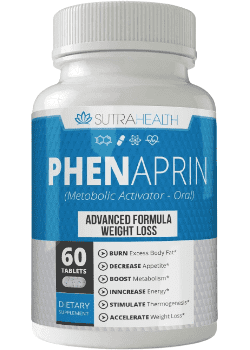 Short answer: Not quite – it's not the best option in reality:
Contains an androgen hormone – DHEA (can be dangerous for women)

Only works if you work out intensely

Not worth its price, since it's risky

Triggers some serious side reactions

Ingredients don't have any individual doses (they are most likely under-dosed)

Some people gained weight instead of losing it
If you ask me, a lot of people actually lost some weight after taking PhenAprin.
However, you can't deny the fact that there are a lot of complaints as well.
Most were related to weight gain, uncontrollable appetite and side effects.
So even though it's not ridiculously priced, I still don't find PhenAprin a good deal.
With that, I have a way better alternative you can try instead.
It's a supplement called PhenQ:
Well-tolerated and doesn't cause any side reactions

Very strong when it comes to reducing excess weight

Decent pricing for its high-end quality

Targets the 5 main reasons of weight gain and cravings

Many users swear by its effect
Again – PhenQ doesn't cause any extra weight gain or cravings
So unlike PhenAprin, it won't make you put on more weigh.
Also – its ingredients are way more varied and they all have their separate doses.
You can tell yourself that they're not under-dosed, trust me.
But most importantly, the product won't give you any alarming side effects.
So for its price tag, I'm pretty sure it's the best option for weight loss out there.
You're getting a lot more than you pay for with PhenQ.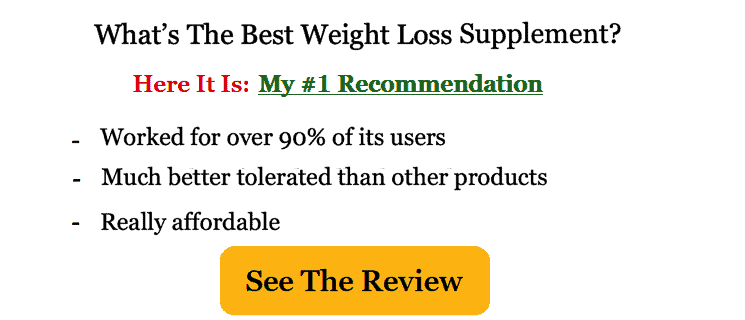 References:
1 – https://www.ncbi.nlm.nih.gov/-pmc/articles/-PMC7353198/
2 – https://pubmed.ncbi.nlm.nih.gov/-30335479/
3 – https://www.ncbi.nlm.nih.gov/-pmc/articles/-PMC6544910/
4 – https://pubmed.ncbi.nlm.nih.gov/-15536111/
5 – https://pubmed.ncbi.nlm.nih.gov/-21561431/