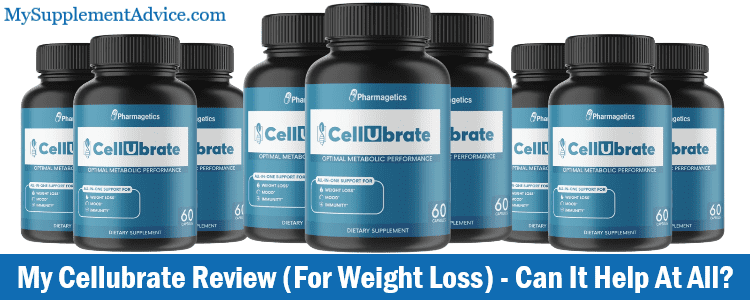 Here's my Cellubrate review.
Truthfully, I have mixed feelings about this weight loss supplement:
several sketchy versions sold

very few authentic reviews

pricey for its real value
So the question is – can it help at all when it comes to melting off fat?
Let's decide together whether it's worth the effort or not.
Note: This review is based on my research + opinion on Cellubrate.
Review Summary
---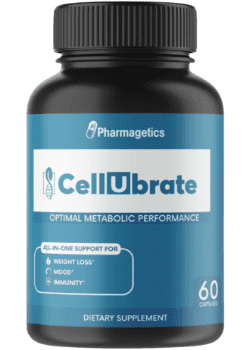 Full Name: Cellubrate Optimal Metabolic Performance by Pharmagetics
Product Type: Weight Loss Supplement
Best Actual Price: $35
Cheapest Place To Buy: eBay or Etsy
Designed For: Supporting weight loss – it also has some additional claims:
boosts metabolism and energy

suppresses appetite

burns excess fats
My Rating: 5 out of 10
Recommended?: Not quite – I don't like its red flags:
many counterfeit versions on the market

very few testimonials about it

quite expensive
I have seen this type of product before and things didn't end well with it.
So it's better to opt for a weight loss alternative that is effective and has no question signs.
What I Liked About It
---
Has some decent compounds for weight loss

Can be bought in bundles with discounts

Low serving size (1-2 pills)
What I Didn't Like About It
---
Pretty complicated instructions

Some sketchy versions that are almost identical (from other producers)

Product's official website is not too professional

A little bit pricey for what it offers

Not too many user reviews available
---
Cellubrate In A Nutshell
---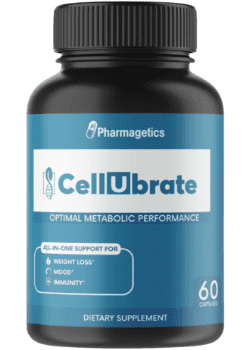 In my view, Cellubrate looks like a typical weight loss supplement.
Its formula is pretty basic, but not terrible.
Also – it seems to be a thermogenic supplement, due to its ingredients.
However, its official page seems very unprofessional:
no detailed product description

only mentions some fake promises
But unfortunately, that's not the only red flag you notice from the first view:
directions are very difficult to understand

no user reviews/experiences

official website is hard to trust
The best thing about Cellubrate is that it's not that expensive as other similar products.
You can just get it for only $35 for one bottle.
But honestly, it's not a good deal considering the problems it has.
So my advice is to look for a more trustworthy alternative.
---
#1 – How It Works & Producer
---
As usual, we're going to discuss first the basic info about Cellubrate:
the producer behind it

how it works internally

what weight issues it improves
1. How It Works
---
If you check Cellubrate's official website, you will only find a simple listing of the product.
In other words, it's only mentioned with its name and price.
There's no detailed description of it.
But there are some claims included in the promotional photo:
increases energy

burns fat for fuel

supports weight loss

boosts metabolism

improves mood
As you can most likely tell, these claims seem way too major to be real.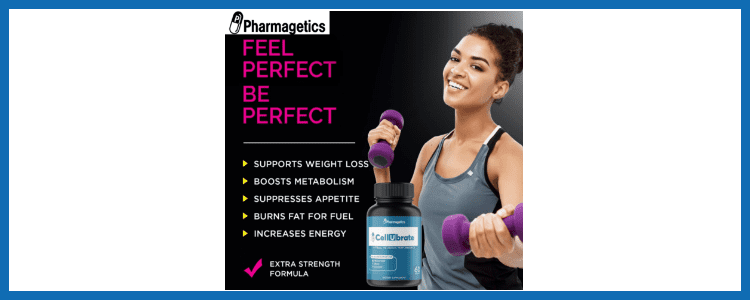 Now – judging after what it promises, Cellubrate seems to be a thermogenic supplement:
promotes a faster fat metabolism

the goal is to increase energy and weight loss
Another factor that supports this claim is the product's formula.
But we're going to dig deep into it in the next chapter.
Anyway, a major problem is that there's no product fact sheet.
If you ask me, this is a serious red flag.
2. Company Behind
---
The producer of Cellubrate Optimal Metabolic Performance is Pharmagetics.
However – the brand seems far from trustworthy:
other companies also sell the exact copy of the product

the official website doesn't have a lot of info about the product

can be reached through email, phone and mailing address
To be very honest, the official website connected to the brand is pretty hard to trust.
It offers the supplement through a special link.
But when you're directed to the official shop's page, there's no trace of Cellubrate there.
So I personally would not have the courage to enter my credit card details on such a website.
---
#2 – Ingredients

(6 out of 10)
---
If you ask me, the formula of Cellubrate doesn't look that bad…
Well – let me first describe it to you:
a total of 3 blends

doses are average

many helpful compounds for weight loss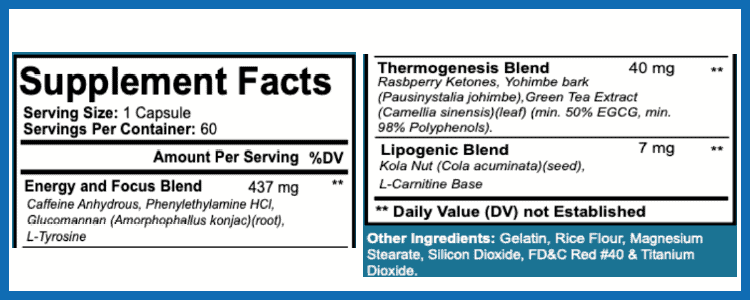 One thing to keep in mind is that it contains stimulants – like caffeine and green tea extract:
increase the risk of side effects

certain people can't tolerate them very well

they might experience heart palpitations and insomnia
Usually, most thermogenic supplements have this kind of ingredients, as they boost metabolic speed.
In this way, you can lose more weight while you exercise.
That's why Cellubrate shouldn't be criticized for this category of compounds.
They are simply normal in this type of supplement.
Without further ado, here are all of the ingredients you can find in the formula.
1. Energy & Focus Blend (437 mg)
---
Firstly – let's list down the composition of the blend with the highest dose:
Caffeine – increases alertness and the ability to concentrate [1]

Phenylethylamine HCl – relieves and improves depression

Glucomannan – displaces the energy of other nutrients to produce the feeling of satiety [2]
L-Tyrosine – supports physical and cognitive performance [3]
This blend's effect is pretty obvious from its name.
And its overall ingredients are indeed helpful in boosting your energy and focus.
2. Thermogenesis Blend (40 mg)
---
The next blend present in the formula contains the compounds below:
Raspberry Ketones – break down fats and help them burn faster

Yohimbe Bark – induces the loss of fat mass [4]
Green Tea Extract – promotes weight loss via diet-induced thermogenesis [5]
Obviously – these ingredients can improve the process of thermogenesis.
In other words, they increase your metabolism to burn more body fats.
3. Lipogenic Blend (7 mg)
---
Lastly – here are the ingredients from the Lipogenic blend:
Kola Nut – decreases food intake and body weight [6]

L-Carnitine – participates in the oxidation of the fatty acids
Lipogenesis is the process of converting fatty acids into fats [7].
This results in triglycerides, which can be used as a source of energy.
However – you need to actually use that stored energy in order to lose fats.
---
Conclusion
---
In my view, Cellubrate's formula isn't too bad.
Or I should rather say – the ingredients are not the worst out there.
But since there are several sketchy versions, I don't trust it 100%.
---
#3 – Pills & Dosage (5 out of 10)
---
Let's now move on to the physical features and instructions of Cellubrate.
1. Pills
---
Based on my understanding, Cellubrate can be described in the following the points:
gelatin encapsulation

normal pill dimensions

light cream color
Well – there's nothing really special about its looks.
In fact, its appearance is just like that of any typical weight loss supplement.
2. Dosage
---
Now – Cellubrate's directions are not too simple:
Take 1-2 capsules in the morning.

Maximum serving is 2 pills for a 24-hour period.

It's not advisable to take it after 4 pm.

The duration of use is only 8 weeks.

Take a 2 weeks break before taking it again.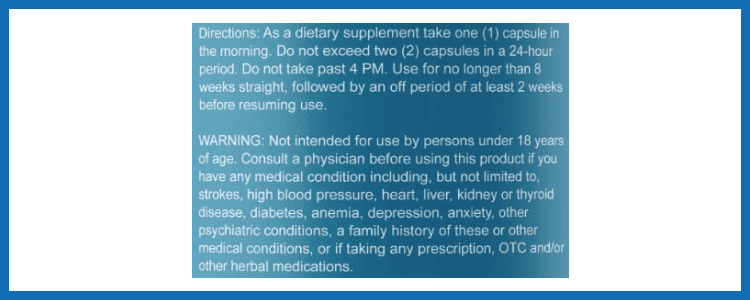 To summarize – you have to take 2 pills before 4 pm for 8 weeks.
You should take a break for 14 days, then you can start taking it again.
So basically, there's a cycle.
Honestly, I'm not a huge fan of this kind of schedules…
They are generally pretty hard to follow, because people have to write down the exact days they take the product.
In reality – a lot of people forget taking the pills correctly, especially when they are busy.
So a supplement like Cellubrate is really difficult to take correctly.
I always prefer options that are more convenient for long-term use.
And that's definitely not the case of Cellubrate…
---
#4 – Results

(4 out of 10)
---
In terms of customer reviews, I found some comments for Cellubrate.
But unfortunately, they don't seem extremely authentic and real.
That's why I don't necessarily trust them completely.
Note: I only analyzed authentic reviews, not promotional or fake ones.
1. What People Say
---
Again, Cellubrate is available on its website, eBay and Etsy.
But I only found real comments on the last ones.
The only problem is that those reviews are mostly related to the shop.
None of them seems to be talking exclusively about Cellubrate.
Now, I found some 3rd party websites that talk about the other versions of the product.
I can't tell whether they are real or not (most likely not).
But here are people's thoughts about this product:
Some of them said that it's an effective supplement.

Others mentioned that the price is worth the value.

A few of them stated that it has the best set of ingredients.

The rest concluded that they will definitely recommend it.
Like I said – these reviews seem to be too good to be true.
That's why I believe they're most likely biased…
Now, I was also planning feature the reviews from the product's official website.
However – I didn't see even a single comment there.
So there's clearly something weird going on with Cellubrate.
---
Conclusion
---
Overall – Cellubrate product reviews are very limited.
Based on the formula, I don't think the product has any real potency in terms of weight loss.
I didn't see any real customer comments to tel…
There are some more effective alternatives already tested by so many people.
---
#5 – Side Effects

(5 out of 10)
---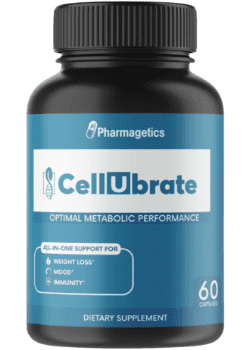 As you probably expected – there are no comments about Cellubrate's side effects.
But that doesn't mean it's completely safe.
Given its ingredients, here's what side reactions is might cause:
headaches or nausea

stomach cramps

increased heart rate

interrupted sleep

panic and irritability
The first two side effects are common in any supplement (in rare cases, that's true).
But the last three adverse reactions are because of the stimulants present in the formula.
That's why it's essential to work out while taking Cellubrate.
You need to sweat out the energy provided by these ingredients.
If not – you might experience those undesirable side effects.
So if I were you, I would look for a safer and more trustworthy option.
---
#6 – Price (5 out of 10)
---
To be honest, I don't recommend you to buy Cellubrate.
It's not the most potent option and it's actually quite sketchy.
1. The Exact Price
---
Again – Cellubrate is available on its website, eBay and Etsy.
But I would say that its best price is on Etsy.
So let me give you an idea about its pricing (on Etsy):
One bottle costs $35

2 bottles cost $65

10 bottles cost $210

12 bottles cost $250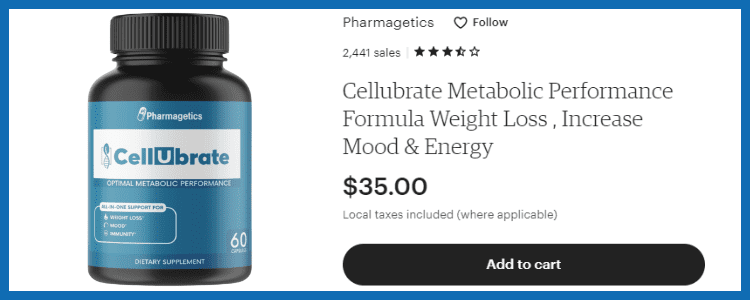 As you can see, the larger the bundle, the higher the discount.
These are the best deals you can find, since the product is pricier on eBay.
Also – only the 4 pack option is available on its website: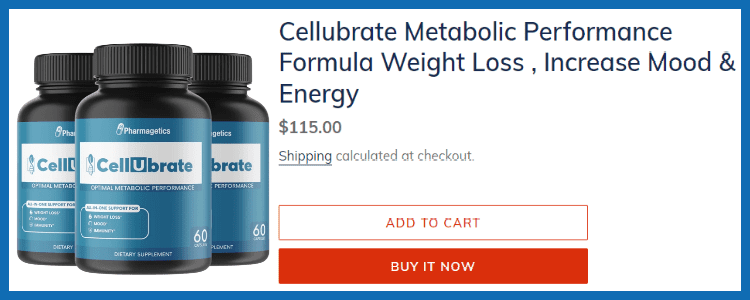 If you ask me, the product is not too expensive initially.
But it has some serious red flags.
So even though it's not heavy on the pocket, I still don't recommend it.
I don't think a sketchy supplement is a good investment at all.
2. Competitors' Price
---
If you're looking for a superior alternative, try PhenQ.
It's my #1 recommended weight loss supplement: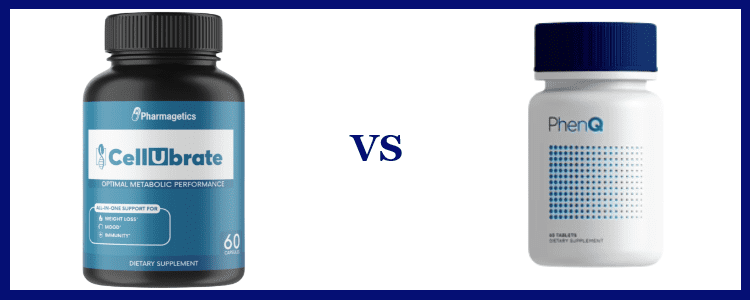 PhenQ contains more potent forms of its ingredients.

It has 5 different mechanisms to reduce excess fat and to stop weight gain.

The formula is unique and totally different from other supplements.

Cellubrate's formula has 3 blends to target excess weight.

Based on its ingredients, it's a thermogenic product.

However, there are several fake versions from other producers.

Both supplements require 2 capsules on a daily basis.

PhenQ's standard price is $69 (discounted price is $37).

Cellubrate costs $35 for a bottle and offers larger quantities.
In my view, PhenQ is much better than Cellubrate.
Its ingredients are probably the best ones you can find in a weight loss product.
That's why it's so effective in terms of weight loss.
Not to mention that it's made by a very professional brand.
Overall, it's still the best supplement for weight loss.
---
Conclusion
---
If you ask me, Cellubrate is not that expensive.
But it can't be considered a good deal, due to its questionable features.
Overall – I urge you to look for other options that are really worth investing in.
---
#7 – Final

Conclusions
---
Let's summarize my major points on Cellubrate.
1. Basic Formula
---
Again – Cellubrate's formula can be described below:
3 proprietary blends

based on stimulants

doses are pretty average
It's more like a thermogenic supplement.
If you ask me, the formula is not bad, but there are no people that can guarantee for it.
Since it has almost no authentic reviews from actual users, it's clearly not too serious.
2. Tricky To Use
---
In my view, Cellubrate's instructions are quite difficult.
That's because they take a lot of effort to remember:
2 capsules/day for only 8 weeks

next 2 weeks break

start the cycle again
To be honest, people tend to gravitate towards more convenient supplements.
So they might just skip this product and find some easier alternatives.
3. Not Worth It
---
For the last part, the price of Cellubrate's single bottle is $35.
In my opinion, it's not the best deal – even if it's not that expensive.
Again – it has several sketchy versions and its background is questionable.
So I don't really think it's a good investment overall.
---
My Verdict – Worth It Or Not?
---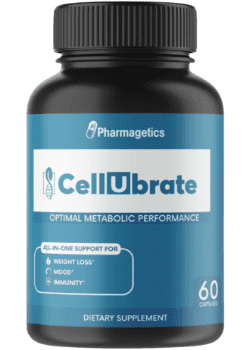 Short answer: Not quite – it has several disadvantages:
Directions take a lot of effort to follow

Many counterfeit versions

Tricky official website (Pharmagetics)

Not the best deal for what it offers

Very few testimonials from previous users
If you only look at Cellubrate's formula, it looks pretty regular.
Actually, it has the features of a thermogenic supplement.
However – I can't fully conclude that.
It's because it doesn't have a specific product description.
Also, there are not a lot of people to prove its claims.
With that, I strongly recommend that you look for other options.
What alternative do I suggest instead?
Better try my #1 weight loss recommendation, called PhenQ:
Easy-to-follow instructions

Very good price for its superior features

A lot of people swear by its amazing effect

Formula contains some potent ingredients

Has 5 mechanisms of action to address weight loss
Firstly – PhenQ is a trustworthy supplement with a credible background.
It doesn't have several sketchy versions and it's surely not a scam.
So if you're someone who wants to start losing weight, just go for instead.
Besides shedding excess fats, it will also help you not to gain any more extra weight.
Overall – it's still my top recommendation for several reasons.
If I were you, I would look for a more reliable supplement.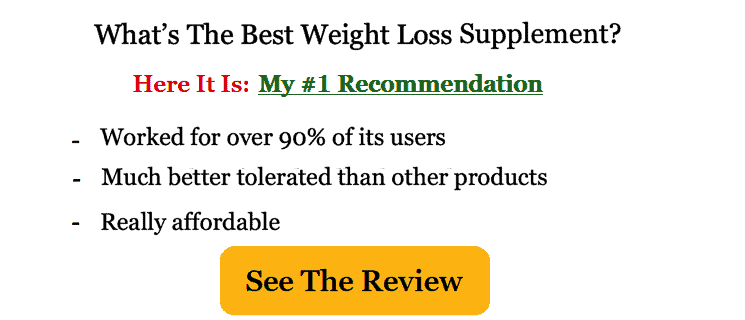 References:
1 – https://www.hsph.harvard.edu/nutritionsource/-coffee/
2 – https://www.ncbi.nlm.nih.gov/-pmc/articles/-PMC3892933/
3 – https://www.ncbi.nlm.nih.gov/-pmc/articles/-PMC6084775/
4 – https://www.ncbi.nlm.nih.gov/-pmc/articles/-PMC8835515/
5 – https://pubmed.ncbi.nlm.nih.gov/-17201629/
6 – https://pubmed.ncbi.nlm.nih.gov/-19826468/
7 – https://www.sciencedirect.com/topics/-lipogenesis