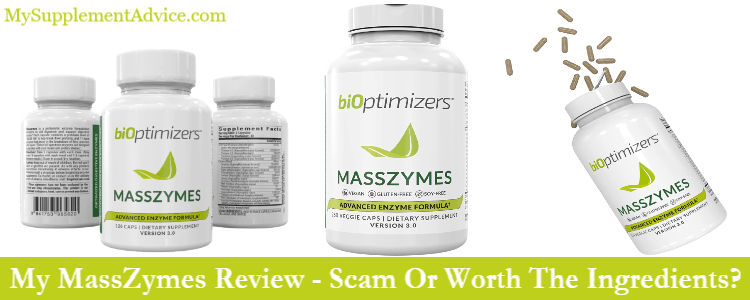 It's time for my MassZymes review – a product that looks like it's too much to handle.
So is it really too much to handle?:
not very easy to use

high price tag

pretty weak formula
If you ask me, I'm not impressed with it.
But let's give it a chance and find out the real deal behind it.
Note: This review is based on my research + opinion on MassZymes.
Review Summary
---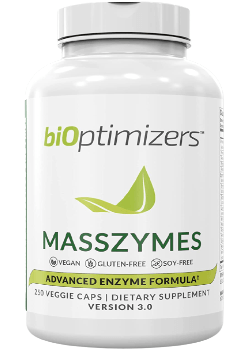 Full Name: MassZymes by biOptimizers
Product Type: Digestion Supplement
Best Actual Price: $71.75 (for a 27 days supply)
Cheapest Place To Buy: Amazon
Designed For: Optimizing the digestive function – it promises to:
balance your immune response

improve energy levels

help gut problems
My Rating: 3.5 out of 10
Recommended?: Not really – it seems to have a lot of problems:
pretty high pricing

composition could be way better

hard to use
Honestly – I strongly recommend you to go for a smarter alternative.
Why not try a much better digestion supplement for a lot less money?
What I Liked About It
---
Contains a lot of enzymes

Available in several marketplaces

Offers different versions/sizes
What I Didn't Like About It
---
Huge serving size (9 pills/day)

Quite expensive for its real value

Overall formula is rather disappointing

Works slowly (compared to products of its kind)

Might trigger some side effects
---
MassZymes In A Nutshell
---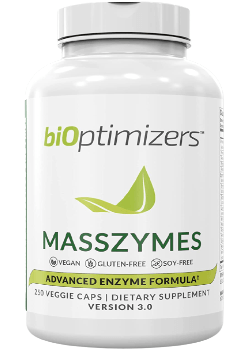 In my honest view, MassZymes is not a very promising supplement.
Surely – it contains a lot of important enzymes.
But their doses are not as impressive as I thought.
So don't expect a lot of miracles from it.
Although it might be helpful, it will probably take longer (than in other products).
But that's not the only unpleasant feature it has:
huge serving size

quality isn't worth the money

higher risk of side effects
What shocked me is that it requires you to take 9 capsules daily.
This means 3 pills for each meal, which is honestly huge.
The explanation is probably the low doses of most of its ingredients.
Honestly – I don't think it's worth the effort.
Another reason why I don't recommend it is its price:
a 250 count bottle costs almost $72

that's not even enough for one month
Overall – I don't think MassZymes is worth investing in.
It's simply not affordable, hard to take and rather weak.
---
#1 – How It Works & Producer
---
First – let's talk about MassZymes' basic info:
how it works inside the body

what health issues it helps

the company behind it
1. How It Works
---
MassZymes claims to have "Full Spectrum Digestive Enzymes Benefits."
So based on its website, here's what it does:
optimizes digestive functions

promotes exercise recovery

balances the immune response

improves overall energy levels

helps leaky gut and food sensitivities

supports lean and tones physique

aids with mineral absorption

helps you achieve a healthy skin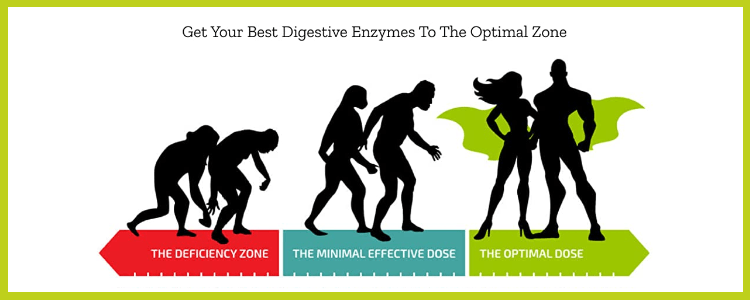 As you can see, these promises are a lot.
Honestly – I'm quite reluctant about supplements with so many claims.
In reality, a supplement does a great job when it has 1-3 main benefits.
Products that claim to help you with many different issues are usually pretty fake.
That's because their don't focus on a few main benefits.
In this way, they end up not helping any issue seriously – that's the case of many supplements.
So I'm not very impressed by MassZymes' benefits.
Judging after its overall features – I seriously doubt it can follow most of its promises.
2. Company Behind
---
The company behind MasZymes is called biOptimizers.
I looked at its website and here are the things I found out:
official page seems pretty professional

offers products for blood sugar, brain, digestive health and immune support

also sells supplements for anti-aging and vitality

you can also buy merch, books and value bundles from them

product form varies from capsules to powders

its social media links are listed on the website

contact info includes mailing address, contact page and phone number
The brand mostly looks like a fitness one, if you ask me.
I mean, it focuses on people who want to stay in shape.
It doesn't seem as much of a supplement brand.
But anyway – there doesn't seem to be any problem with the shipping/package.
So MassZymes' producer is legitimate.
---
#2 – Ingredients (5 out of 10)
---
Now – MassZymes contain mostly enzymes.
But as in many digestive products, there are also some herbal extracts.
Also, it contains the following blends:
Tri-Phase Protease Blend

Enzyme Blend

Proprietary Blend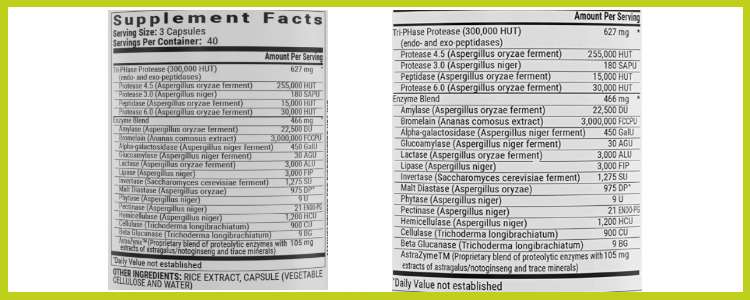 As I mentioned before, I feel like some of the doses are on the lower side.
Not all of them – that's true, but some are.
So even though it probably works, it won't be the fastest product you could try.
Let's now take a look at the benefits of the ingredients.
1. Tri-Phase Protease
---
Basically – MassZymes' Tri-phase is composed of 2 enzymes:
Protease (3.0, 4.5 and 6.0) – helps digest proteins and absorbs amino acids [1]

Peptidase (endo and exo) – breaks down proteins to be used in different processes
As you can see, it's formulated a blend.
That's simply because there are different versions of the enzymes.
Actually, the versions of its proteases are only based on the pH.
Meanwhile – the peptidases differ only on the sites of action.
But the bottom line is that they all work to break down proteins.
2. Enzyme Blend
---
Now – MassZymes also has a combination of enzymes.
It is made of the following components:
Amylase – processes starch molecules into sugars [2]

Bromelain – aids digestion for smooth bowel movement

Alpha-galactosidase – treats gas-related symptoms [3]

Glucoamylase – helps creates energy for the body

Lactase – enhances and retains minerals in the body [4]

Lipase – breaks down fats during the digestion process

Invertase – boosts the immune system

Malt Diastase – accelerates the rate of digestion

Phytase – improves digestibility of calcium, phosphorus and amino acids [5]
Pectinase – helps with gastrointestinal issues [6]

Hemicellulase – increases nutrient digestibility

Cellulase – eliminates toxic chemicals and free radicals

Beta Glucanase – stabilizes blood sugar and reduces cholesterol [7]
If you ask me, these are all amazing ingredients.
But their doses are not the highest I have seen.
Don't get me wrong – it's not a terrible product, but its composition could be better.
3. AstraZyme
---
Lastly – MassZymes has its own proprietary blend.
It is composed of the following ingredients:
Proteolytic Enzymes – break down proteins in the body and skin

Astragalus Extract – has anti-aging, immune-boosting and anti-inflammatory benefits [8]
Trace Minerals – modulates the immune system [9]
However – all these 3 ingredients are formulated in a blend.
In other words, there are no individual doses.
So the 3 compounds probably come in some very low quantities.
That's why their effect isn't that significant.
---
Conclusion
---
Overall – MassZymes contains a lot of enzymes.
That's quite obvious, since it's a digestion supplement.
But many doses are on the lower side – and some of them aren't even given out individually.
So I don't have the best opinion on this product.
---
#3 – Pills & Dosage (2 out of 10)
---
Here's what you should know about the looks of MassZymes.
1. Pills
---
This supplement's aspect can be described in the following words:
average pill sizing

dark green color

neutral scent
Shortly, its pills don't look anything unusual.
It's similar to most supplements from the market.
2. Dosage
---
Now – MassZymes' main problem remains how you should take it.
It has some very disappointing usage instructions.
The directions recommend you to take 3 capsules with each meal.
So that is a total of 9 pills daily.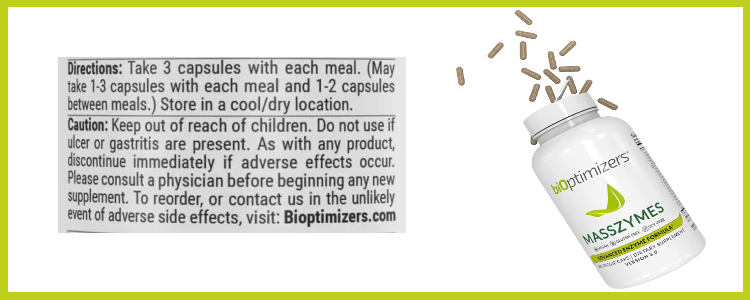 However – it gives you another alternative:
1-3 capsules with each meal

1-2 capsules between meals
Honestly – that's even worse.
You end up taking even more than 9 pills daily (which is already a lot).
So in the best case – you should take 9 capsules every day.
But in the worst case, the number is a lot higher.
To tell you honestly – I don't like this recommendation and I would not advise you to try it.
It's simply way too hard and complicated to take.
---
#4 – Results

(7 out of 10)
---
Firstly – MassZymes has a number of reviews available.
We can use them to see different perspectives of its effect.
Note: I only considered authentic reviews, not promotional/fake ones.
1. What People Say
---
As I mentioned, MassZymes has several reviews.
The number is not huge – but there are a couple of previous experiences.
However – I'm only going to summarize them very briefly.
That's because most of the comments are identical.
So here's what people say about it:
Some mentioned they felt less bloating/stomach pain.

A few buyers mentioned they were more energized and less irritable.

It was also praised because people experienced smooth bowel movements.

Others noticed they lost weight and felt lighter.

The rest mentioned that it helped with digestion.

On the other hand, many other people said that it didn't work after months of use.

There were users who stated that it's really overpriced.

Others received destroyed product packaging and incomplete pills.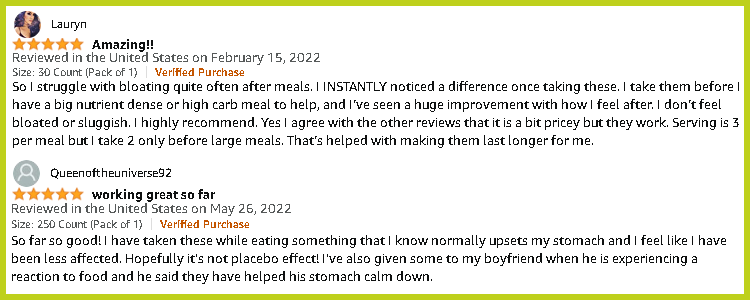 Below are some of the negative reviews and complaints.
So if you want to see the bad side of this product, here are some popular opinions: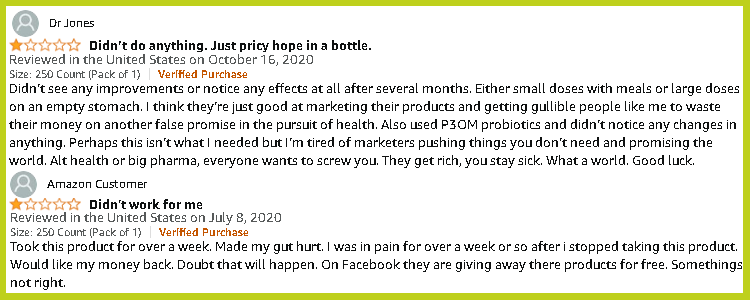 The overall rating is 4.6/5 stars, which is great.
But as I said, its number of reviews isn't too high.
So in my view, it's not that impressive.
Also – as you can see, it did work really well for some people.
But others didn't see any changes at all.
So opinions on this supplement are quite mixed up, to be honest.
---
Conclusion
---
To sum it up, MassZymes has a decent number of reviews.
It also looks like they were written by people who really tried it.
So it looks like it worked in many cases – but not in all.
If you ask me, I would probably not go for this product.
---
#5 – Side Effects

(4 out of 10)
---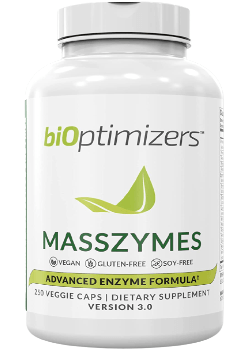 MassZymes has several reviews and I found some comments about adverse effects:
intense constipation

stomach pain

painful diarrhea

headache and nausea
If you ask me, some of these issues are common for a digestive supplement.
However, I still couldn't trust it 100%.
That's simply because I'm not impressed with its formula.
Also – considering the low number of reviews, it per cent of side effects is quite high.
So it's pretty hard for me to judge it from this point of view.
But I would probably recommend you to look for safer options.
---
#6 – Price (2 out of 10)
---
In my opinion, MassZymes is pretty pricey for its quality.
Honestly – I don't find it the best option for a digestion supplement.
1. The Exact Price
---
The lowest deal for MassZymes can be found on Amazon:
30 count costs $22

120 count costs $59.60

250 count costs $71.75

Free shipping included

Additional discount upon subscription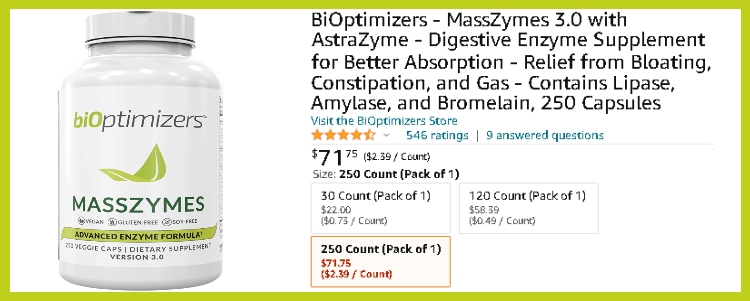 Again – the normal serving size is 9 pills per day.
So even the largest count (250) is not enough to last a month.
In other words, you need to spend more than $71.75 for a full monthly supply.
Honestly – that's definitely far from most practical option.
This product is extremely overpriced for its ingredients and value.
Even if it worked really well – $72/27 days is way too much.
So there's no way I could tell you to go for it.
2. Competitors' Price
---
Let me give you a better option, it's my #1 digestion supplement.
The product I'm talking about is Vita Balance Digestive Enzymes: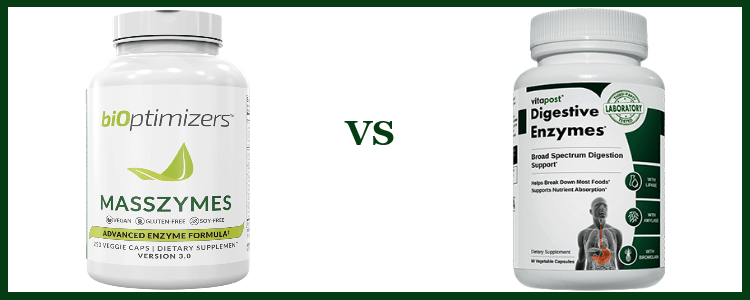 Vita Balance contains essential ingredients and enzymes.

Its formula has some high doses that focus on most digestive problems.

MassZymes' formula is composed mostly of enzymes.

But its overall doses are lower.

Vita Balance only requires 2 capsules daily.

Meanwhile, the serving size of MassZymes is 9 pills/day.

Vita Balance can be bought for only $16 from the normal price of $24.80.

The price of MassZymes is $71.75 for 27 days supply.
If you compare the 2 products, Vita Balance is obviously better.
The ingredients are superior and a lot of people prove its claims.
Also – it's so much cheaper (even though it's also stronger).
So it's obvious what product I would go for.
---
Conclusion
---
Honestly – MassZymes is very expensive.
So it's far from the best option in the market.
That especially if you consider all the things it lacks.
---
#7 – Final

Conclusions
---
Let me list down my major views on MassZymes.
1. Basic Formula
---
Firstly – as its name suggests, MassZymes is mostly composed of enzymes.
It has the following blends inside:
Tri-Phase Protease Blend

Enzyme Blend

Proprietary Blend
But some of the ingredients inside those blends are rather low-dosed.
2. Impossible To Take
---
In addition – MassZymes is not at all comfortable to use.
It requires 3 pills each meal (a total of 9 pills/day).
If you ask me, the high serving size could be due to the weak formula.
But there's absolutely no way you could take that much.
3. Pretty Expensive
---
Finally – MassZymes is pricey for its quality.
Again, you need 270 pills for 1 month's supply.
But the highest quantity you can buy is only 250 pills/bottle ($71.75).
So that means you need to spend more than $72 a month.
To be honest, it's not very practical.
---
My Verdict – Worth It Or Not?
---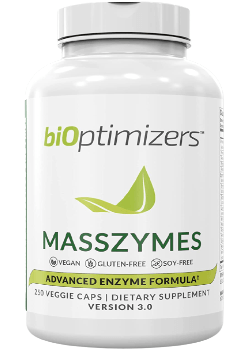 Short answer: Not really – there are some negative reasons behind my choice:
Impossible to take on a regular basis (9 capsules/day)

Very expensive for the quality

Higher rate of side effects
In my view, these reasons are enough not to recommend it.
Especially the high serving size and its price.
I don't think it's the best deal for your money.
So what do I recommend instead?
My personal pick would probably be Vita Balance's Digestive Enzymes:
Unique formula with high doses

High quality and very affordable

Helpful for most digestive issues

Very low risk of side effects
Now – if you compare their features, Vita Balance Digestive Enzymes is way better.
It's known to be effective for digestion and very easy to take.
Plus, its price is way lower than MassZymes (despite its better formula).
So overall – I would say that it's way more worth investing in.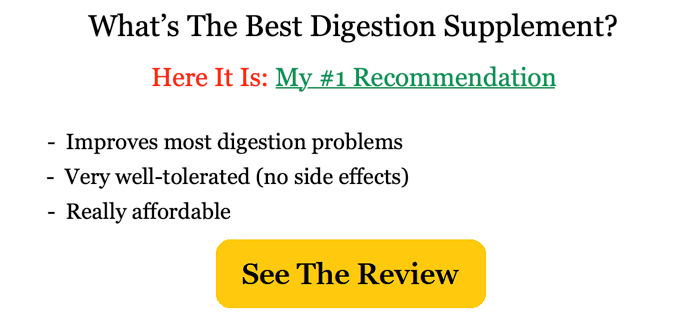 References:
1 – https://www.ncbi.nlm.nih.gov/pmc/articles/-PMC4503466/
2 – https://www.healthline.com/health/-Amylase
3 – https://www.ncbi.nlm.nih.gov/pmc/articles/-PMC3849317/
4 – https://www.ncbi.nlm.nih.gov/pmc/articles/-PMC6893676/
5 – https://www.ncbi.nlm.nih.gov/pmc/articles/-PMC4368368/
6 – https://www.ncbi.nlm.nih.gov/pmc/articles/-PMC4368368/
7 – https://www.healthline.com/nutrition/-pectin
8 – https://www.healthline.com/nutrition/-beta-glucan
9 – https://www.ncbi.nlm.nih.gov/pmc/articles/-PMC6993532/