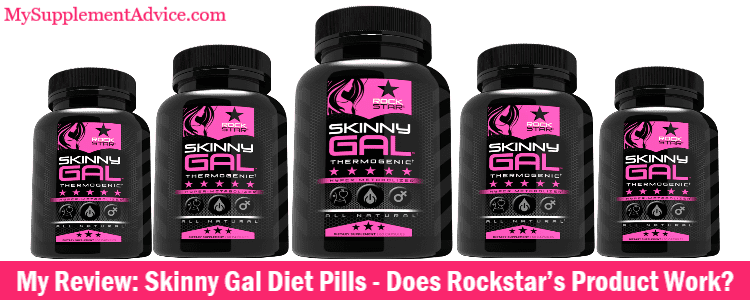 It's time to review Skinny Gal Diet Pills, whose names describes its main goal pretty well.
But does Rockstar's product work for weight loss?:
exclusively designed for women

basic formulation

very easy to take
Is it worth investing your money in?
Well – let's take a closer look at the features of the supplement, in this review.
Note: This review is based on my opinion + research on Skinny Gal.
Review Summary
---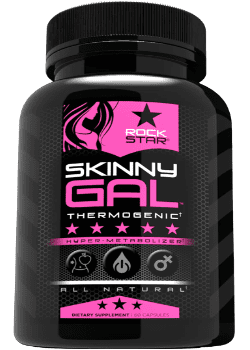 Full Name: Skinny Gal by Rockstar Sports Nutrition

Product Type: Weight Loss Supplement
Best Actual Price: Around $30 (for a 2 months supply)
Cheapest Place To Buy: Its official website
Designed For: Promoting weight loss in women – according to its claims:
suppresses appetite

supports energy boost

burns excess fat
My Rating: 6 out of 10
Recommended?: Not quite – it's not the most ideal weight loss supplement:
only works for women

causes some side effects

sometimes leads to the opposite result (weight gain)
To be very honest, it's not the most potent product.
I strongly believe in a way more effective alternative that will really help you lose weight.
What I Liked About It
---
Has some decent weight loss ingredients

Super easy to take (one capsule per day)

Comes with many authentic customer reviews

Pretty affordable compared to similar products
What I Didn't Like About It
---
Not suitable for men

Triggers side effects in some cases

Caused the opposite result (gaining more weight)

Its weight loss effect is pretty slow
---
Skinny Gal In A Nutshell
---
If you're curious, Skinny Gal is a thermogenic supplement for women.
It claims to boost energy and speed up fat metabolism.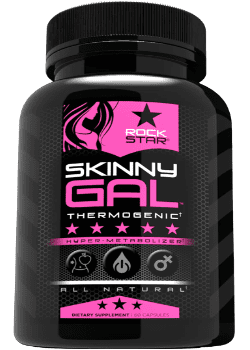 But judging after its formula, I must say that it's pretty basic:
its composition is on the weaker side

its weight loss effect is slower than in other products
So if you want to see some real improvements, you also need to exert some effort (workout + diet).
The good thing about it is that it's very easy to take, you only need a pill/day.
Also – the price of o bottle is only $30 (and it's good for 2 months).
So it's not the most horrible supplements after all.
On the other hand, here are its other disadvantages:
higher risk of secondary effects

leads to excess weight in a lot of cases
Again – it's a weight loss supplement, so gaining more weight is a big red flag.
So even if the product is affordable, I couldn't recommend it.
If I were you, I would invest in a superior alternative that can really reduce excess fats.
That's the only way to get your money's worth.
---
#1 – How It Works & Producer
---
Firstly – let's tackle the essential info about Skinny Gal:
how it works inside the body

who is the producer behind

the weight issues it manages
1. How It Works
---
The first thing you should know is that Skinny Gal is a weight loss product for women.
To be specific – it's a thermogenic supplement.
Like any similar product, it works by enhancing the body's metabolism.
In this way, you body can promote further fat breakdown.
In return, here are the other claims of the supplement:
suppresses the appetite

promotes higher energy levels

supports better metabolism

increases the chances of weight loss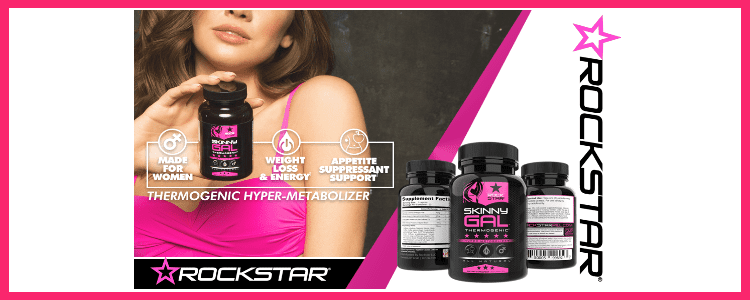 At this point, the product is quite promising.
However – I don't personally like that it's only designed for women.
When it comes to weight loss, men and women burn fat in about the same way.
That's why 99% of weight loss products are designed for both genders.
So what could make Skinny Gal different (since its mechanism of action should definitely apply to men as well)?
But that's just a personal doubt that I have.
Overall – the supplement looks fine, but I'm not fully impressed by it.
2. Company Behind
---
The producer behind Skinny Gal is Rockstar Sports Nutrition.
So far, here's the info on its official website:
besides supplements, it also sells products like accessories and gadgets

it can be reached through its phone number, email and company address

offers refunds and return policies for complete items
Other than its official website, it has an official store on Amazon.
So as long as you're getting the product from trustworthy retailers, you won't be scammed.
With that, I would say that there's nothing sketchy about the company.
---
#2 – Ingredients (6 out of 10)
---
Let's now examine Skinny Gal's formula and composition:
mostly contains herbal ingredients

its ingredients' doses are pretty low

only has a couple of thermogenic compounds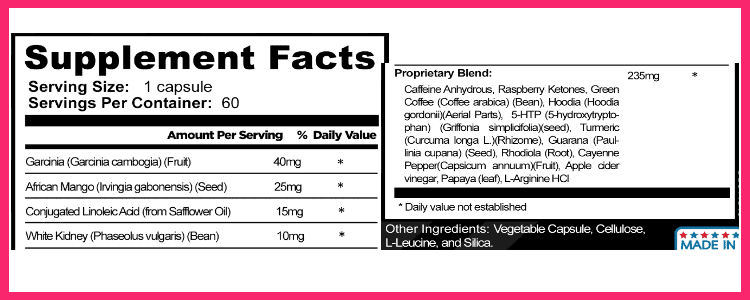 Now, caffeine is the only major thermogenic compound in this formula.
However – it's only present in the product's proprietary blend.
I talked about this aspect in many of my previous reviews:
certain products have a number of ingredients listed in a blend
there are no individual doses
there's only a dose for the overall blend
In most cases, the ingredients inside this blend are under-dosed.
This is most likely the case when it comes to Skinny Gal as well.
But unfortunately, there's no way to find out the individual doses.
The only good part is that it does have a thermogenic ingredient (since the product claims to be one).
But to be very honest – the supplement looks pretty basic.
With that – here are its ingredients and their benefits.
1. Individual Ingredients
---
Firstly – here are Skinny Gal's first few ingredients with individual doses:
Garcinia Cambogia – reduces fats and overall body weight [1]

African Mango – provides fibers that can help with weight loss

Linoleic Acid – it acts as a source of energy [2]
White Kidney Bean – induces weight loss and has anti-obesity properties [3]
As you can see, these ingredients can actually promote weight loss in general.
So on paper, I would say that the formula is decent at this point.
However – it could be better if the thermogenic compounds were in this category (with their individual doses listed out).
Another weird thing is that these ingredients would be as effective for men as they are for women.
2. Proprietary Blend (235 mg)
---
Now – let's see the composition of Skinny Gal's blend:
Caffeine – enhances the process of thermogenesis [4]

Raspberry Ketones – help with metabolism and appetite suppression

Hoodia – promotes fewer cravings and lower appetite [5]

Green Coffee – has a tendency to block fat build-up and lower blood sugar

Turmeric – decreases BMI, weight and waist circumference [6]

5-HTP – stimulates hormones that will lessen the feeling of being hungry

Guarana – offers protection against obesity, metabolic syndrome and hypertension [7]
Rhodiola – reduces and prevents fat gain to support weight loss [8]

Apple Cider Vinegar – improves the glycemic level of the body

Cayenne Pepper – promotes fat burning process and enhances the metabolism [9]
Papaya – inhibits the absorption of fats in the intestines [10]
L-Arginine – helps in turning essential nutrients to produce energy [11]
Again – most of its thermogenic compounds can be found in the blend.
Now, this blend is definitely helpful, especially for promoting fat metabolism.
But don't expect to see the effect too soon.
---
Conclusion
---
To summarize, Skinny Gal's formula is decent – but nothing more.
So don't expect it to be most potent weight loss supplement, because it's not.
Sure – the ingredients have benefits when it comes to reducing excess fat.
However, you can still find a way better alternative with a better formula.
---
#3 – Pills & Dosage (8 out of 10)
---
If you ask me, this chapter is my favorite feature of Skinny Gal.
1. Pills
---
Firstly – I will talk about what this supplement looks like:
normal-sized pills

vegetarian capsules

white-beige color
As usual, there's nothing spectacular about its appearance, which is good.
It means it's really easy to take, which is true.
2. Dosage
---
If you ask me, a typical weight loss supplement requires 2 pills per day.
But in the case of Skinny Gal, you only need one capsule on a daily basis.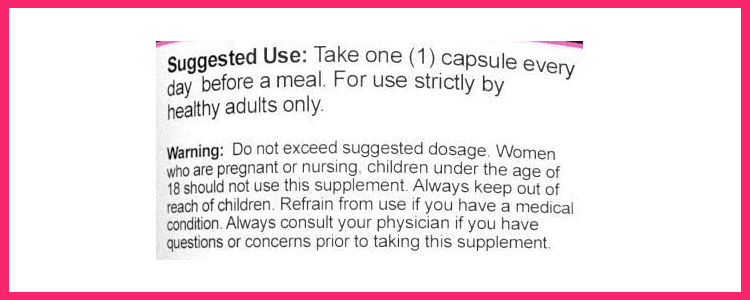 One tip the label offers is to take it before any meal.
Also, you shouldn't take more than the recommended dosage (that's pretty obvious).
As I mentioned, it's only made for women (except for those who are under 18 years old, pregnant and nursing).
Overall – Skinny Gal's instructions are very easy to follow.
Also, it's the easiest supplements to take.
I still can't understand why it's not suitable for men, since its mechanism of action should be effective.
But that's another story…
---
#4 – Results

(7 out of 10)
---
If you want to know how Skinny Gal worked, this is the chapter for you.
We're going to see what people liked and disliked about it.
Note: I only analyzed authentic reviews, not promotional or fake ones.
1. Positive Opinions
---
It's obvious by now where most of the reviews came from (Amazon, which is an official retailer).
Again – Skinny Gal is a supplement for women.
So most of its reviews are written by women.
Now, let's take a look at the positive feedback of this product:
A lot of women said that it really helped with appetite suppression.

Others noticed that their weight has been reduced with consistent use.

Some stated that it's a good partner for exercising, since it can boost energy.

The rest mentioned that it has a good quality and they will continue to use it.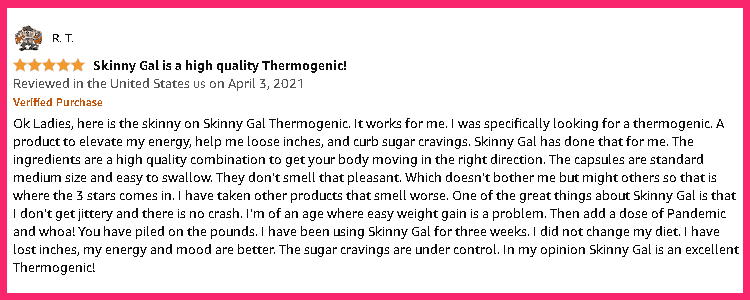 I'm not quite sure if people really liked the supplement.
That's because it only received 3.7 out of 5 stars overall.
Honestly, I expected a higher rating but it has a lower one than similar products.
But still, the majority of its comments were about how the product worked as it claims to.
Most people were praising it for curbing appetite and promoting weight loss.
So at least we know that a lot of people benefitted from it.
2. Negative Opinions
---
Meanwhile, there was also some negative feedback from other women:
Most of them complained about the product not doing anything for them.

A few of them experienced some secondary reactions.

Others actually gained weight instead of losing it.

Some mentioned that they only noticed some minimal benefits.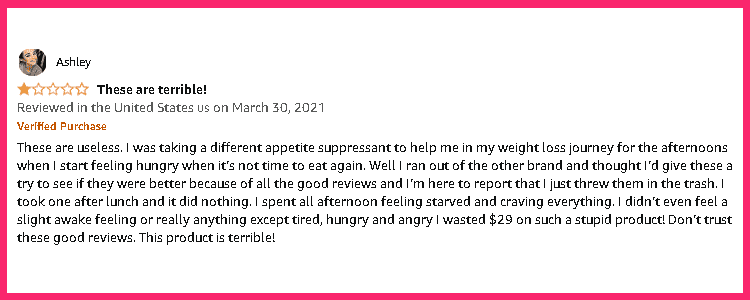 Based on my understanding, the product works – but it's pretty slow.
However, it's weird to see that a lot of people gained more weight instead.
Honestly – this a big red flag for a weight loss supplement.
So if you ask me, you shouldn't fully rely on it when it comes to reducing your weight.
You need to do the work as well, by being active and consistent.
But most importantly, try to look for a more potent and effective alternative.
---
Conclusion
---
Overall – Skinny Gal's performance was reviewed by a lot of women.
I would say that it worked in many cases, but pretty slowly.
Also – there's a risk of experiencing weight gain. which is pretty serious.
So I would definitely look for some better options.
---
#5 – Side Effects

(4 out of 10)
---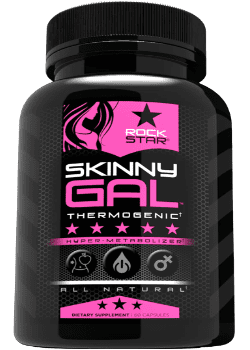 As I mentioned, Skinny Gal triggered several side effects in some people.
But they were mostly regular secondary reactions.
I'm talking about headaches and stomach discomfort, which are pretty normal in weight loss products.
However – there were also women who mentioned the opposite reactions they expected:
increased cravings

bigger appetite

lower energy

weight gain
Obviously – these points are some big red flags.
Again, Skinny Gal a weight loss supplement, so gaining weight should never happen.
Just imagine, you're buying a supplement in order to lose weight and you end up gaining more.
How absurd could this be?
So if I were you, I would go for an alternative that really leads to weight loss.
---
#6 – Price (5 out of 10)
---
If you ask me, Skinny Gal is not that expensive.
However – I don't consider it a good deal overall.
1. The Exact Price
---
Firstly, I saw Skinny Gal on its Amazon store (but it's currently unavailable at this point).
So the only legit place where you can buy it is from its website:
The price of a bottle is $29.99

Additional shipping fees and taxes

No bundles/packages available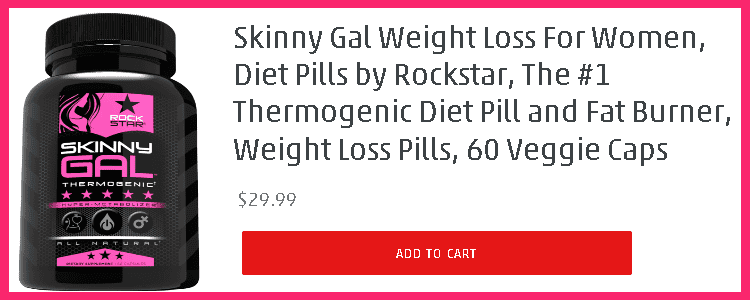 The reason why the product is considered affordable is because of how long you can use it.
One bottle is enough for 2 months.
Since it contains 60 capsules, a month's purchase would just be around $15.
At first sight – it looks like a really good deal overall.
But keep in mind its basic formula and you will understand why you get what you pay for.
However – the possibility of weight gain makes it even worse.
That's why I don't believe it's worth it at all.
So even if it's not expensive at all, I would still not recommend it.
2. Competitors' Price
---
Are you looking for a good weight loss product that is worth the money?
I strongly suggest that you try PhenQ – my top recommended supplement: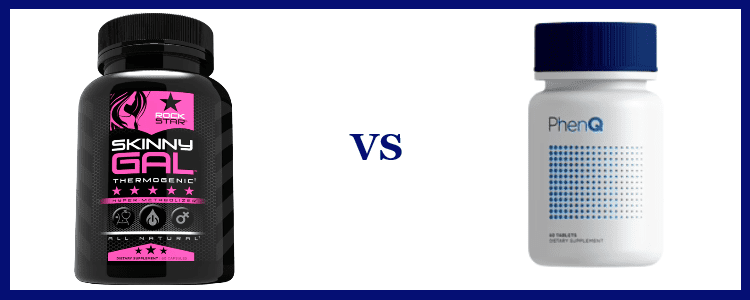 PhenQ's goal is to help you lose weight in 5 different ways.

Its results include weight loss, stopping weight gain and reducing cravings.

Its ingredients are in their superior forms with high but safe doses.

Skinny Gal's formula is basic for a thermogenic supplement.

The doses are quite low, so the overall effect isn't too impressive.

You can buy PhenQ for only $37 (from its original price of $69).

A bottle of Skinny Gal costs $30 and it can only be bought from its official website.
Between the two products, Skinny Gal is surely more affordable.
However – judging after their formulas, it's obvious that PhenQ is much better.
Its ingredients are probably the best ones among weight loss products.
In addition – PhenQ can be used by everyone (not only women).
So considering its high quality, it's a lot more worth it.
---
Conclusion
---
If you ask me, Skinny Gal's price tag is pretty low (but so are its features).
So if you're planning to purchase it, don't expect an amazing weight loss.
Also – you need to consider its red flags to see if it's really worth it.
But my honest advice is to go for a better alternative.
---
#7 – Final

Conclusions
---
Let's summarize my major thoughts on Skinny Gal.
1. Only For

Women
---
As I've mentioned, Skinny Gal is a thermogenic supplement.
But it's only designed for women who want to lose weight.
If you ask me about its formula, the thermogenic compounds can only be found in the blend.
Consequently, its ingredients are rather under-dosed.
That's why you shouldn't expect any immediate or strong results.
2. Increased Weight Gain
---
Now – secondary reactions are not uncommon in any supplement.
They can rarely appear in many people.
However, I didn't like the fact that some women experienced the opposite of Skinny Gal's claims.
They complained about gaining weight and uncontrollable cravings.
If a weight loss supplement has this risk, then I don't think you should get it.
3. Pretty Affordable
---
For the last part, Skinny Gal is not super pricey.
One bottle ($29.99) will actually last up to 2 months.
Still, you only get what you pay for.
Because considering the red flags it has, I don't see Skinny Gal as a good deal.
---
My Verdict – Worth It Or Not?
---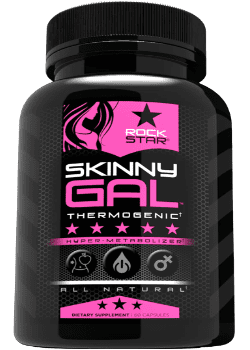 Short answer: Not quite – it has some real problems:
Can't be used by men

Causes some adverse reactions

Leads to weight gain in a lot of women

Its weight loss results aren't amazing
Honestly – I only find Skinny Gal as a basic supplement.
Well, it's a thermogenic supplement made for women.
But honestly, I'm not quite impressed, since it can cause the opposite results.
The only good things are its serving size and price.
So if you're looking for a good alternative that's worth trying, you can definitely find one.
What do I suggest instead?
Try PhenQ – it's my #1 recommended weight loss supplement:
Has much better ingredients in high doses

Works by employing 5 mechanisms of action

Formula leads to a very fast (and consistent) weight loss

Low quality-to-price ratio

Can be taken by both men and women
If you're looking for a weight loss supplement that really works, my advice is PhenQ.
Again, it's not exclusively designed for women – so men can also reap its benefits too.
Not only that, it doesn't promote weight gain, but it really helps you lose weight.
So for the price you pay, I'm very sure you won't regret buying it.
To be very honest, I consider PhenQ to be the best option out there (not just better than Skinny Gal).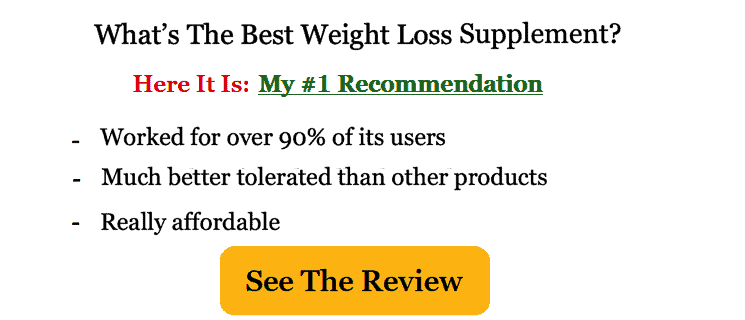 References:
1 – https://www.ncbi.nlm.nih.gov/-pmc/articles/-PMC4053034/
2 – https://www.ncbi.nlm.nih.gov/-pmc/articles/-PMC3650500/
3 – https://www.ncbi.nlm.nih.gov/-pmc/articles/-PMC7063375/
4 – https://www.ncbi.nlm.nih.gov/-pmc/articles/-PMC6467726/
5 – https://pubmed.ncbi.nlm.nih.gov/-24955559/
6 – https://www.ncbi.nlm.nih.gov/-pmc/articles/-PMC6582779/
7 – https://www.ncbi.nlm.nih.gov/-pmc/articles/-PMC5852741/
8 – https://www.ncbi.nlm.nih.gov/-pmc/articles/-PMC6272273/
9 – https://www.ncbi.nlm.nih.gov/-pmc/articles/-PMC6088424/
10 – https://www.ncbi.nlm.nih.gov/-pmc/articles/-PMC7412661/
11 – https://www.ncbi.nlm.nih.gov/-pmc/articles/-PMC2129157/