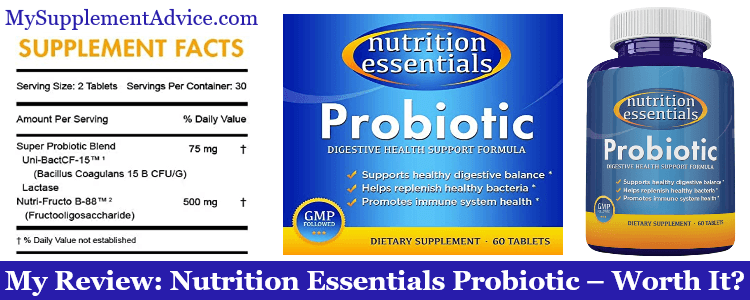 It's time to review Nutrition Essentials Probiotic – which looks like a popular probiotic supplement.
So does this product really work? Or is it just a rip-off?:
overhyped

weak formula

tricky info
Let's find out if it's actually worth the try, by looking at its main features.
Note: This review is based on my opinion + research on Nutrition Essentials Probiotic.
Review Summary
---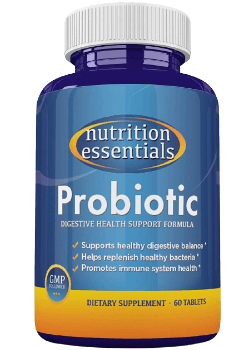 Full Name: Nutrition Essentials Probiotic by Nutrition Essentials

Product Type: Probiotics
Best Actual Price: Starts at $18
Cheapest Place To Buy: Amazon
Designed For: Maintaining a healthy digestive system
My Rating: 3 out of 10
Recommended?: Not quite – due to some disadvantages:
needs more bacterial strains

pricey for its value

can cause side effects
Instead, I would like to suggest the best probiotic from the market, which I consider to be a much better choice.
What I Liked About It
---
Many authentic customer reviews

Contains some trademark ingredients

Has a professional official website
What I Didn't Like About It
---
Only contains one bacterial strain

Hard to take

Pricey for its quality

Works rather slow

Misleading label

Can cause side effects
---
Nutrition Essentials Probiotic In A Nutshell
---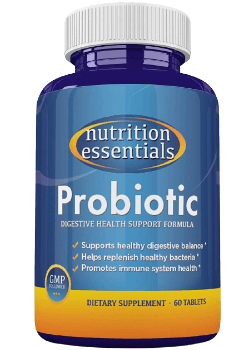 Honestly – Nutrition Essentials Probiotic is a little confusing.
And that's because it claims to have 900 billion CFU.
But in reality, it's not that super strong:
only 15 billion CFU/tablet

just one bacterial strain

75 mg of Proprietary Blend
I want to point out that its propriety blend is not a pure bacterial strain (since it has lactase).
Now, taking it isn't that easy – as the tablets are big and chalky.
Also – one thing to consider are the possible side effects of this supplement.
For the price of $17.99 (60 tablets), it is indeed affordable.
But all in all, it's not worth it (in my opinion).
If you ask me, it's because the overall formula is not that potent and it works quite slow.
So if you think long-term, it's far from a wise choice.
Overall – it's not a product I recommend, considering that there are far better options in the market.
---
#1 – Claims & Producer
---
First of all, let's find out the basic info about this supplement:
which health problem it treats

how it works

what is the company behind
1. Claims
---
Nutrition Essentials Probiotic claims to have the "highest number of CFUs per serving."
And here's what it promises to do:
balances the digestive system

supplies with healthy bacteria

boosts immune system

controls appetite and weight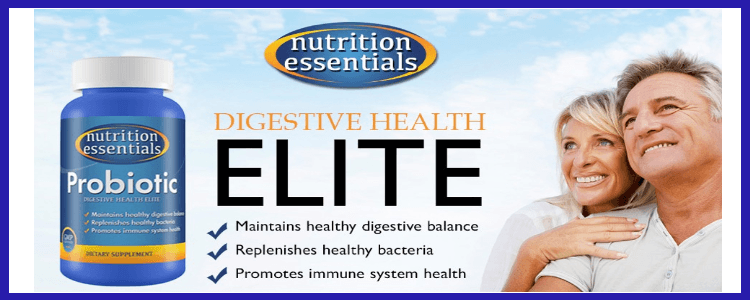 Now, according to its Amazon page:
it has 900 BIllion CFU of Propriety strain

it's more effective when it comes to intestinal absorption
At first – this dosage looks very high.
But upon careful research, I found out that it's the total number of all the tablets in a bottle.
So the one pack of this product has 60 capsules and each has 15 billion CFU only.
Honestly, the claim is really misleading and unfair.
So this supplement is not as potent as it claims to be.
2. Company Behind
---
The company behind this probiotic is called Nutrition Essentials.
I checked its official website and here's I noticed:
sells supplement for men, probiotics and neuroclarity products

they have more info on its Amazon store/listing

company can only be reached via the website contact page

has a return and shipping policy
Honestly – Nutrition Essentials' website doesn't have much info available.
In fact, its Amazon store tells a lot more about product details.
So if you want to try one of the company's products, go straight to their Amazon store.
---
#2 – Ingredients (3 out of 10)
---
If you ask me, I would say that Nutrition Essentials Probiotic is not that potent:
75 mg of Proprietary Blend

only one bacterial strain (trademark)

15 billion CFU

contains oligosaccharides and lactase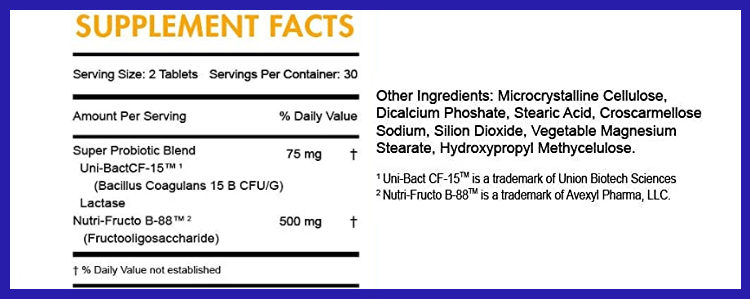 So let's take a look at the main ingredients inside this supplement:
Uni-Bact CF-15™ (Bacillus Coagulans) – stops bad bacteria & benefits the immune system [1]
Lactase – breaks down lactose for the body to absorb it [2]
Nutri-Fructo B-88™ (Fructooligosaccharide) – helps with constipation and diarrhea [3]
Other than that, the rest of its ingredients are not too vital.
They are only used for encapsulation purposes (so they are inactive).
Now – the overall formula of Nutrition Essentials contains 2 trademark ingredients.
However – only one of them is a bacterial strain, which is not a good thing for me.
Again, we are talking about probiotics here – so only one strain is way too little.
I'm not saying that this product doesn't work – but it's pretty weak.
---
Conclusion
---
In my view, Nutrition Essentials Probiotic could be better if it had more strains.
The existing ingredients are promising, but rather weak.
So I wouldn't really recommend it.
---
#3 – Pills & Dosage (4 out of 10)
---
First – let's look at the features of Nutrition Essentials Probiotic.
1. Pills
---
Here's how I would describe the looks of the supplement:
flat and oblong tablets

slightly bigger than the average size

white in color
Unlike other probiotic supplements, Nutrition Essentials is formulated as tablets (not as capsules).
In my view, it can be difficult for some people to swallow it, because of its size.
2. Dosage
---
I checked out the product label and here's the suggested way to take it:
no more than 2 tablets per day

preferably on an empty stomach

for adults over 18

There's a direction saying that it's for adults only and it shouldn't be consumed by kids.
Also – pregnant and lactating women are not allowed to take it.
In my opinion, most people might find it hard to take this supplement, for 2 reasons:
its size

to the number of tablets needed to take/day
---
#4 – Results

(7 out of 10)
---
Nutrition Essentials Probiotic doesn't have work the same for everyone, as any other supplement.
That's why I always check the customer reviews – in order to see how it works.
Note: I only analyzed authentic reviews, not promotional or fake ones.
1. Positive Opinions
---
Since the brand promotes its Amazon listings, I will show you the opinions from there.
So here's what contented customers say about this product:
Most users testified that it treated their GI issues.

Some said they didn't experienced bloating and gas anymore.

Others mentioned their IBS-C cleared up.

The rest noticed their overall appearance lighten up.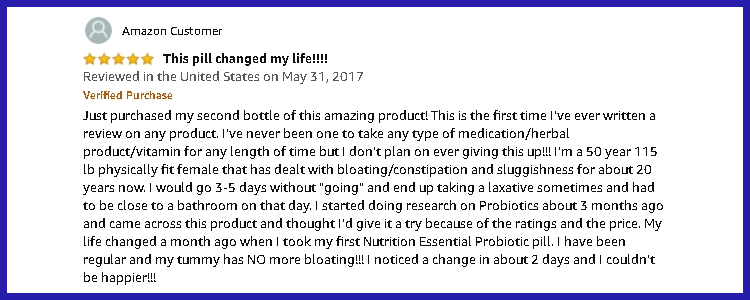 Honestly, the comments about the supplement are quite long and detailed.
So if you ask me, a lot of people are satisfied with it – giving a rating of 4.4/5 stars.
Overall – I would say that Nutrition Essentials Probiotic does work for most users.
So it's definitely not a scam.
2. Negative Opinions
---
Let's check at the reviews of the previous buyers who didn't like it as well:
Most complaints were about the misleading CFU and label.

Some said that it's not meant for people with ulcerative colitis.

Others mentioned that it takes a long time to work.

The rest didn't like the pills because they are hard to swallow and chalky.

A few customers experienced adverse reactions.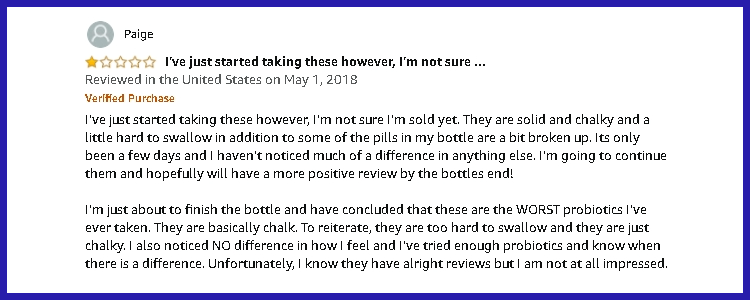 Normally – any product has enough complaints and negative comments.
So I would actually advise you to look at those reviews as well.
This supplement has enough issues and complaints, so it's far from perfect.
---
Conclusion
---
Overall – there seem to be a lot of people who liked Nutrition Essentials Probiotic.
But we can't deny the fact that there are some who hated it.
If you ask me, I would say that it's not a bad product.
I just think that there are better alternatives out there, with fewer negative reactions.
---
#5 – Side Effects

(4 out of 10)
---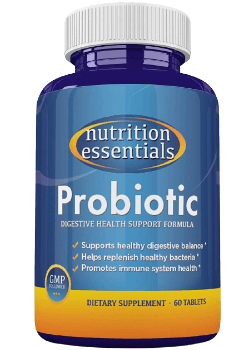 As I was scrolling through the customer reviews, I found enough complaints.
And many of them were related to the adverse reactions experienced by some:
heart palpitation

diarrhea/stomach pain

nausea/headache

fatigue/mild flu
Now – these reactions are quite bothering, if you ask me.
So even if there's only 1-2% of users dealing with them, it's still bad.
In my opinion, I strongly suggest you to look for other options, that are safer.
Nutrition Essentials' product doesn't seem the most dangerous probiotic, that's for sure.
But it doesn't seem the safest either.
---
#6 – Price (4 out of 10)
---
If you ask me, Nutrition Essentials Probiotic looks like a good deal at first.
But if you consider the other aspects, it's not the best option.
1. The Exact Price
---
The supplement is available both on the brand's website and on Amazon.
But Amazon has better deals – so let's feature the prices there:
1 month supply costs $17.99

a 3 month supply costs $49.99

lastly, a 6 month supply costs $79.99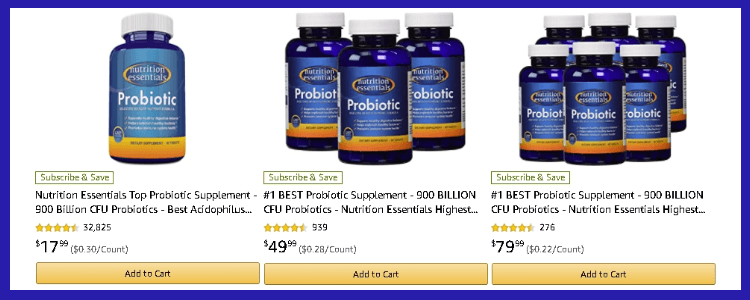 The price on Amazon is $2 cheaper (compared to Nutrition Essentials' website).
I also want to highlight that a a month supply means 60 tablets.
So it's normally designed to last for 30 days.
2. Competitors' Price
---
If you're looking for an alternative, I will show you my top recommended probiotic.
The supplement I'm talking about is called BiomeMD: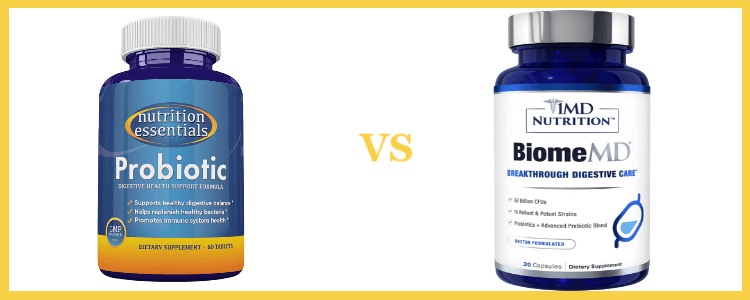 BiomeMD has some high doses of 15 essential bacterial strains.

It contains both pre and probiotics.

Nutrition Essentials Probiotic contains only one bacterial strain.

The amount of CFU is high, but the overall formulation is not impressive.

BiomeMD only requires a capsule per day.

On the other hand, Nutrition Essentials Probiotic requires 2 tablets/day.

BiomeMD is normally $49, but it can be bought for $28 (discounted).

Meanwhile, Nutrition Essentials Probiotic costs $17.99.
If you look closely, you will see that BiomeMD is better in most aspects.
The price might be a little higher, but the benefits are way higher too.
---
Conclusion
---
Overall – Nutrition Essentials Probiotic's price is a little too much, considering its composition.
Its potency isn't very high, so the effect could also be quite slow.
So if you ask me, it's not really a good choice.
---
#7 – Final

Conclusions
---
To wrap it up, here's my summarized opinion about Nutrition Essentials Probiotic:
1. Misleading Label
---
The first thing to notice about this supplement is that it has 900 billion CFU.
But then, in reality, it's not that strong:
one bacterial strain only

75 mg proprietary blend

15 billion CFU (per tablet)
In other words – those 900 billion CFU are actually the total of all 60 pills.
So the dose per pill is 15 billion CFU – which is not bad, but it's far from 900 billion.
2. Reliable Background
---
Now – the supplement comes from a known brand:
authentic reviews

official Amazon store

professional website
So if you ask me, I would say that it's safe to buy from this company.
3. Can Be Expensive
---
The product is not as inexpensive as it looks:
2 tablets a day

$17.99 for a month supply

needs more time to work
So in order to see its real effect, you need to use this product for a longer while.
---
My Verdict – Worth It Or Not?
---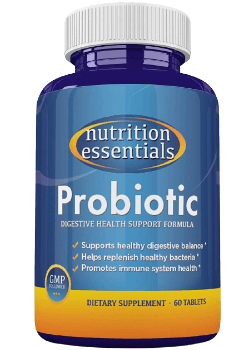 Short answer: Definitely not – and here are the reasons why:
Confusing label

Lacks several bacterial strain

Not very easy to swallow

Expensive for long-term use

Effect is pretty slow

Triggers a lot of side reactions
The product doesn't seem to be bad, since it has a lot of satisfied users behind.
But if you ask me, there are way better options available in the market.
Now – I have a recommendation that can give you some better results.
The supplement I'm talking about is BiomeMD:
Has a very high amount of doses and ingredients

Contains 15 essential bacteria strains

Based on both probiotics and prebiotics

Works fast and really well
So overall – I would say that BiomeMD is more superior in all aspects.
That's why it's my top recommended supplement from this category.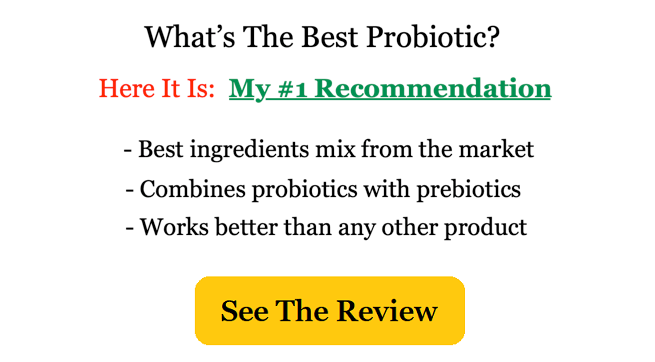 References:
1 – https://www.healthline.com/health/-bacillus-coagulans
2 – https://www.ncbi.nlm.nih.gov/pmc/articles/-PMC7284493/