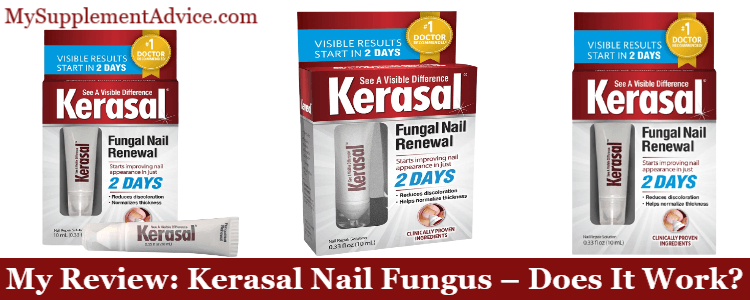 It's time to review Kerasal Nail Fungus – which is a topical product for nail fungus.
But is there any possibility that it's a scam?:
basic formula

affordable price

limited area where you can use it
Let's analyze the product details, to find out the answers for this question.
Note: This review is based on my opinion + research on Kerasal Nail Fungus.
Review Summary
---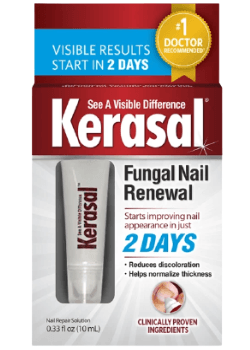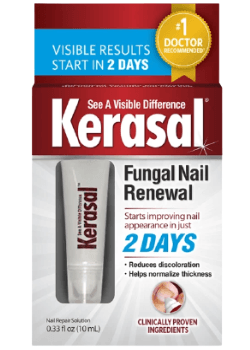 Full Name: Kerasal Fungal Nail Renewal by Advantice Health

Product Type: Anti-Fungus Cream
Best Actual Price: Around $19
Cheapest Place To Buy: Amazon
Designed For: Improving the appearance of nails – it helps with:
thickness


brittleness

discoloration
My Rating: 5 out of 10
Recommended?: Not really – there are some reasons why it's not my top choice:
weak ingredients

doesn't destroy fungus completely

not versatile for a lot of fungal infections
Instead, I have a recommendation for you and it's the best fungus supplement from the market.
What I Liked About It
---
Producer has a good reputation

Works pretty fast

Has a lot of user opinions available

Quite affordable

Pretty easy to find in all countries
What I Didn't Like About It
---
Pretty weak formula

Limited benefits (only works for the nails)

Not a real anti-fungal solution
---
Kerasal Nail Fungus In A Nutshell
---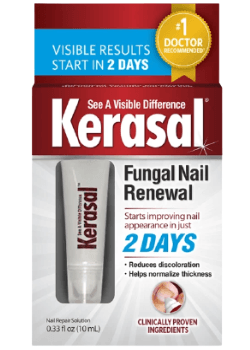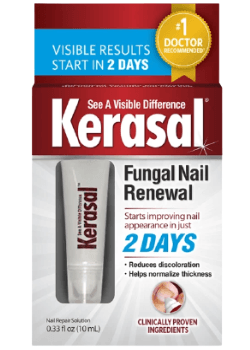 Kerasal Nail Fungus is not the classic an anti-fungal treatment.
That's because it doesn't destroy the existing fungal build-up.
Since most products from the market do that – this is a real downside.
Now – there are several versions of the product:
Fungal Nail Renewal™

Multi-Purpose Nail Repair™

Nail Renewal™ plus Tea Tree Oil
I will focus on the first one in this review (since it's by far the most popular).
Now – Kerasal is made to renew or restore healthy nails infected by fungus.
Still, it won't stop/cure the infection – as opposed to what is expected from it.
Other than that, it has several extra disadvantages:
very weak formula for reducing the fungus

only renews the nails (limited use)

doesn't treat the real cause of damaged nails
On the bright side, one tube (10 ml) costs only $18.86, which is really affordable.
Also – it works very fast for most previous buyers, so it's a good deal.
Overall – this product isn't bad at all, but it lacks a lot.
So I suggest you to look for better alternatives ,that can treat your fungus for real.
---
#1 – Claims & Producer
---
Firstly – here's what you should know about Kerasal Nail Fungus:
how it works

who is the company behind

what infection it treats
1. Claims
---
Based on its description, Kerasal is a topical product to improve damaged nails.
Its strongest claim says that it "starts improving nail appearance in just 2 days."
Now, here are its main benefits (according to its page):
eliminates discoloration

reduces thickness and

brittle nails

exfoliates the nails

removes damaged layers


These promises are straight to the point, to be honest.
Now, there are different versions made for the foot, nails and therapy.
But I want to highlight the 3 products from Kerasal's nail category:
Fungal Nail Renewal™

Multi-Purpose Nail Repair™

Nail Renewal™ plus Tea Tree Oil
But like I said – for this review, I will just focus on the first one.
Now, the product has a strong disclaimer at the bottom of its official website.
It says that it doesn't cure or prevent fungal nail infections.
However – most people buy it for actual infections, so it's kind of shady.
2. Company Behind
---
Kerasal Nail Fungus is under the company called Advantice Health, LLC.
I looked into its website and here's what I found:
owns the brands Domeboro®, Kerasal® and Dermoplast®

its products are designed for skin irritation, wounds, fungus, etc.
Also – contact info includes fax number and mailing address.
Honestly – the brand seems to be a staple in the market.
So I would say that its legitimacy is proven.
---
#2 – Ingredients (4 out of 10)
---
Firstly – don't expect too much about Kerasal Nail Fungus' formula.
In my opinion, the ingredients present in it are decent enough to work.
Also – don't expect to see any herbal-based ingredients in its formulation.
Its formula is pretty plain and simple (not in the good way).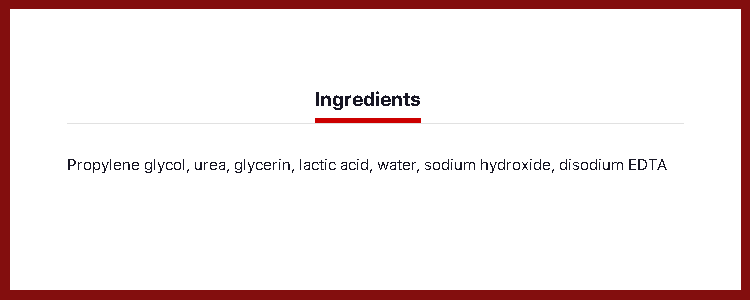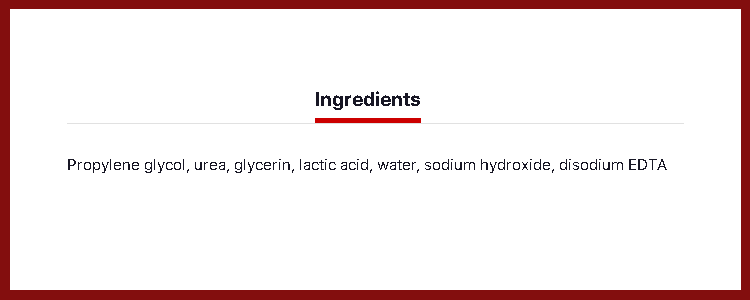 Here are some of the ingredients with notable benefits:
Urea – removes dead tissues and promotes healing [1]

Propylene Glycol – reduces flaking

Glycerin – hydrates and strengthens nails [2]
Lactic Acid – prevents nail splitting or breakage [3]

Sodium Hydroxide – maintains pH of the formula to retain its effectiveness
As you can see, the ingredients listed above are pretty common – but good.
Again – they can only renew and improve the appearance of the nails.
So don't expect too much from this mix – it won't cure fungal infections completely.
---
Conclusion
---
Overall – Kerasal' formula is decent.
However, it's not potent enough to be one of the best from the market.
I'm not the biggest fan of it, since it can't cure and prevent fungal infections.
So I suggest you to look for better formulas.
---
#3 – Consistency & Dosage (6 out of 10)
---
Now – let's take a look at some important details about Kerasal Nail Fungus.
1. Consistency
---
Here's how I would describe the product:
opaque in color

slightly thick consistency

faint chemical scent
Overall – it looks, feels and smells like a typical fungal cream treatment.
2. Dosage
---
The suggested use of the product is as follows:
Always clean the infected area first.

Apply the product to the nail and around it.

Use it twice 2x/day (morning and night).

After 1 week, apply it 1x/day during the night.

Wait until the product dries after each application.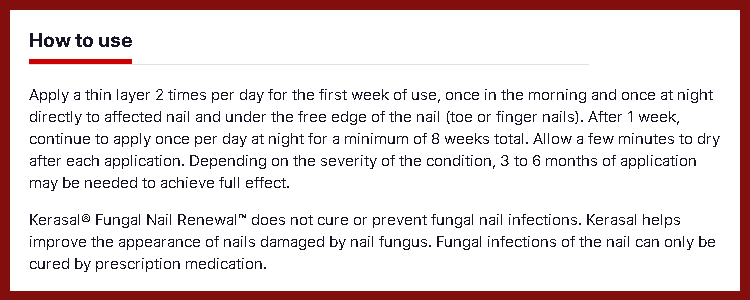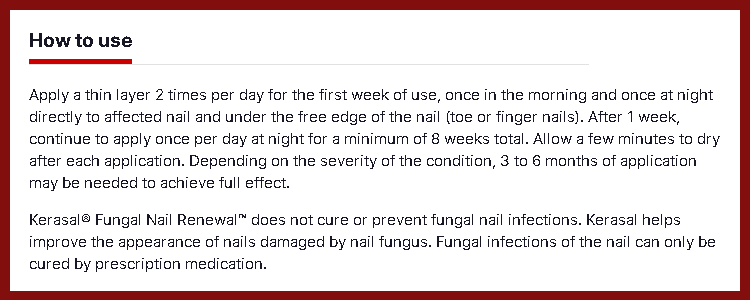 Honestly – the product is easy to use but in my opinion, the effort is not worth it.
So I advise you to just find a better option that's worth the same effort.
Other alternatives which require the same efforts will really cure fungal infections.
---
#4 – Results

(6 out of 10)
---
At this point, I'm quite excited about the comments of the previous buyers.
I wanted to see if Kerasal Nail Fungus did a good for most of the customers.
Note: I only analyzed authentic reviews, not promotional or fake ones.
1. Positive Opinions
---
I went straight to Kerasal's Amazon listing to find some authentic customer reviews.
The overall rating of the product is 4.2/5 stars.
So let's take a look at the comments of its satisfied customers:
A lot of customers saw a difference in their nails.

Others said their nails became healthier right away.

The rest mentioned that the product works pretty well.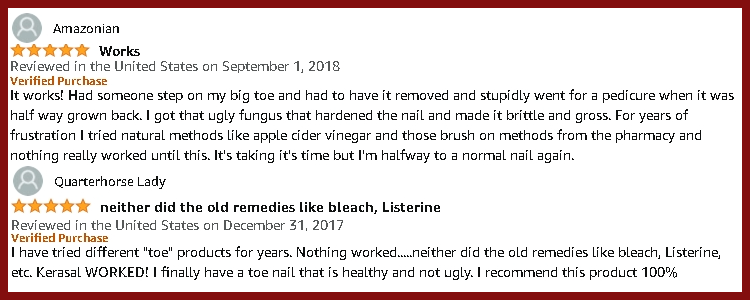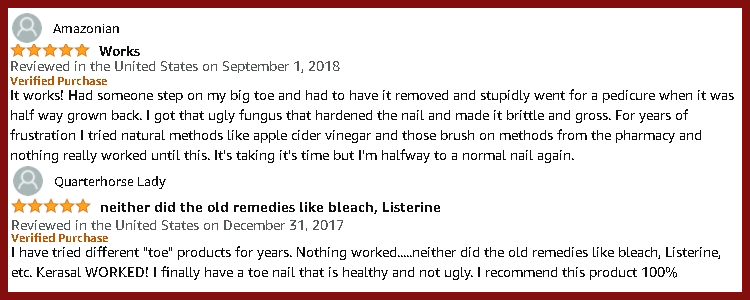 If you ask me, it looks like a lot of customers really loved the product.
So I guess Kerasal is effective in restoring healthy nails.
Also – these positive feedback confirmed that it's not fake or a scam.
2. Negative Opinions
---
On the other hand, here are the complaints of other previous buyers:
Some said that it didn't make any improvement in their infected nails.

Others mentioned that they saw the results only after 8 weeks.

Some customers didn't like its temporary results.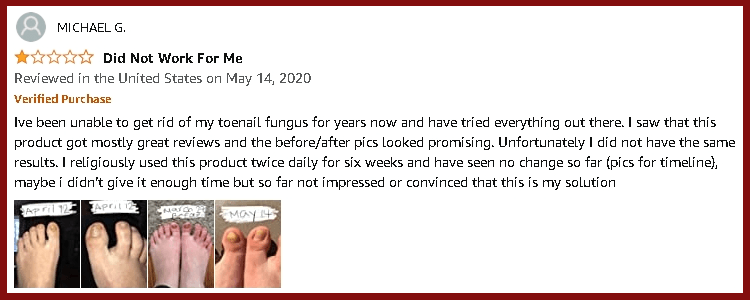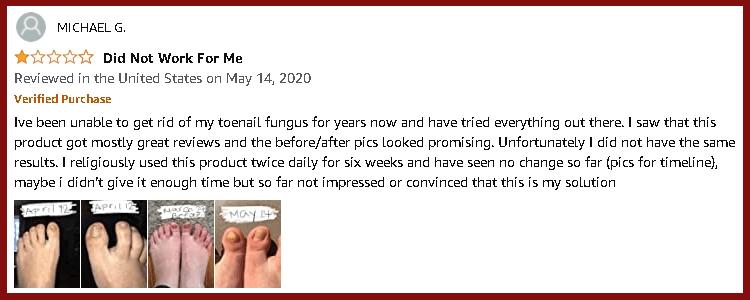 Now, as you expect, there will always be unsatisfied customers.
Their nails won't improve because the product doesn't cure the actual cause.
So their complaints are totally understandable.
---
Conclusion
---
In my view, this is a good product if you're into renewing your nails.
But if you want to cure your fungal infections, it's not too helpful.
That's why I wouldn't necessarily recommend it.
---
#5 – Side Effects

(8 out of 10)
---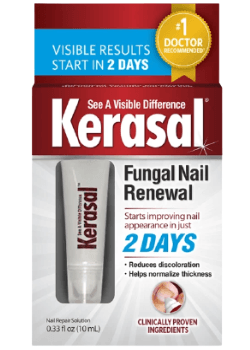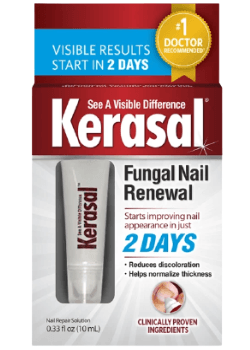 I did see some complaints about Kerasal Nail Fungus among its reviews.
So here are the most common side reactions:
damaged skin

nails falling off

skin peeling
Now – if you ask me, these reactions aren't anything unusual.
Since were talking about a product that repairs skin, they are totally normal.
That's because Kerasal actually replaces the infected nails.
Besides, it also contains some exfoliating ingredients.
But overall, I don't find anything alarming in terms of side reactions.
---
#6 – Price (7 out of 10)
---
The good thing about Kerasal Nail Fungus is its affordable price.
But it might not be worth it, if you want to remove your nail fungus.
1. The Exact Price
---
As of now, the product is currently out of stock on its official website.
So let's see the deals offered on Amazon:
a tube costs $18.86

free shipping (selected dates)

discounts upon subscription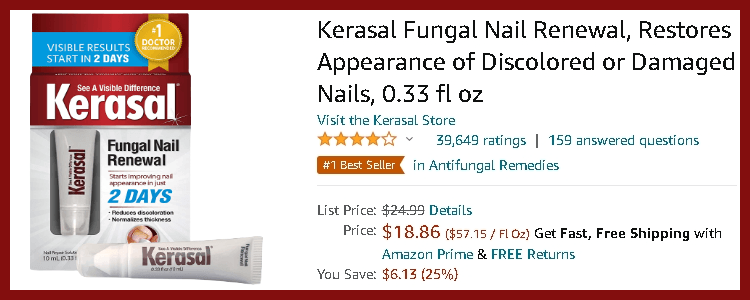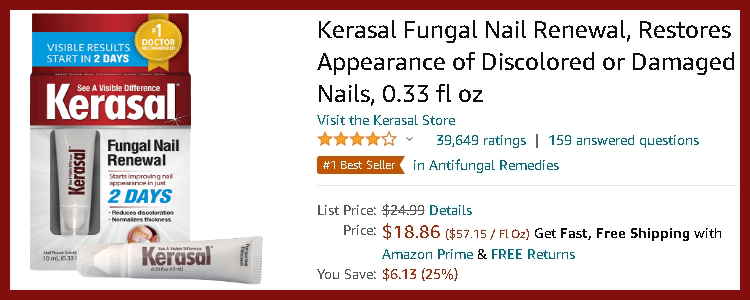 Now – one tube contains 10 ml (0.33 fl. oz.) of product.
It's not the best quantity (especially for people with more damaged nails).
But since it works fast for most customers, you might not need to buy more than one tube.
2. Competitors' Price
---
If you're looking for a real anti-fungal treatment, here's my top recommendation.
I'm talking about is Urgent Fungus Destroyer:


Urgent Fungus Destroyer treats different kinds of fungus in the body.

It contains 20 effective ingredients.

Kerasal is made to renew and treat damaged nails.

The overall formula isn't meant to destroy fungus.

Urgent Fungus Destroyer should be taken twice daily.

Kerasal initially requires 2 pills/day as well.

Urgent Fungus Destroyer normally costs $69.

But you can get it for a discounted price of only $49/bottle.

A tube of Kerasal is only $18.86.
In my opinion, Urgent Fungus Destroyer is the best option.
It's really made to fight off fungus, which is the root cause of all infections.
However – if you're only concern with your nail appearance, Kerasal is a good product as well.
Since it's much cheaper, it may be a better option in this case.
I just want to warn you not to expect more from it.
---
Conclusion
---
Kerasal is only good if you want to fix the appearance of your nails.
It works fast from this point of view, which makes its price worth it.
But I suggest you to invest your money in a better alternative.
---
#7 – Final

Conclusions
---
So these are my summarized thoughts about Kerasal.
1. Basic Formula
---
Now – don't expect to see a lot of ingredients in Kerasal.
There are no herbal-based compounds present in it, so it's really basic.
Most importantly, it's not an anti-fungal and it doesn't treat the causes of any infection.
Overall – the formulation only promotes exfoliation and nail renewal.
2. Trusted Background
---
Kerasal comes from a reputable company.
That's a good thing for me, because it proves that it's not a scam.
Overall – the company background plays a huge factor in a product's trustworthiness.
That's why Kerasal looks good here.
3. Affordable Price
---
Lastly – Kerasal's price is fair for its quality.
A tube of 10 ml only costs $18.86, which can be further discounted.
Also, for fast results, it's definitely worth it.
---
My Verdict – Worth It Or Not?
---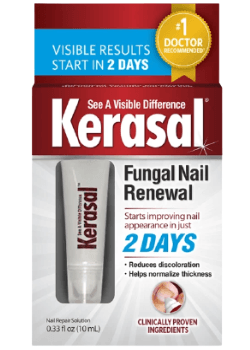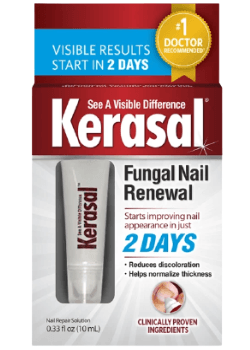 Short answer: Not really – these are the reasons why:
Doesn't treat fungus for real

Weak ingredients (for fungus)

Doesn't prevent outbreaks
These are just some minors disadvantages and they don't make the product a bad one.
However – I didn't really like the fact that it doesn't treat fungus.
But overall, Kerasal is a good treatment if you want to restore your healthy nails.
Now – if you're looking for a real anti-fungal product, I have my #1 recommendation.
The treatment is called Urgent Fungus Destroyer:
Treats all types of fungus

Effect can last a long time

Has 20 essential compounds

Little chances of side effects
The good thing about Urgent Fungus Destroyer is that it's an overall treatment.
It treats the causes of the infections and prevents future outbreaks (unlike Kerasal).
So overall – I think it's a better investment of your money.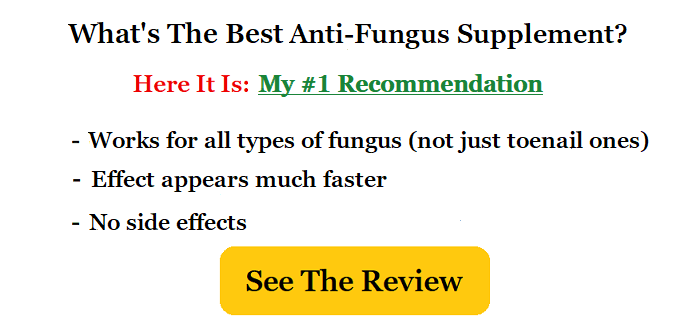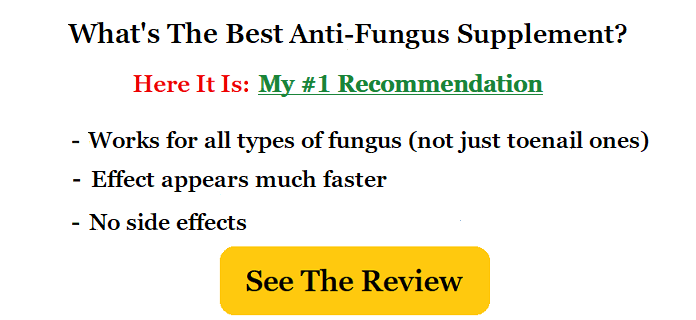 References:
1 – https://pubmed.ncbi.nlm.nih.gov/-720134/
2 – https://www.ncbi.nlm.nih.gov/pmc/articles/-PMC5560567/