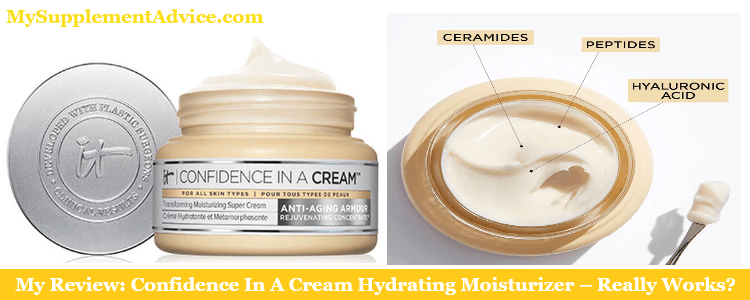 It's time to review Confidence In A Cream Hydrating Moisturizer – a product that seems very promising.
There was a point when it became really popular – and part of it was because of its brand.
But are there any chances that it's a scam?:
basic formula

not really for anti-aging

small quantity
So what's the truth behind Confidence In A Cream?
To give you the real facts about it, I analyzed it in detail.
Note: This review is based on my opinion + research on Confidence In A Cream.
Review Summary
---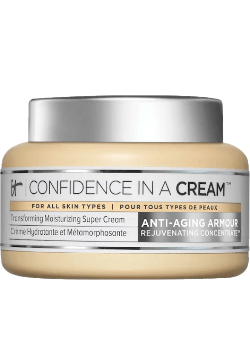 Full Name: Confidence In A Cream Hydrating Moisturizer by IT Cosmetics, LLC.
Product Type: Anti-Aging Cream
Best Actual Prize: Around $50
Cheapest Place To Buy: Sephora
Designed For: Moisturizing the skin– it claims to:
even out skin tone

keep skin hydrated

reduce fine lines and wrinkles
My Rating: 7 out of 10
Recommended?: Not really. It's not a bad product, but it doesn't stand out either:
Works better as a moisturizer than an anti-aging cream

Contains basic ingredients that can be found in almost any anti-aging cream

A little pricey for its quality
I personally recommend a much better anti-aging product instead.
What I Liked About It
---
Keeps skin hydrated

Made by a trusted company
What I Didn't Like About It
---
Basic formula

Expensive for its actual value

Lacks strong form of anti-aging compounds

Causes side effects (skin irritation)
---
Confidence In A Cream In A Nutshell
---
Based on the packaging, Confidence In A Cream is an anti-aging armour.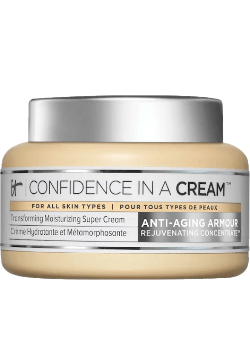 Just like anyone, the first thing that'll come to your mind is that it's a normal anti-aging cream.
However – upon reading and researching about the product, it's not so special.
The brand of this product is known especially in the makeup field.
And if you ask me – that's one of the reasons why this cream became popular.
But I want to remind you that there are reasons you need to consider first:
Works better as a moisturizer than an anti-aging cream

Takes a long time to reduce signs of aging

Formula focuses more on hydration

Expensive for its value
I also want to point out that the instructions require you to apply it in different areas.
These include the face, neck, upper chest area or anywhere your skin needs rejuvenation.
If you will follow them – you might need to buy multiple jars per month.
Overall – this product is not bad but there are better alternatives out there.
---
#1 – Claims & Producer
---
First of all – here's some info about this product:
who is the company behind it

how exactly it works

what skin issues it helps most
1. Claims
---
Looking at its website, it claims to "delivers 7 anti-aging skincare benefits in one cream":
moisturizes

reduces fine lines

smooths skin

evens skin tone

minimizes pores

plumps skin

gives glowing skin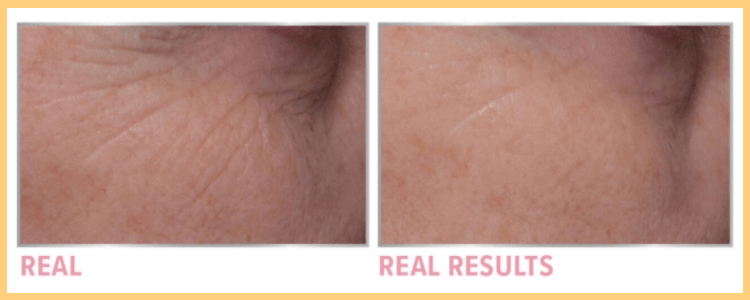 This cream also claims that it provides a continuous 24-hour hydration.
However – I think that this only works if you apply it twice a day.
It's not a continuous effect upon a single application.
At this point, I don't consider it an exceptional product, to tell you honestly.
2. Company Behind
---
The company behind this cream is IT Cosmetics, LLC:
it has a lot of buyers

it's well-known for its easy to apply makeup

it's a reputable company
If you ask me, I've known this brand through several makeup reviews on YouTube.
Regarding its product, there are ups and downs (just like any company).
Since a lot of influencers talk about this product, I would say that it is safe to buy it.
---
#2 – Formula (8 out of 10)
---
I checked out Confidence In A Cream's ingredients on its website.
Out of lots of compounds – the brand emphasized 3 key ingredients.
However, these key ingredients are not unique and can be found in some skin care products too.

Don't expect to see the doses of the ingredients used in this product.
That's because all products of this kind only mention the components (without the doses).
My first impression is that it looks effective.
But let's be fair and analyze the ingredients present in this cream, starting from the top ingredient.
1. Ceramides
---
Adding ceramide in skin care products is finally a thing now, thanks to Science!
This compound has several benefits for the skin:
protects against external factors [1]

reduces signs of aging

lightens dark spots
Damage caused by external factors (such as sun damage) contributes a lot to skin aging.
So incorporating this compound will make this cream much better at this chapter.
2. Peptides
---
These amino acids make up a certain protein needed by the skin.
Their skin-related benefits include:
give younger-looking skin

heal wound faster

produce more collagen [2]
One cause of skin sagginess and wrinkle formation is due to decrease in collagen production.
This happens when we age – that's why helping our skin to produce more is a good move.
3. Hyaluronic Acid
---
If you're into skin care products, you must know this ingredient very well.
For those who are still not familiar, here's what it does:
traps skin moisture [3]

increases skin cell production

provides hydration
Another cause of skin aging is dehydration – that's why this ingredient is extremely important as well.
4. Additional Ingredients
---
These are some other ingredients present in the cream:
Dimethicone – fills pores

Retinyl Retinoate – reduces wrinkles

Plant Extract/Oil – provides antioxidants
These are pretty common ingredients and can be found in almost all skin care products.
Also, Retinyl Retinoate is a less harsh version of Retinol.
---
Conclusion
---
Confidence In A Cream 's formula is pretty good:
has a combination of classic and new skin care ingredients

has a full list of ingredients on their site
Looking at it, all of these ingredients are pretty potent.
However – thy're not enough to combat the signs of aging.
There's a Retinyl Retinoate present – but it's not the strongest form to reduce wrinkles and fine lines.
So overall – this cream is better as a moisturizer than an anti-aging product.
I suggest that you look for an alternative that has strong anti-aging components.
---
#3 – Consistency & Dosage (5 out of 10)
---
Now – let's talk about this cream's texture.
1. The Consistency
---
Here's how I would describe the product, based on its physical appearance:
creamy texture

light beige color

slightly thick consistency

light fragrant scent
Since it has a slightly thick consistency – it might take a little while for the cream to be absorbed by the skin.
Also, it's not oil-free, so some of you may find it greasy.
2. The Dosage
---
According to its instructions, here's how you should use this cream:
Apply on clean skin.

Scoop your desired amount of the cream.

Apply it to your face, neck, upper chest area, or anywhere you want it.

Massage the product in upward sweeping motions.

Apply daily during the morning and evening.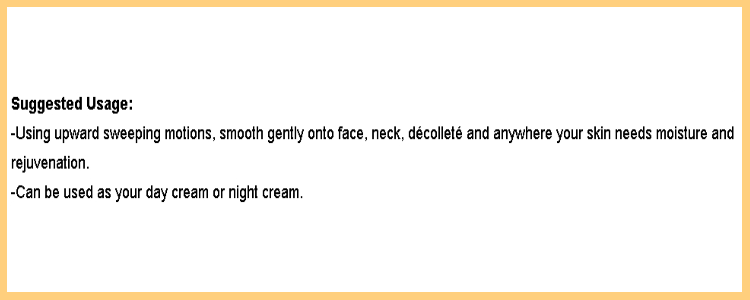 There's nothing special about the product's instructions.
It is advised that you apply it to the area that needs moisture and rejuvenation.
But this only means that you will have to use a higher quantity of product.
So there's a high chance that you'll buy multiple jars in one month.
---
#4 – Results

(7 out of 10)
---
If you want to know how a product works, you should look at its customers' opinions.
To give you a fair insight, that's exactly what I did.
I checked out Confidence In A Cream's reviews on Sephora.
That's because I believe that the customer reviews there are more honest.
Note: I only analyzed authentic reviews, not promotional or fake ones.
1. Positive Opinions
---
Besides Sephora, you can also see some customer reviews on its official website.
Again – just to be fair, I will focus more on what's written in Sephora.
I don't really rely much on the reviews from the cream's official website (because they can be biased).
Here are the common statements from the satisfied users:
A lot of people comment that their skin is well-hydrated.

Some people say that it's absorbed by the skin really well.

Others state that their skin became healthy and plump.

It got an overall rating of 4.3/5 stars from around 1.2K people who reviewed the product.
This is enough reason to say that this product isn't a scam.
2. Negative Opinions
---
Honestly – Confidence In A Cream is not safe from negative opinions:
Some people find it too thick and greasy.

Others experience breakout and clogged pores.

A few people with sensitive skin felt a lot worse.

The rest of the customers state that it is not really suitable for all skin types.

For comments like this, I would say that we can't blame them.
Identical comments from several people proved that it doesn't work for all.
---
Conclusion
---
As expected, the cream has mixed reviews. There are people who are satisfied and there are some who are not.
Satisfied customers proved that this product works.
But I would say that it will not really work for everyone.
As opposed to the claim that it works for all skin types
---
#5 – Side Effects

(7 out of 10)
---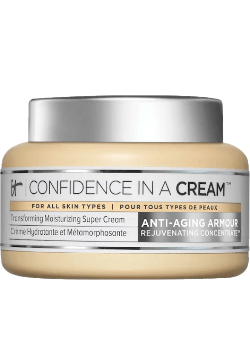 By now – you should know that all products are not exempted from side effects.
I read the concerns experienced by some and here are the common opinions:
Worsened rosacea

Pimple breakouts

Skin irritation/redness
These issues are pretty common.
But for a brand/product that claims to be suitable even for those with rosacea, it's not good at all.
However – I would say that these cases are rare and won't happen to anyone.
Overall – I would say this cream is safe to use.
---
#6 – Price

(6 out of 10)
---
Analyzing the cream's composition, it is quite expensive for its value.
So far – I don't consider it such a good choice.
1. The Exact Price
---
You can purchase this product from official retails but it is mostly recommended to buy from these:
Sephora

IT Cosmetics Official Website
When it comes to the product's packaging, you'll have 3 options:
Travel Size (15 ml /0.50 fl. oz.)

Regular Size (60 ml /2.0 fl. oz.)

Big Size (120 ml /4.0 fl. oz.)
The cream the same price from both stores are:
Travel Size costs $17

Regular size costs $49

Big Size costs $70
You will only get additional discounts from their official website upon subscription.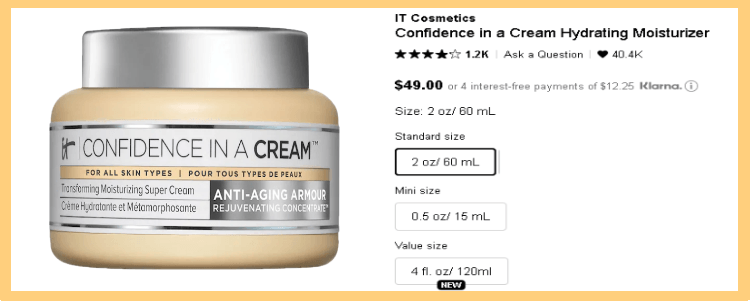 I would say for first-time buyers, don't sign up for subscriptions right away.
I think it's better to try the product first before committing.
Again – since it requires you to apply it to almost every dry skin area, you might need more.
This is where it will get too pricey because you need to replenish multiple times a month.
Overall – I don't consider it a good deal.
2. Competitors' Price
---
I only want to compare this product with the best anti-aging product I know.
I am talking about Kollagen Intensiv by Skinception: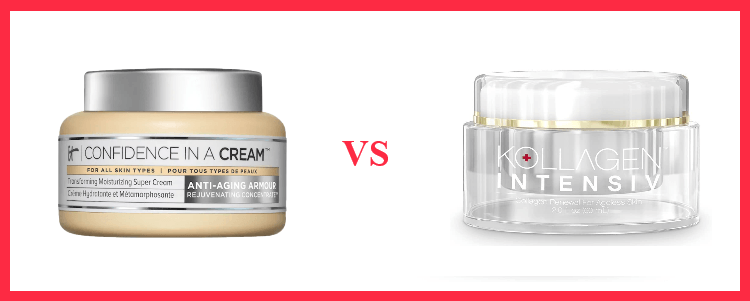 Kollagen Intensiv has a good formula backed with studies.

Confidence In A Cream has a good formula too.

Normally, Kollagen Intensiv costs about $60 but you can get a deal for only $36.

While Confidence In A Cream costs $49.

In my case, a jar of Kollagen Intensiv tends to last up to 6 weeks.

Confidence In A Cream might not last a month.
Between the 2 – Kollagen Intensiv is a better choice.
At first, it might look like it's more expensive.
But the amount of cream and composition present in it is strong enough to combat skin aging.
Meanwhile, the Confidence In A Cream will require you to use more and longer.
Clearly, Kollagen Intensiv is a better deal.
---
Conclusion
---
There's no doubt that Confidence In A Cream is a good product.
And it came from a trusted company with a good reputation.
But again – I would say that this is better as a moisturizer than an anti-aging cream.
Sometimes, you need to consider the effectiveness of the product even if it's a little pricey.
There is a tendency that you'll end up spending more on a less expensive one since you need to buy more.
I would say that you spend your money on a better alternative.
---
#7 – Confidence In A Cream In 3 Ideas
---
Overall – here's how I would sum up my opinion on this cream.
1. Good Formula
---
There's no doubt that this cream has a good formula:
has a lot of major skin care ingredients

contains herbal extracts

has components good for skin hydration
This cream will keep your skin from being dehydrated.
2. Not For Anti-Aging
---
Again – this cream is better than a moisturizer than anti-aging cream.
So when it comes to anti-aging benefits, this product doesn't offer much.
It lacks other strong anti-aging compounds.
There may be the presence of some but not in the best form.
Meaning – it will take a long time to see effects against anti-aging.
There are better products available in the market that will give immediate results.
3. Small Quantity
---
At first, you'll think that this cream has a decent price.
Besides the face, neck and upper chest, you can also apply it to any dry area in your skin.
This means that you'll need to use more than usual.
It's up to you to analyze if the quantity and its price are worth it:
Regular size has 60 ml /2.0 fl.

It costs $49
I believe that any size will not last a month especially for those with drier skin type.
---
My Verdict – Worth It Or Not?
---
Short answer: Not quite.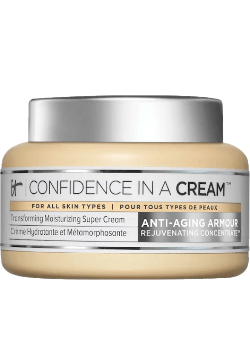 I can say right away that this product is not a scam because it's made by a company with a good reputation.
However – you need to look at the other perspective before buying this product:
Not strong enough to reduce signs of aging

Ratio is small for the area of coverage

Expensive for its quality and quantity

Requires you to purchase multiple times a month
There are people who are satisfied with it.
Just consider your budget and the fact that you need to buy more.
There is still a far better anti-aging product out there. I'm talking about Kollagen Intensiv:
It contains strong anti-aging ingredients backed up with clinical studies.

You can get a good deal through discounts and freebies.

Several specialists and professionals endorse it.

It has a lot of satisfied and real users.

One jar can tend to last a month.
Since the product is effective and a little goes a long way, you can save up some money.
I would say that Kollagen Intensiv is a good deal overall.
In terms of effects – it works better and faster.
Overall – I suggest you try this product instead.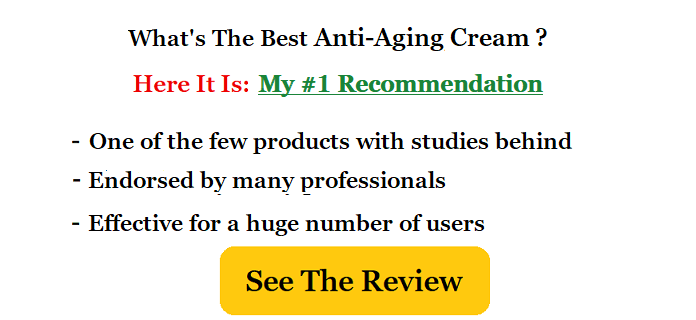 References:
1 – https://www.ncbi.nlm.nih.gov/pmc/articles/-PMC6197824/
2 – https://www.ncbi.nlm.nih.gov/pmc/articles/-PMC2923951/