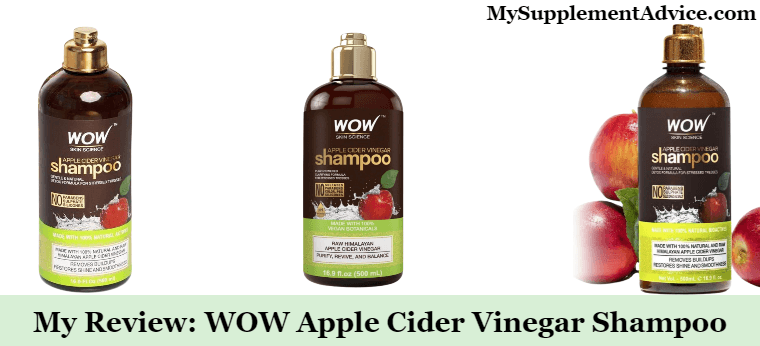 Let's review WOW Apple Cider Vinegar Shampoo – a vegan formula that claims to rebuild your hair:
many satisfied customers

very affordable

good ingredients
So, how effective is it at helping your hair grow?
In other words – is it any good?
This review will give you all the details you need.
Note: This review is based on my opinion + research on WOW Apple Cider Vinegar Shampoo.
Review Summary
---
Full Name: Apple Cider Vinegar Shampoo by WOW Skin Science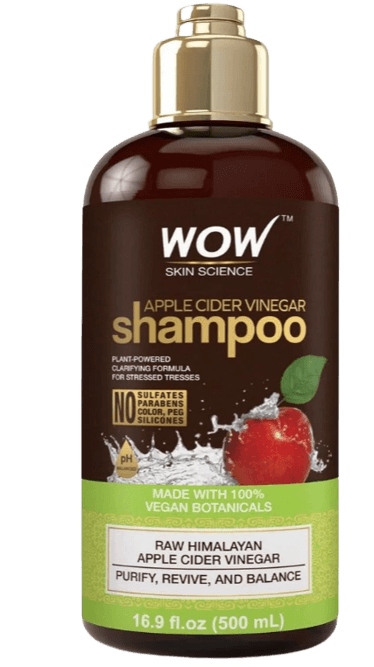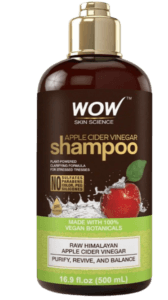 Product Type: Shampoo
Best Actual Price: $14.40 (with subscription)
Cheapest Place To Buy: Official website
Some versions are also available on Amazon, but I'm unsure of their authenticity.
As such, I recommend only buying from the producer's website.
Designed For: Stimulating hair growth. At the same time, it will also:
eliminate excess oil & buildup

grant shine

fight dandruff and hair loss
My Rating: 9 out of 10
Recommended?: Of course – it's amazing for most hair issues:
detoxes gently

promotes hair growth

protects against potential damage

fights hair loss
This is definitely your best bet if you're looking for a shampoo that does a bit of everything.
What I Liked About It
---
Great for combating hair loss and stimulating hair growth

Balances scalp pH (prevents scalp irritation, dandruff & flakes)

Repairs damaged hair and makes it smoother

Based on many classic ingredients for hair (backed by studies)

Free of sulfates, parabens & silicones

Many satisfied customers

Very affordable for it high quality & quantity
What I Didn't Like About It
---
Only ships in the US

Lack of negative user reviews

Original product is only available on official website
---
WOW Shampoo

In A Nutshell
---
WOW Apple Cider Vinegar Shampoo is definitely amazing for overall hair health.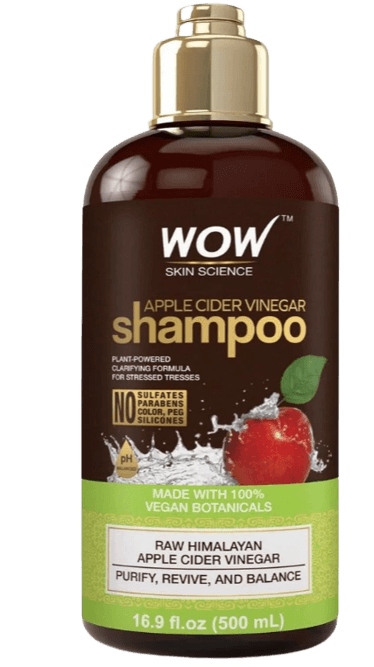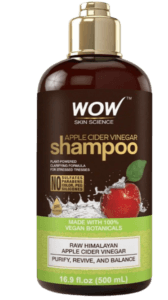 It claims to stimulate hair growth & remove scalp residue.
For the sake of being thorough, there are other variants of shampoos from this brand:
WOW Activated Charcoal & Keratin Shampoo

WOW Moroccan Argan Oil Shampoo

WOW Coconut Milk Shampoo
Plus a few others. But for this review, we're focusing on the ACV version, because it's the best.
To be fair, the formula is ideal for what this shampoo claims to do:
based on ingredients that are essential for hair

grants hydration

detoxes
Since its main ingredient is apple cider vinegar, a gentlecleansing makes sense.
Plus, the fact that there are no harsh chemicals in this shampoo is another advantage.
This means that this product has little to no chance of causing side effects.
So rest assured that it's safe to try.
Besides, it also helps that it's very affordable.
Especially considering its high quality and how long a single bottle can last.
Keeping all this in mind, I would say this is one of the best shampoos for most hair issues.
All things considered, it's an all-rounder product that will surely improve your hair.
---
#1 – How It Works & Producer
---
Let's see the general information surrounding WOW Apple Cider Vinegar Shampoo:
who the producer is

what the product does

how it plans to work
1. How It Works
---
The official website says that this shampoo "has a restoring formula for a vibrant look".
Among other things, it also claims to:

Additionally, this shampoo prides itself on its plant-based formula.
Plus, it says it's free of any harmful chemicals such as sulfates, parabens or silicones.
That's really nice, since it means this shampoo can give your scalp a gentle detox.
What's more – it will also strengthen and volumize your hair.
In essence, this product aims to be an all-rounder, in the sense that it does a bit of everything.
To add to its safety, it's also a vegan formula.
All in all, it seems like a shampoo that's thoroughly versatile.
2. Company Behind
---
This shampoo is produced by a company known as WOW Skin Science.
Here's what I can tell you after some research:
their website mostly sells hair products, but they also have some skin care

you can take a quiz to find out which products best suit your needs

customers are offered the option of building their own bundles

the support team can be contacted through phone call or email
Much like their products, the brand is also in touch with all that is natural.
Their website greets you with all sorts of information regarding the sourcing of their natural ingredients.
Plus, the company claims that every purchase counts as help towards reforestation & carbon sequestration.
That's pretty in-theme for how they present their products.
Another aspect worth noting is that they claim that everything they sell is free of sulfates, parabens & silicones.
Taking all this into account, I would say this brand is quite trustworthy.
---
#2 – Ingredients

(9 out of 10)
---
It's time to take a look at WOW Apple Cider Vinegar Shampoo's formulation.
1. Active Ingredients
---
This shampoo's ingredient list is not very long.
That means that the components that actually benefit your hair are easy to spot.
Here they are:
D-Panthenol – improves the texture of damaged hair [1].
Natural Apple Cider Vinegar – treats dandruff and dry scalp [2].

Nettle Leaf Extract – combats hair loss.

Saw Palmetto Extract – acts as a DHT blocker [3].

Almond Oil – moisturizes hair.

Argan Oil – reduces breakage and split ends [4].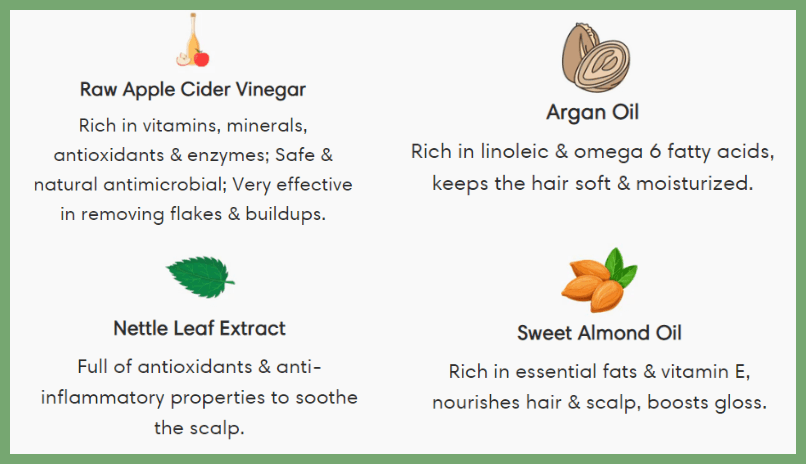 These are all great ingredients for hair in general.
Each of them is known to help your hair in some way, which adds to the versatility of the shampoo.
Plus, it's true that the formulation does not contain any sulfates, parabens or silicones.
Indeed, these harsh detergents are nowhere to be seen in this product.
Instead, it makes use of herbal extracts and oils in order to gently hydrate and soften your hair.
Since it's based on ACV, your hair will feel smoother and your scalp won't feel itchy.
That's because the condiment in question is quite acidic and has antimicrobial properties.
In fact, apple cider vinegar has quite a few benefits when it comes to hair care:
removes buildup

detangles

prevents hair loss
These are precisely the characteristics that make this shampoo's effect as gentle as it is.
Therefore, these ingredients can't be anything but helpful.
---
Conclusion
---
To conclude, it's safe to say that the company is staying true to its promise of being natural.
WOW Apple Cider Vinegar Shampoo really doesn't have any harmful chemicals, as stated.
Instead, they have herbal extracts and oils to gently maintain your hair in good shape.
Plus, the main attraction of this shampoo (ACV) is a pretty great component.
In short – this is definitely a reliable formula that won't damage your hair.
Quite the opposite, actually. Your hair will surely improve, thanks to this nourishing formula.
---
#3 – Texture & How To Use It

(9 out of 10)
---
In this section, we will talk about the consistency and scent of this shampoo.
I will also tell you about any directions regarding the use of WOW Shampoo.
1. Texture
---
When it comes to this aspect, people said the shampoo is thin & runny.
This, in turn, means that more product should be used.
So keep that in mind.
This is pretty good, since it means its consistency won't weigh your hair down.
Regarding the smell, I saw people saying it reminded them of fresh apples.
Generally, this is something that customers seemed to be happy about.
2. How To Use It
---
When it comes to how often you should use this shampoo…
The official website states that 1-2 times a week is enough.
That's because it's a powerful cleanser, so its effect is powerful enough.
In terms of how long you should leave the shampoo in your hair, 3-4 minutes is enough time.
However, if your hair is particularly oily or covered in dandruff…
Consider adding 2 extra minutes.
---
#4 – Results

(8 out of 10)
---
Whenever you want to see if a product works or not, check out user reviews.
That's where you will see other people's experiences, so you will be able to make the call.
On this note – let's see what customers are saying about WOW Apple Cider Vinegar Shampoo.
Note: I only considered authentic reviews, not promotional/fake ones.
1. Positive Reviews
---
In terms of user reviews, the only reliable option is the official website.
That's because I'm not 100% sure whether the products listed on Amazon are the real deal.
As such, it's much safer to base this article on what I know is official.
Here's what people loved about the shampoo:
A few people said their hair is growing much faster.

Customers also said their hair loss is now gone.

Lots of users claimed that their hair feels softer and is shinier.

Many customers praise the moisturizing capabilities of the shampoo.

Most people say they no longer have any flakes in their hair.

Lots of customers claim their hair feels much healthier.

Someone even said their scalp is no longer irritated since using this shampoo:

That's awesome, since this shampoo definitely has soothing properties.
Overall, the majority of people are praising this shampoo for the same reasons stated above.
This surely indicates that the product is pretty consistent in the results it gives.
As such, it's easy to know what to expect from it.
Of course, this is assuming that the reviews are authentic.
2. Negative Reviews
---
If you want to also see the less desirable traits of a product, the official website is not the best place.
This is because in the case of WOW Apple Cider Vinegar Shampoo, negative reviews are close to non-existent.
Naturally, this calls into question the credibility of the user reviews.
In fact, the most negative review I could find doesn't even say anything bad about the shampoo:

It's just saying that the product was not spectacular.
Now – I also managed to find a positive review that mentioned some downsides:

Someone did not experience the spike in hair growth that others talked about.
That's totally possible, since everyone's body responds differently.
Still – it's a positive review since it mentions that this is otherwise a great shampoo.
No talk of any side effects, which is quite suspicious.
Regardless, the lack of negativity definitely raises some eyebrows.
---
Conclusion
---
As we have seen, it's pretty clear that the official website doesn't have any negative reviews.
Of course, there is also Amazon, but there's no way of knowing their product is the real one.
Because of this, we can't really know how much we can trust the user reviews on the official website.
Regardless – judging by its formula, I really recommend this product.
---
#5 – Side Effects

(9 out of 10)
---
When it comes to potential risks, the official website has no information to offer.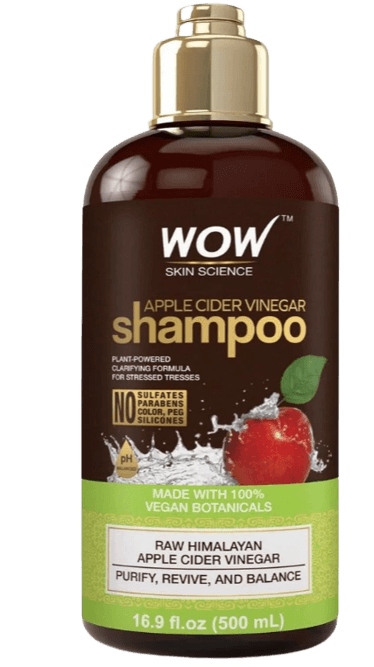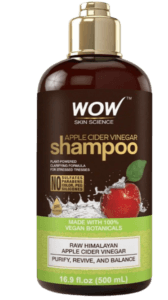 No user reviews or any section of the FAQs ever mention such details.
Now – it's possible that even if this product can cause side reactions…
They are likely very mild.
Considering its nourishing formula, there's surely nothing extreme that could happen.
Of course, this might not be universally true.
Remember that everyone's body reacts differently.
Someone could run into issues while using this shampoo, while others might be completely okay.
Still – the fact that it includes ACV, argan oil and almond oil makes it pretty safe overall.
---
#6 – Price

(9.50 out of 10)
---
Undoubtedly, price is a major factor in deciding whether or not we purchase something.
Let's see how this goes in the case of WOW Apple Cider Vinegar Shampoo.
1. The Exact Price
---
In all fairness, this shampoo is quite affordable in terms of pricing.
It's not suspiciously low in price, but it also doesn't break the bank.
So, let's see what the official website has to offer in this regard:
costs $16.95 for one bottle of 16.9 fl. oz.

you get 15% off by signing up for their subscription service

no additional discount for purchasing multiple bottles at a time

As in most cases, going for the subscription is not a necessity.
The discount is not significant, plus the shampoo is not expensive to begin with.
In other words, it's your call whether you choose to go for it or not.
Regardless – I think you're in for a good deal.
2. Worth Or Not?
---
Given the great formulation and the nice amount of quantity…
I would definitely say that going for WOW Apple Cider Vinegar is an amazing decision.
For an all-rounder hair product, it has awesome value.
As per the circumstances, the price is just right.
Therefore, you have nothing to lose!
---
Conclusion
---
To bring this section together, WOW Apple Cider Vinegar Shampoo is surely accessible for most people.
The price is quite balanced and not exaggerated in any way.
Plus, considering the quantity given, I would argue it's a great bargain.
This is quite the advantage when it comes to attracting potential customers.
Besides, it shows that a shampoo does not need to be expensive in order to be good.
---
#7 – Final Conclusions
---
Here are the core ideas regarding WOW Apple Cider Vinegar Shampoo.
1. Nourishing Formula
---
As we have already established, this shampoo's ingredients are quite suitable for its purpose.
Since it claims to cleanse your scalp very gently, the components make sense.
They are very effective for:
moisturizing

strengthening

balancing
Given its great formula, it makes sense that this shampoo is great for detox.
For removing residue or buildup, there's nothing like a gentle cleanse.
For this reason, the formulation for this product is very fitting.
2. Safe To Use
---
Due to its gentle formulation, the risk of side reactions is very low.
This is also due to the fact that the shampoo is free of harmful chemicals:
sulfate-free

paraben-free

silicon-free
As such, the shampoo won't strip your hair of its natural oils, which is very good in the long run.
Plus, due to how nourishing the components are, if any side effects appear…
They would surely be mild.
This is to say that you can use this shampoo with no worries.
3. Very Affordable
---
Naturally, this aspect is not to be neglected.
In fact, the price of WOW Apple Cider Vinegar makes it an awesome deal.
This is because you get quite a high quantity for the price.
Plus, the effect is worth every penny.
In this regard, I would say that the price is more than fair.
Additionally, it also means that lots of people can have the chance to try this shampoo.
---
My Verdict – Worth It Or Not?
---
Short answer: For sure!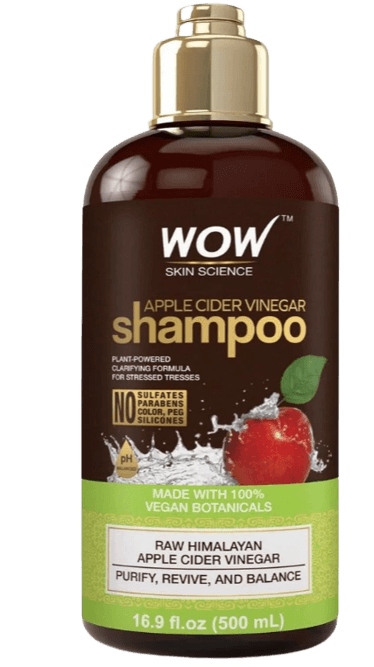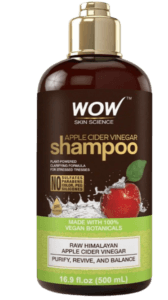 It's a jack of all trades type of shampoo:
Great ingredients.

Works in a gentle way.

Acts as an all-rounder.

Very safe formulation.

Accessible price.
Of course, this is not to imply that this is a perfect shampoo.
Rest assured that it's not an ideal product.
However, given its mission, quality and price…
It's quite an amazing deal.
It basically offers to clean your hair, moisturize it and stimulate its growth.
Generally, these three are essential in hair care.
If you can get them all in one product, it's great!
Plus, this product is free of harsh components, so rest assured that it won't cause any damage.
To sum up, WOW Apple Cider Vinegar is the best shampoo if you're looking for something gentle.
Plus, it will help your hair grow and make it healthier, which is always welcome.
In short, you're definitely making a great decision by giving this product a try!
References:
1 – https://pubmed.ncbi.nlm.nih.gov/-34698060/
2 – https://www.ncbi.nlm.nih.gov/pmc/articles/-PMC8706394/
3 – https://journals.sagepub.com/doi/pdf/10.1177/-039463201202500435
4 – https://www.mdpi.com/1422-0067/-19/1/70