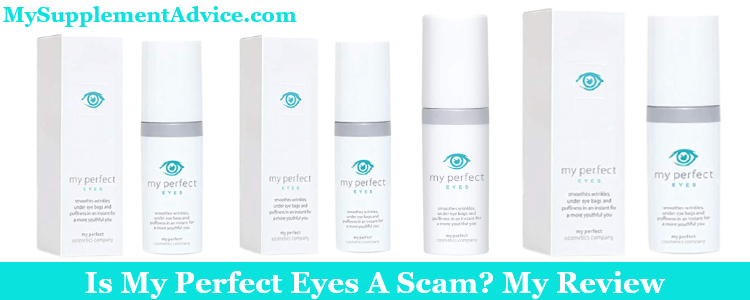 It's time for My Perfect Eyes review – an anti-aging product formulated for the under-eye area.
However, there are some signs that it's a terrible product:
incredibly weak formula

temporary effect (if any)

lots of bad reviews
So – is My Perfect Eyes a scam? Or does it do its job well enough?
I made a really detailed analysis of this serum to give you the real deal about it (+ video).
Note: This review is based on my opinion + research on Perfect Eyes.
Review Summary
---

Full Name: My Perfect Eyes by My Perfect Cosmetics Company
Product Type: Anti-Aging Serum
Best Actual Prize: Around $40 in the best case
Cheapest Place To Buy: Its official website
Designed For: Enhancing the under-eyes – it claims to:
diminish fine lines

give immediate result

refresh skin
My Rating: 2 out of 10
Recommended?: Definitely not – I don't think it's a good choice at all:
one of the weakest formulas from the market

lots of negative reviews and unsatisfied users

only provides a short-term effect

quite pricey
Instead, I suggest going for the best anti-aging cream I know, that is more worth it.
What I Liked About It
---
Its full ingredient list is disclosed

Enough authentic customer reviews

Quite easy to apply
What I Didn't Like About It
---
Formula itself is incredibly weak

No classic/potent anti-aging ingredient

Not suitable for all skin types, colors and ages

Significant negative reviews

Very expensive overall

Only has some short-term benefits

Can cause side effects quite often
---
My Perfect Eyes In A Nutshell
---
My Perfect Eyes is a type of product that provides a quick solution for the under-eye area.

It actually claims to act fast – with an effect that will stay for long hours.
Now – the product itself is available in 2 versions:
100 applications form

200 applications form
Still, both versions have some pretty high prices for their composition (which is more than basic).
So buying the larger supply won't bring you any significant savings.
And honestly – I don't consider products like this serum a real anti-aging treatment.
The short-term effects cannot treat the real skin problem from the inside out.
So if you ask me, this product is not really worth it – especially judging after the price.
That's why I can't recommend it overall.
If you ask me, there are far better products out there that will give your skin some long-term benefits.
---
#1 – Claims & Producer
---
Here are some general facts about this serum:
which skin problems it treats

who is the company behind

how it works
1. Claims
---
This product promises a lot of things on its Amazon listing as well as on its official website.
The first statement says it works "under 60 seconds and last for up to 8 hours!"
And it here's what exactly it means:
instantly remove wrinkles, fine lines and eye bags

delivers immediate results

goes on clear and dries clear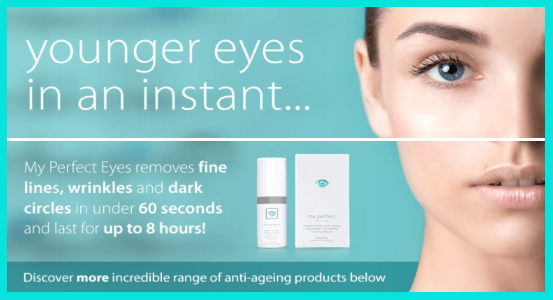 To be honest – I strongly doubt these promises.
That's because almost no product can work in less than an minute.
And if there are any that can, their effect goes away within minutes (so it doesn't last several hours).
That's why I can't really trust My Perfect Eyes here.
And considering its terrible formula, this really can't be true.
But there's more when it comes to its claims:
it's clinically proven to instantly erase all under-eye area problems

avoids invasive and expensive ways of removing aging signs
Again, I don't think there's a product that can be an alternative to surgical procedures.
If there was any – no one would do plastic surgeries anymore. Doesn't it make sense?
But My Perfect Eyes is only an aesthetic product – and not a very good one.
2. Company Behind
---
The creator behind this serum is called My Perfect Cosmetics Company.
To be honest – its name sound quite questionable.
But here's what I found out so far about it so far:
has its own official website

has several reviews on Trust Pilot

contact info includes email and contact number
When it comes to the products it offers – these include:
skin care for the under-eyes and the whole face

facial cleanser devices

most products are formulated as a serum, cream, mask, etc.
Now – the brand itself is legit and it doesn't have too many complaints about being a scam.
Just keep in mind that their products are far from the most professional ones.
---
#2 – Formula (1 out of 10)
---
My Perfect Eyes has one of the weakest formulas I have seen in a product of this type.
Fortunately – the full ingredient list is available on its website:

As you can't see, there is absolutely no:
And even though I looked into many similar products – this is by far the weakest composition I have seen.
So let's take a look at its few existing ingredients.
1. Silicates
---
This serum contains 2 kinds of silicates:
Sodium Silicate

Magnesium Aluminum Silicate
If you're curious, here's how these substances can help your skin:
But if you ask me, these ingredients are the ones responsible for the "pulled skin look."
In terms of reducing wrinkles, they have absolutely no real benefit.
So they are clearly just a 10 minutes solution.
2. Iron Oxide
---
Iron Oxide is quite common and present in almost any skin care product and makeup:
However – makeup and anti-aging products are totally different.
So this ingredient isn't very effective at reducing wrinkles (in terms of strength and intensity).
That's why I consider it pretty useless.
3. Parabens
---
Many people are allergic to parabens, so they try to avoid them.
Honestly – I'm not a big fan of products that contain parabens.
As far as I noticed – it's a pretty clear sign of a poor quality.
But on the bright side, here's what parabens can do:
Basically – there's no anti-aging benefit, not even a minor one.
That's why parabens are totally useless in this product – not to mention that they're actually quite harmful.
---
Conclusion
---
Overall – this composition looks terrible.
It's one of the weakest formulas I have seen in an anti-aging serum (if not the weakest).
So there's no way that this product can give you that 8 hours "pulled skin look".
It simply doesn't contain anything that indicated it could do this.
---
#3 – Consistency & Dosage (5 out of 10)
---
I will try to give you a quick idea on how this serum looks like.
1. The Consistency
---
There's only one photo showing what the actual product texture:
clear white color

thick consistency

strong chemical scent
Honestly – this product doesn't look like a serum at all.
Besides its uncommon consistency, the applicator is not very hygienic.
So it didn't leave me a very good first impression, to tell you the truth.
2. The Dosage
---
Here are the instruction on how to use this serum:
Clean the under-eye area and make sure there's no makeup residue.

Shake the bottle and use the wand applicator to get the product.

Apply the serum using your fingers (from the corner of your eyes outwards).

Do not move your face for 60 seconds or until the product is dry.

There's a note saying that you can speed up the drying process by fanning it.
Also – it's advised to use a little amount of product, in order to avoid build-up.
You can also use this product together with your favorite oil-free makeup.
So overall – it's quite easy to follow, but it might take time to fully understand the easiest way to apply it.
---
#4 – Results

(3 out of 10)
---
When I want to know how a product works, I always look at the customers' opinions.
I do this in order to give you a fair view on its overall performance.
With that, let's now take a look at the reviews of people who bought and tried this serum.
Note: I only analyzed authentic reviews, not promotional or fake ones.
1. Positive Opinions
---
Most of the time, I choose the reviews written on Amazon over the official website.
That's because I find the reviews from Amazon more authentic and brutally honest.
Here are the common things satisfied customers said about it:
A lot of people said that their eye bags disappeared.

Most people testified that it works and it's worth it.

Some experienced smoother under-eyes.

The rest talked about reduced puffiness after using this serum.

The overall rating (3.3/5 stars) of this product is fair – but not that impressive.
Honestly – almost all of the reviews sound very generic.
I know we're talking about Amazon and they're most likely real.
But there are very few unique details in them (as you can find in the reviews from most products).
2. Negative Opinions
---
It gets more exciting when you read the 1 star reviews of people who tried this serum:
Some people received an empty bottle.

A lot of people said that it leaves a flaky white residue under the eyes.

Others described it as chalky, sandy and drying.

Several customers experienced some nasty side effects.

So even if there's a high percentage of 5 star reviews, these negative comments are quite significant.
And in my view, they are more authentic and super honest.
But even so, My Perfect Eyes has enough complaints overall – so it's not too trustworthy, if you ask me.
---
Conclusion
---
There's no doubt about the legitimacy of the product because people actually received their order.
However – that's not a good enough reason to make me recommend it:
its positive reviews sound promotional

the negative comments look more authentic
In my opinion, there are way better alternatives out there that are more worth it.
---
#5 – Side Effects

(7 out of 10)
---

Another reason why I analyze customers' reviews is to see the product's side effects.
And when it comes to this serum – I saw enough complaints about experiencing adverse reactions
Here are the most common issues :
burnt skin/burning sensation

left red patches under the eyes

eye irritation
In general, side effects isolated in anti-aging products, but this serum has quite a lot.
And having multiple comments about side effects means they are rather common.
So I wouldn't really give this serum a try (from this point of view, at least).
It's simply not a safe product – and it's not just me saying this.
But anyway – always remember to read any product's list of ingredients first before making the actual purchase.
---
#6 – Price

(1 out of 10)
---
Honestly – My Perfect Eyes is very expensive for its value.
I considered the different aspects of it and it's not a good choice at all.
1. The Exact Price
---
You can purchase My Perfect Eyes from Amazon and its official website.
Upon comparing the prices, it's a little pricier on Amazon.
So let's focus on the deals offered by My Perfect Cosmetics Company's website:
Regular version (100 applications) costs $39.95

200 applications version costs $59.95

Offers a free delivery

Offers a 30-day money-back guarantee

As I said the difference between the two versions is the number of applications.
So for My Perfect Eyes 100, you will have 100 applications and 200 for the other one.
For me, it's quite deceiving given that the volume of the product is around 10 ml and 20 ml only.
I also want to remind you that it's only an aesthetic product and will last only for hours.
So the effect is not going to be a long-term one (as it happens in quality products).
Overall – it's really expensive and not worth it at all, if you ask me.
2. Competitors' Price
---
I only want to compare this cream with the #1 anti-aging product I know.
I am talking about Kollagen Intensiv by Skinception: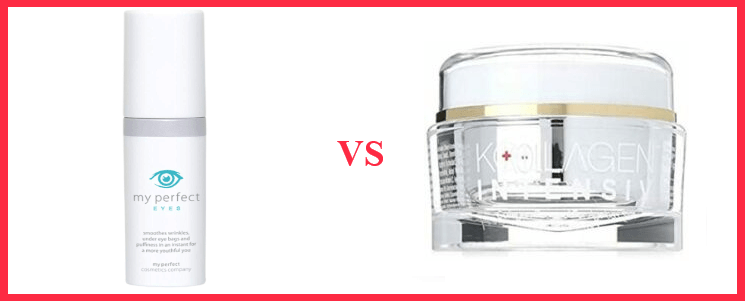 Kollagen Intensiv has the best formula from the market with evidence behind.

My Perfect Eyes has fewer components and an incredibly weak formula.

Kollagen Intensiv costs around $60, but you can get it for only $36.

A jar can last even 6 weeks (in my case), which is very long.

My Perfect Eyes costs $40 (cheapest) and it has a small volume.

It says to have 100 or 200 applications but I really doubt it.
By now, it's quite obvious that Kollagen Intensiv is more worth it.
It has strong anti-aging ingredients that can treat the real cause of visible signs of aging.
Also – its effect is a long-term one, that's why it remains my #1 recommendation.
---
Conclusion
---
If you ask me, I don't recommend My Perfect Eyes.
It's simply way too pricey for a product that has a terrible quality and composition.
So if you afford buying it, I suggest you to go for a better alternative.
I recommend one that can give you long-term benefits, not just for a few hours.
---
#7 – My Perfect Eyes In 3 Ideas
---
Here's how I would sum up my opinion on this serum.
1. Terrible Ingredients
---
As you can see from its formula, there's nothing much there.
If you ask me, this product lacks pretty much everything:
strong anti-aging ingredients

vitamins

plant extracts
In my view, a quality product should contain all that (and even more) to treat the visible signs of aging.
So don't expect too much from this serum.
2. Negative Comments
---
Complaints and negative reviews are quite normal for almost any product.
However – this serum garnered some serious comments that can't be sweep under the rug:
empty bottles

lots of side effects

received dried up product
In my view, these issues are some major red flags to not trust this product.
Again – negative reviews are common but consider the other aspects of a product too, before buying it.
3. Super Pricey
---
These are several reasons why this serum is really expensive:
a bottle of 100 applications contains 10 ml

200 applications version has 20 ml

the 2 versions cost $39.95 and $59.95

only provide a short-term effect
Aesthetic products are good for a quick cover-up.
But they should definitely not be this expensive (in my own opinion).
For the price you have to pay, My Perfect Eyes is really not worth it.
Just save your money and buy a better alternative, because there are a lot of wonderful products out there.
---
My Verdict – Worth It Or Not?
---

Short answer: Not really.
It's not something I would ever recommend (even if it has a few praises):
Only gives a short-term effect

Very pricey for its value

May have the weakest formula I ever came across

Causes lots of side effects

Has a lot of bad reviews (from a lot of people)
Now – I cannot consider My Perfect Eyes a scam.
To me – scams are typically products that are either not delivered or that help almost no user.
And in this case, people who ordered this serum got it and it did work for some.
But even so, My Perfect Eyes is far from something I would advise you to buy.
However – I have a better recommendation for you. A cream called Kollagen Intensiv:
Excellent formula with clinical evidence behind.

Gives a long-term effect and several anti-aging benefits.

Treats the problem from the inside.

A jar lasts longer (more than a month).

Works way better than My Perfect Eyes.
This is my #1 recommendation and the things I listed above are some of the good reasons why.
So if you really want to get your money's worth, just go for this alternative instead.
In my view, I consider this cream as the best choice overall.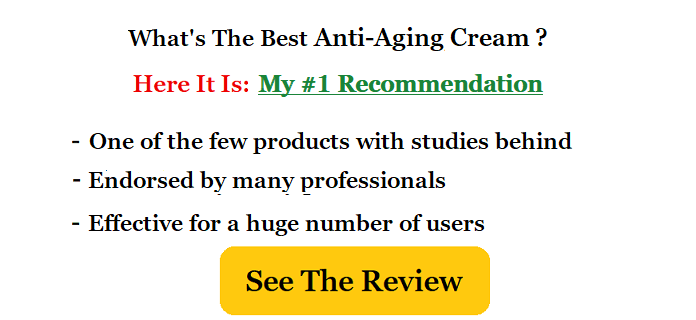 References:
1 – https://pubmed.ncbi.nlm.nih.gov/-27438201/
2 – https://www.ncbi.nlm.nih.gov/pmc/articles/-PMC5584668/