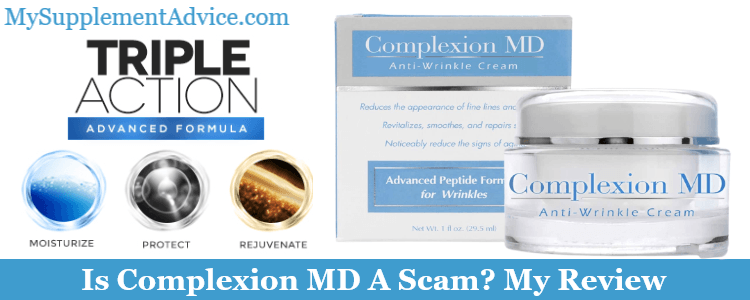 Is Complexion MD a scam?
At first sight – it seems like a quality product designed to fight the visible signs of aging.
But does it actually work? It doesn't look amazing from some points of view:
lacks essential info

quite pricey

no solid background
Well, I will give you the truth behind this product in my Complexion MD review.
Note: This review is based on my opinion + research on Complexion MD.
Review Summary
---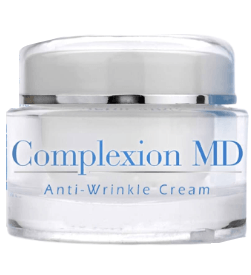 Full Name: Complexion MD Advanced Anti-Wrinkle Cream by Advanced Nutraceuticals, LLC

Product Type: Anti-Aging Cream
Best Actual Prize: Around $30
Cheapest Place To Buy: Amazon
Designed For: Removing wrinkles and other signs of aging – but also:
moisturizing and protecting the skin

deeply hydrating

rejuvenating
My Rating: 3 out of 10
Recommended?: Not really – these are several reasons why it's not amazing:
unclear background

full list of ingredients is not disclosed

hidden fees
If I were you, I would try the best anti-aging cream from the market, since it's a much wiser choice.
What I Liked About It
---
Contains some classic anti-aging compounds

Many customer reviews available

Affordable at first sight

Available in many countries
What I Didn't Like About It
---
Misleading info (company background)

No full list of ingredients

Has some biased 3rd party reviews

No available official website

Some major complaints

Causes side effects quite often

Not as cheap as it seems
---
Complexion MD In A Nutshell
---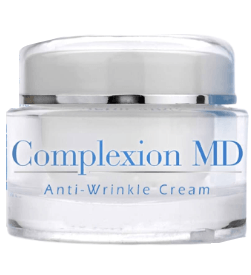 Complexion MD might look like a typical facial cream.
Yes, it is one – but it's not a product you can fully trust:
hidden ingredients

harsh formula

side effects
Other than its questionable formulation, its producer is sketchy as well.
The brand has official info behind – only complaints.
Not to mention its hidden fees and multiple card charges (due to auto-subscription).
The price is not very low either (29.5 ml for $29.95).
But a major issue are the complaints about side effects:
you can't tell what's inside this product

there are no clear usage instructions

you can't see whether it suits your skin type or not
Overall – this product has some doubtful patterns.
That's why it's not a cream I could recommend any soon.
I suggest you look for better alternatives out, because there are enough.
---
#1 – Claims & Producer
---
There's only limited info available about this product.
So far – here are some general facts I found out:
which skin issues it helps

how it works

who is the company behind it
1. Claims
---
This product claims to have a "triple action advance formula":
moisturizes

protects

rejuvenates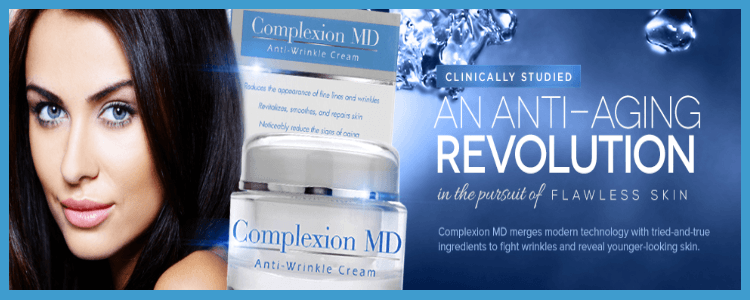 There's also a claim saying that it's a safe alternative for cosmetic procedures.
That's because of the different types of peptides that it contains.
Now – it's not a surgical alternative, in my view.
That's because no matter how good a product is, the results of a surgery are totally different.
Besides, Complexion MD is a product with many question signs and red flags.
So this claim makes it even more questionable, to be honest.
2. Company Behind
---
As for its producer, there are a lot more question signs.
There are very few info available on Advanced Nutraceutical, LLC (which is the actual producer):
most info is available on BBB

it's more of a complaint against the company's charging process

most of these reviews are written by previous customers
Now – if a brand has a detailed page on BBB, that's usually a bad sign.
That's because BBB is a professional website that mostly features (legit) complaints.
Since this brand has lots of opinions on BBB, it's clearly not a very trustworthy one.
That's why I wouldn't recommend its products.
---
#2 – Formula (3 out of 10)
---
There's no official list of ingredients for this cream.
I only saw the key ingredients on its Amazon listing and 3rd party websites:
does contain some classic anti-aging compounds

most ingredients are pretty common (and basic)

no info about its inactive ingredients

Honestly – I'm not a big fan of this formulation at all.
It's not the weakest one I have seen in an anti-aging cream, that's for sure.
But it's also far from a great one.
So let's check its main ingredients first of all.
1. Peptides
---
One of the claims of this cream is that it's made from different types of peptides.
So here are the exact forms of peptides it contains:
Palmitoyl Pentapeptide – triggers collagen production [1]

Palmitoyl Oligopeptide – improves skin elasticity

Acetyl Hexapeptide-3 – gives a Botox-like effect [2]
In short, peptides are great for keeping the skin bouncy and glowing.
And that's why a lot of anti-aging products contain this ingredient.
But they don't have an amazing anti-aging effect alone, keep that in mind.
2. Hyaluronic Acid
---
The other key ingredient from this cream is Hyaluronic Acid:
increases skin moisture [3]

reduces fine lines

firms skin
Now – you can find Hyaluronic Acid in most anti-aging products.
It's an essential compound for keeping the skin hydrated.

So it's probably the best ingredient inside this cream.
But since you can find it in most anti-aging products, it's not so unusual.
---
Conclusion
---
The ingredients inside Complexion MD are not bad – but:
only a few compounds are disclosed

they are pretty common in anti-aging creams

there's no unique ingredient
Not to mention that its inactive ingredients are hidden.
They are surely not relevant in terms of an anti-wrinkle effect.
But they are essential when it comes to product texture or skin response.
So even though Complexion MD's formulation is not terrible – it's not very good either.
---
#3 – Consistency & Dosage (5 out of 10)
---
Regarding its physical appearance, here's what you should know about this product:
beige to white color

slightly thick consistency

lightly perfume scent
I don't see anything special about it, since most facial creams look like this.
Now – there's no exact usage instruction given out, which is very uncommon (in the bad way).
There are only several tips:
use it twice daily (morning and night)

you only need to use a dab amount of product

massage the cream on your face

There's a statement saying that this product is highly concentrated.
In other words – you only need a little quantity.
As you know, in general, it's quite easy to apply a facial cream.
But if you ask me, Complexion MD should have some warnings/cautions (since it claims to be a strong product).
---
#4 – Results

(6 out of 10)
---
Fortunately, there are some customer reviews available for this product.
But let's take a closer look at them to see how this cream really works.
Note: I only analyzed authentic reviews, not promotional or fake ones.
1. Positive Opinions
---
The only place where I saw some opinions about this cream is on Amazon.
So I will focus on its reviews:
A lot of comments were about the product being effective.

Some users noticed their skin became more hydrated and smooth.

Others said that it's not greasy at all and it gets easily absorbed.

The overall rating of this product is 4/5 stars, which are surprisingly good.
But still – I'm not completely sure if these reviews are real or not.
Amazon reviews tend to be written by real users, but these ones are very similar.
Not to mention that most of the positive reviews are very short and basic.
That's why I can't give you a very clear verdict here.
2. Negative Opinions
---
In order to see the real picture of this product, let's take a look at its complaints as well:
A lot of customers said that it didn't work.

Some said that it smells bad.

Other mentioned that it left their face white and shiny.

There are few others who experienced adverse reactions.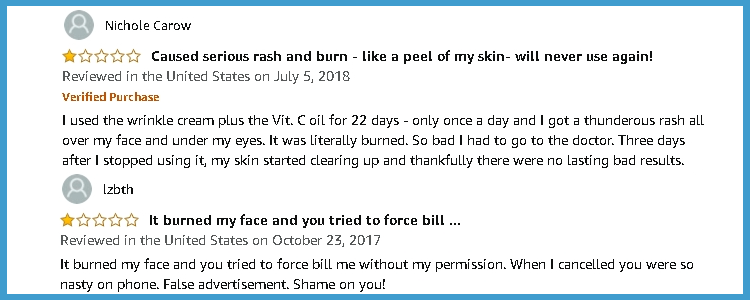 Additionally – I found some complaints on a 3rd party website.
Most of them were related to this product's weird (and very high) fees:
there's an auto-subscription for ever purchase

if you subscribe, you end up being charged lots of hidden fees

unsubscribing is very hard
In my view, that might be the reason why the brand's site is down.
There might have been lots of users complaining about their bad practices.
So either the owner shut it down – or the company was closed down by authorities.
---
Conclusion
---
Honestly, if you compare the positive and negative behind this cream, you will see the difference:
its 5 star reviews sound generic

its negative reviews are more detailed and well-explained
As I said – I'm not a big fan of this product in terms of composition.
But its reviews made me trust it even less than before.
So it's not a product I could recommend, under any circumstances.
---
#5 – Side Effects

(4 out of 10)
---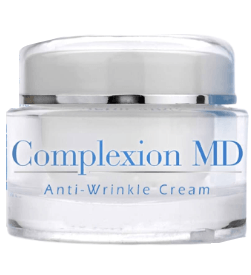 As I expected – a product like Complexion MD can cause some serious side effects.
That's because you can't tell what exactly is inside it.
But based on the reviews, here are some of the adverse reactions that tend to appear:
rashes/skin burns

dry and flaky skin

stinging sensation/irritations
Now, side effects are quite common in anti-aging creams.
But taking a look at the ingredients can really help with prevention.
That's because some people are allergic to certain ingredients (sometimes even inactive ones).
But Complexion MD has absolutely no info about its additives and inactive compounds.
That's why I can't really consider it a safe product.
---
#6 – Price

(6 out of 10)
---
Based on the points mentioned so far, Complexion MD is expensive.
So for now – it's not a good choice.
1. The Exact Price
---
I found this product available on other retailers – but let's focus on its Amazon pricing (as it's the lowest):
Standard Price is $29.95

Free shipping is available on selected dates

Item are returnable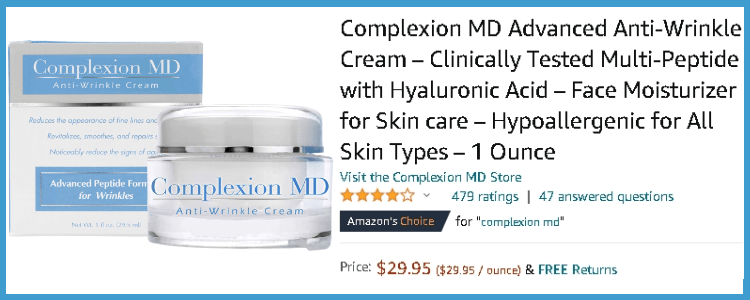 There's also a "Subscribe & Save" option but the price is the same, so I don't think it's relevant.
Now – the standard price is for a jar containing 29.5 ml(1 fl. oz.).
It's up to you to judge if the price is worth or not.
But if you ask me, it's not.
It's definitely not very pricey at first sight – but keep in mind this cream's features:
pretty basic formula (which isn't even fully disclosed)

higher risk of side effects

enough complaints
So even though it's not expensive, it's not even worth these money.
If you want my honest opinion, I don't recommend it.
2. Competitors' Price
---
If you're curious, I want to compare Complexion MD with my #1 recommended anti-aging product.
It's a cream called Kollagen Intensiv: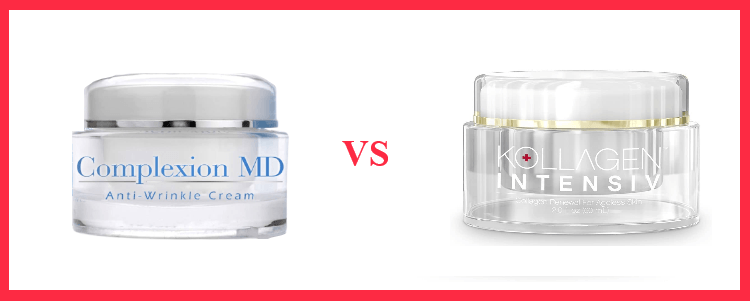 Kollagen Intensiv is made the best anti-aging ingredients.

Complexion MD only has a few ingredients mentioned (others are hidden).

Kollagen Intensiv comes with some important product info and clinical studies.

On the other hand, Complexion MD has no solid background.

Kollagen Intensiv costs about $60 normally but you can buy it for $36.

Complexion MD costs $30 with a possibility of an auto subscription program.
Also – Kollagen Intensiv might cause some side effects (as any anti-aging cream).
But its complaints are very rare at this chapter.
So even though it's pricier, it's a lot more worth it.
It's one of the few anti-aging creams I know with studies behind.
Since this is a very rare feature, it's obvious that only high-quality products have it.
So I would clearly suggest Kollagen Intensiv between these 2 products.
---
Conclusion
---
Complexion MD might look cheap at first sight.
But after a careful research, that's not really the case.
I would say that not even this price is worth it, given all of its problems.
You can give it a try if you want, since you're not wasting a lot of money.
But I prefer to pay a few extra dollars for the highest-quality cream I know.
---
#7 – Final

Conclusions
---
Here's how I would sum up my opinion on this product.
1. Missing Formula
---
Most of the legit anti-aging products I know disclose their full list of ingredients.
However – Complexion MD only mentions:
the key ingredients

that's it contains a high concentration
Now – every product claims to be strong and concentrated.
But if its formula is hidden, the users can't tell whether this is true or not.
That's why many weak products tend to hide their ingredient lists.
2. Suspicious Background
---
For a product to be fully trusted, it should at least come from a registered company.
And that's not really the case of Complexion MD:
producer has no offi

cial website

there's very little info about it

has lots of complaints on BBB
So honestly – these are the typical patterns of scam products/brands.
That's why I can't trust this company or its products.
3. Quite Pricey
---
Lastly – this product is expensive, considering the fact that it has some many red flags.
Not to mention that it has some hidden charges.
Plus – its auto-subscription is hard to cancel, according to a lot of customers.
If you look at the whole picture, the pattern is familiar for low-quality products.
So Complexion MD is definitely not worth its price (even though it's a pretty low one).
---
My Verdict – Worth It Or Not?
---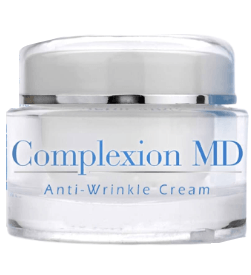 Short answer: Definitely not worth it.
If you ask me, there's a big chance that it's a scam:
No full disclosure of ingredients

Biased positive ratings and 3rd party websites

No solid background info

Has some major complaints (on hidden fees)

Pricey for its quality

Can cause side effects quite often
Now – receiving your order doesn't necessarily mean that the product is legit.
And that's available for getting a very low price as well.
That's I advise you to check for all aspects when purchasing a product.
If you ask me, what I recommend instead is a cream called Kollagen Intensiv:
formulated with the best anti-aging ingredients

backed with clinical studies

price is right for the quality

comes from a legit company
As of now – it's already obvious that Kollagen Intensiv is better than Complexion MD.
We are talking about your skin here – so look for a high-quality product only.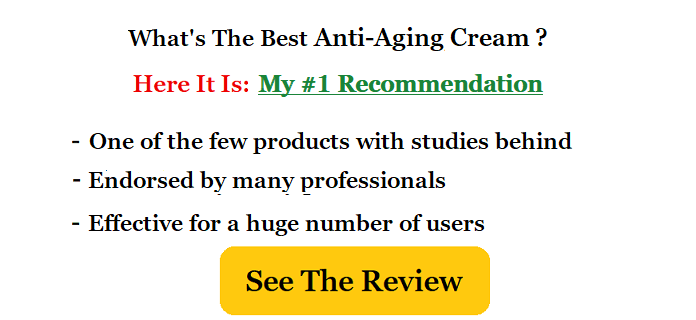 References:
1 – https://pubmed.ncbi.nlm.nih.gov/-28752204/
2 – https://www.ncbi.nlm.nih.gov/pmc/articles/-PMC5785486/