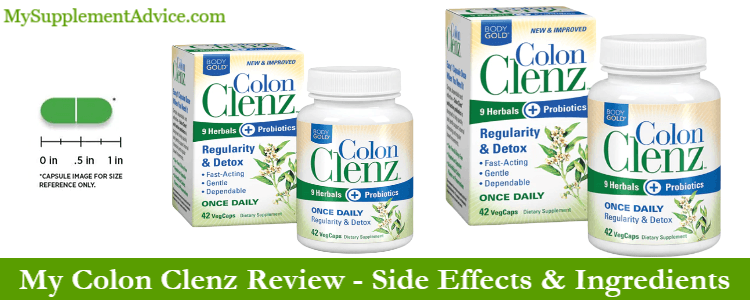 It's time for my Colon Clenz review – which is an interesting colon supplement.
But is it worth trying at all?:
works pretty slow

promising formula

quite affordable
Or could it actually leave you disappointed?
We will find out the real deal about this product, in this review.
Note: This review is based on my opinion + research on Colon Clenz.
Review Summary
---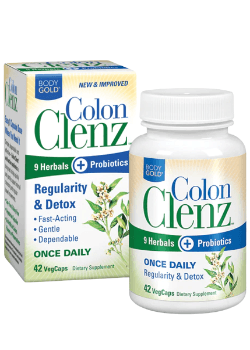 Full Name: Colon Clenz Regularity & Detox Formula by BodyGold

Product Type: Detox/Colon Cleanser Supplement
Best Actual Price: Around $9.29
Cheapest Place To Buy: Amazon
Designed For: Cleansing and detoxing, as well as these other benefits:
supports a healthy colon

relieves digestive problems

eliminates waste and impurities
My Rating: 7 out of 10
Recommended?: Not completely – things are surely not perfect about it:
works pretty slow

limited customer reviews and experiences

slightly lower doses (than its competitors)
Let me advise you to try a much better detox/colon cleanser.
Compared to Colon Clenz, it has some way better features overall.
What I Liked About It
---
Contains some good ingredients

Comes with a professional website

Quite affordable

Very easy to take (1 pill/day)
What I Didn't Like About It
---
Has slightly lower doses than it competitors

Very few customer opinions

Can work pretty slow

Received some shipping complaints
---
Colon Clenz In A Nutshell
---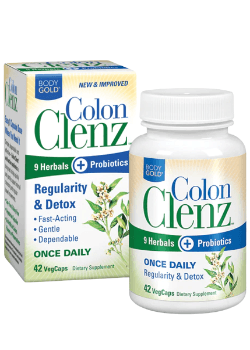 Colon Clenz has several good points, at first sight.
It contains some good ingredients and it's easy to take.
Not only that, but it also comes from a credible company.
However – some of its doses could be a bit higher.
For this reason, its effect isn't the strongest.
Now – there are some other things I didn't really like about it:
few opinions from previous users

not all its customers are satisfied

some shipping complaints
Also – I didn't find any feedback about its side effects.
This could be because its effect is rather gently, due to its lower doses.
Lastly – the price of the one bottle is $9, which is really low.
But if you ask me, I would say the price is right for what it offers.
However – I suggest you to go for some better options.
---
#1 – How It Works & Producer
---
Firstly – let's talk about the basics of Colon Clenz:
how it works internally

the health concerns it helps

who is the producer behind it
1. How It Works
---
I want to mention that Colon Clenz has a very short product description.
Based on its product label, it claims to be:
fast-acting

gentle

dependable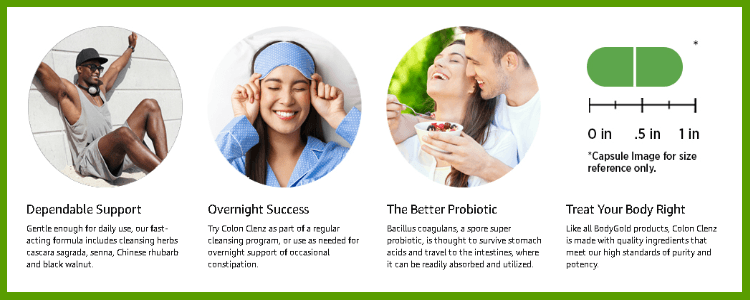 Now – it states that it's a supplement designed for "regularity & detox."
In order to do that, here's how it works:
eliminates impurities and toxins

relieves constipation and digestive problems

supports a healthy colon

promotes a healthy intestinal flora
If you ask me, these claims are pretty promising.
They are definitely not exaggerated or overhyped, so the product looks legitimate.
2. Company Behind
---
Now – Colon Clenz is made by a brand called BodyGold.
So far – here's the info I found in it:
offers products for different health issues

supplements are designed for brain, digestion, energy and mental health

contact info includes email address, phone number and contact page
If you ask me, it looks like a credible company.
So I would say it's safe to buy from them.

---
#2 – Ingredients

(7 out of 10)
---
In my view, Colon Clenz has a decent formula.
It contains the 3 main types of substances:
herbal compounds

probiotics

minerals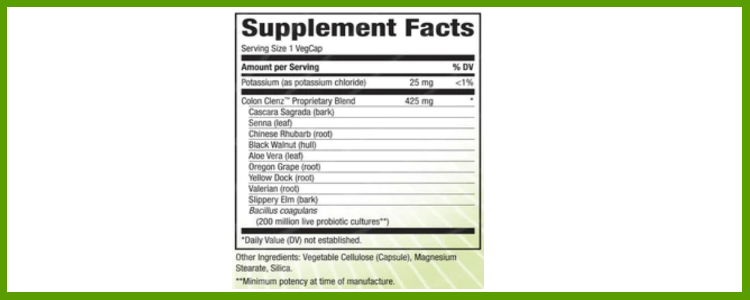 However – most of it ingredients are formulated in a blend.
That's not necessarily bad, because it's a problem you can find in many supplements.
But even so – I would have preferred to have the individual doses given out.
That's because the blend itself doesn't have a high dose either.
So don't expect too much (in terms of effect).
Even so – let's take a closer look at Colon Clenz's composition.
1. Potassium (25 mg)
---
The first main ingredient of Colon Clenz is potassium (as potassium chloride).
If you're curious, here are some of its benefits:
Now – this compound has a lot of general health benefits.
But it's not too helpful for detox and regularity.
So I see it as good addition for your overall health, but that's pretty much it.
2. Colon Clenz Proprietary Blend (425 mg)
---
Meanwhile – Colon Clenz also has a varied mix of ingredients.
Most of the components inside its blend are herbal extracts.
Cascara Sagrada Bark – helps move stool through the bowels [3]

Chinese Rhubarb – has anti-inflammatory properties

Senna Leaf – treats constipation and promotes weight loss [4]

Black Walnut – supports heart health and source of antioxidants

Aloe Vera – purges and flushes out impurities [5]

Oregon Grape – cleanses the bowels and helps with reflux

Yellow Dock – removes toxins in the body

Slippery Elm – relieves diarrhea and stomach problems [6]

Valerian Root – helps with a better sleep

Bacillus coagulans – regulates the metabolism of nutrients [7]
As you can see, there's an added probiotic inside this blend as well.
This bacteria strain is known to be helpful for a proper digestion.
But since all these ingredients come in a blend, don't expect some instant results from it.
Like I said, its overall dose isn't too impressive.
---
Conclusion
---
Overall – Colon Clenz has some promising ingredients.
However, some of the doses could be higher.
You can still see some results with it, but they won't be immediate.
---
#3 – Pills & Dosage (7 out of 10)
---
In this chapter, let's check out the features of Colon Clenz.
1. Pills
---
Firstly – here's how Colon Clenz looks physically:
normal-sized pills

light green/brown powder inside

faint herbal scent
There's very little info about how exactly the pills look like.
So these are mostly my wild guesses.
2. Dosage
---
What I like about Colon Clenz is that it's comfortable to take.
The serving size is only one capsule daily.
Honestly, that's extremely convenient for anyone – so it's not a product with lots of pills per day.
There's no info on when exactly you should take it (before/after the meal).
But from my experience, try taking it after eating and you should be fine.
So its small serving size is surely one of its advantages.
---
#4 – Results

(5.5 out of 10)
---
Unfortunately – Colon Clenz has some minimal reviews.
But at least they all come from people who actually tried it.
Note: I only analyzed authentic reviews, not promotional or fake ones.
1. What People Say
---
As usual, I will feature the reviews on Amazon.
Colon Clenz has a rating of 4.6 out of 5 stars.
So here are the things its customers commented on:
Most of the users experienced regular bowels.

Some said they didn't feel bloated or constipated anymore.

Others mentioned that it's easy on the stomach.

A lot of customers stated that it doesn't really work.

There were also complaints about receiving different versions of it.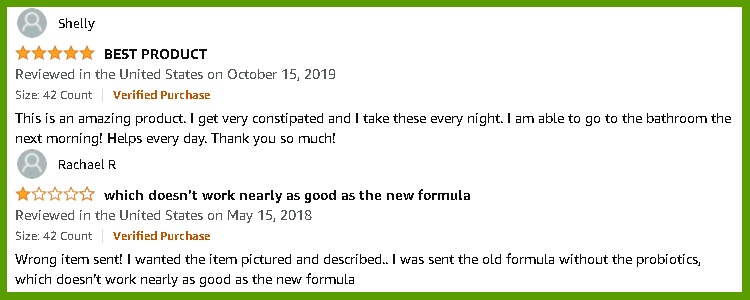 If you ask me, it looks like Colon Clenz works in a gentle way.
Many other products tend to work aggressively, so that's a big advantage for this supplement.
However – it looks like it takes longer before it starts working for real.
So it's helpful, but it doesn't work as fast as others.
Considering its blend's lower dosage, that's not surprising at all.
---
Conclusion
---
To summarize, Colon Clenz has enough reviews from previous buyers.
However – they are not a lot, so we can't see any variations.
It looks like it works in many cases (but not too fast).
Overall – I suggest you to look for other options that work faster.
---
#5 – Side Effects (8 out of 10)
---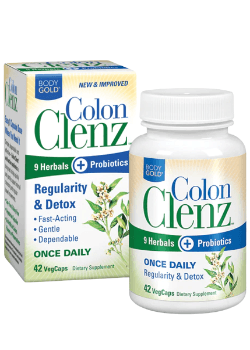 I didn't really expect Colon Clenz to receive a lot of complaints.
That especially in the department of adverse effects:
some ingredients have low doses

its current ingredients are quite well-tolerated

effect is pretty slow
And guess what? I was right.
Colon Clenz didn't cause side reactions in almost any of its previous users.
However – I'm not saying that it's totally safe.
You should still read the ingredients and take it carefully.
It's a detox supplement and detox products have a higher rate of side effects than others.
But overall – Colon Clenz itself has a low risk of secondary reactions at this point.
---
#6 – Price (7.5 out of 10)
---
In my view, Colon Clenz is pretty affordable.
So it's a good feature if you're on a budget.
1. The Exact Price
---
I found the lowest price for Colon Clenz on Amazon:
Single bottle costs $9.29

You can get a discount with the "Subscribe & Save" option

Free shipping on selected days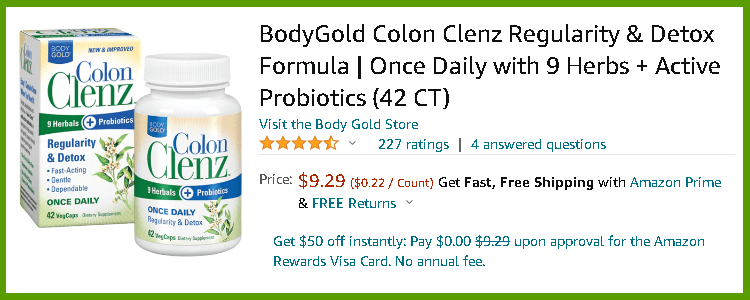 The supplement is also pretty affordable on its website.
So the difference is not very significant.
Honestly – Colon Clenz is a good choice for people on a budget, who don't need a very fast product..
The only downside is that you don't have to use it for a fixed period (as it's the case of other supplements).
So you's probably going to need using it for several months.
This could make it a bit pricier than initially, but it's still affordable.
2. Competitors' Price
---
I suggest you to try Colon Detox Plus, as an alternative to Colon Clenz.
It's the best colon cleansing supplement I know: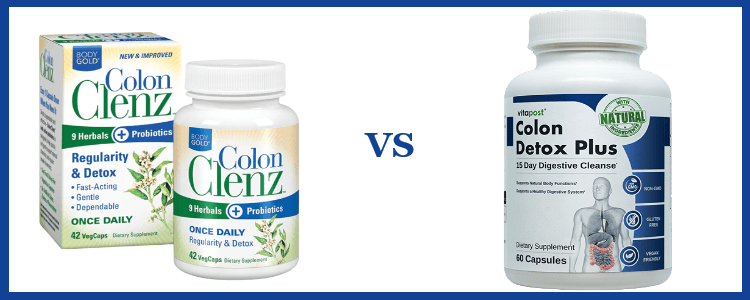 Colon Detox Plus focuses on detoxifying and cleansing the colon.

It contains some natural ingredients and herbal extracts.

Colon Clenz has one mineral and its own proprietary blend.

Some of the doses are pretty low, so it works more slowly.

Colon Detox Plus only requires 2 capsules per day.

On the other hand, Colon Clenz suggests only 1 pill/day.

Normally, Colon Detox Plus costs $24.80, but you can get it for $16.

Meanwhile, Colon Clenz costs only $9.29 for one bottle.
At first look, Colon Detox Plus looks more expensive.
But if you think again, it's actually the better investment.
It's potent and it works pretty fast (you only need to take it for 15 days).
So overall – it's a much better value for your money.
---
Conclusion
---
Overall – Colon Clenz is pretty affordable.
It's a good choice for people on a budget.
However – it works pretty slow, so you're going to need more than one bottle.
But if you don't mind waiting, then you can consider it.
---
#7 – Final

Conclusions
---
Here's a quick summary of my views on Colon Clenz.
1. Promising Ingredients
---
Colon Clenz contains some good ingredients:
probiotic and mineral (one of each)

herbal ingredients
However – it might work slowly, since some of its doses are on the lower side.
So don't expect miracles from it, even though it surely works.
2. Limited Reviews
---
If you ask me, Colon Clenz has very limited reviews.
The good thing about those reviews is that they come from people who tried the product.
But the bad thing is that they didn't offer too much info.
So it leaves a lot of unanswered questions.
3. Pretty Affordable
---
Now – Colon Clenz is quite affordable.
The price of one bottle is $9.29.
So it's not the most expensive colon cleanser out there.
But since it's not the most potent, you're going to have to take it for the long run.
Most detox supplements for in less than a month, so Colon Clenz doesn't look amazing here.
---
My Verdict – Worth It Or Not?
---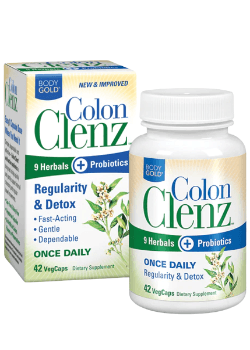 Short answer: Not quite – it has its own downsides:
Takes a longer time to work

You need to take it for a longer period (than other products)

Some ingredients could have higher doses

Received many complaints of packaging
If you ask me, it's a pretty decent supplement overall.
It has some good features and a really low price.
However – it tends to work slower than many of its competitors.
So it is effective, but it will take a longer time to start working.
But if you're looking for a more potent option, I have another suggestion.
I'm talking about ColonDetox Plus:
Works really well for detox (in 15 days)

Many people are satisfied with it

Low risk of side effects

Really affordable for the quality
If you ask me, Colon Detox Plus is still the best detox supplement for me.
It works really well and you only have to take it for 15 days, that's all.
That's why I think it's the best option for colon and detox.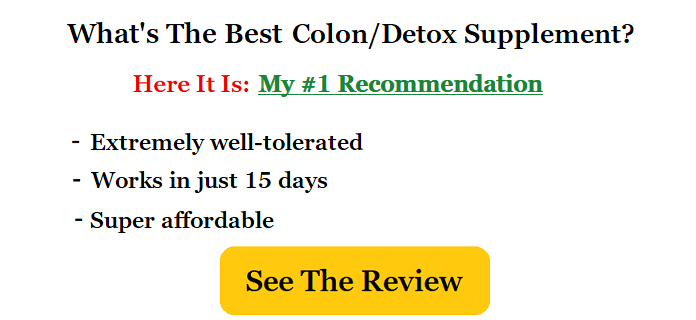 References:
1 – https://www.healthline.com/nutrition/-potassium
2 – https://www.ncbi.nlm.nih.gov/pmc/articles/-PMC4963920/
3 – https://www.healthline.com/health/-cascara-sagrada
4 – https://www.healthline.com/nutrition/-senna
5 – https://www.healthline.com/health/-aloe-vera
6 – https://www.mountsinai.org/health-library/herb/-slippery-elm
7 – https://www.ncbi.nlm.nih.gov/pmc/articles/-PMC6073773/