It's time to review Vision Rx20 – an eye supplement that is currently named Vision X20.
But while it had its old name – it used to be considered a scam:
very unprofessional website

no clear ingredients & doses

lots of complaints from previous buyers
So is the actual supplement any better?
Has it changed in any other way (besides in terms of name)?
I tried to dig really deep into it – so here's the truth behind it (+ video).
Note: This review is based on my opinion + research on Vision Rx20.
Review Summary
---
Full Name: Vision X20 by Life Sprout Bioceuticals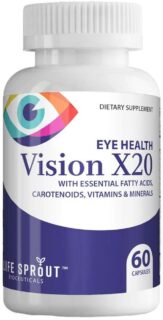 Product Type: Eye Supplement
Best Actual Price: About $40/bottle
Cheapest Place To Buy: The producer's website
Designed For: Vision health – it promises to:
support eye health and a better vision

help vision in lower light environments

prevent cataracts
My Rating: 6 out of 10
Recommended?: No – it's no longer a scam, but it's still not worth it:
not the best formula you can find

quite expensive for its value

does not work for many people
I personally recommend a cheaper alternative with much better ingredients instead.
What I Liked About It
---
Contains several classic ingredients

Many of its compounds have studies behind

Only requires 2 pills/day

Many authentic reviews available online

Should not cause any serious side effects normally
What I Didn't Like About It
---
Previous version was a scam

Many users claim it doesn't work too well

A bit expensive for its ingredients

Price only gets better for the 60-days supplies
---
Vision X20 – A Quick Overview
---
Shortly – this supplement is based on nutrients for vision health.
And at first sight, it doesn't look bad at all.
But if you look at its history – things get more serious:
The initial version of this product was called Vision Rx20.

It was widely considered as a scam by many people.

It also had lots of complaints from its previous customers.

However, the current version (Vision X20) seems much safer to buy.

It has a professional website and many satisfied users.

It's not the most potent and effective eye supplement out there.

But even so, it's clearly not a scam and it's safe to buy.

Now – many people are hesitant about a product with such a negative history.
But judging after its current features and feedback, Vision X20 seems quite fine.
That doesn't mean it's worth buying, though:
its ingredients are not the best possible

price is also a bit too high

not very effective for all users
So despite not being a scam at this point – it's not an eye supplement I would recommend either.
---
#1 – Claims & Producer
---
For the beginning – I will give you some general info on Vision X20:
what issues it works best for

how exactly it helps

who is the producer behind it
1. What It Claims
---
The official website doesn't come up with lots of promises on Vision X20: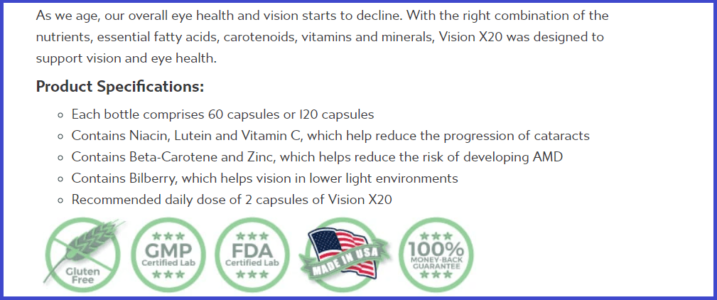 According to this product's description:
it contains the right combination for vision support

each class of ingredients has a special benefit

it has a money back guarantee
Also – it's worth mentioning that it's GMO-free.
So in terms of claims, it's not one of those supplements that claims to be the best from the market.
2. Company Behind
---
Vision X20 is made by a brand called Life Sprout Bioceuticals:
has a good reputation overall

it's been on the market for many years

offers over 20 different health supplements
Basically – it's not the kind of company that would scam you.
The previous version of Vision X20 did have a problem when it comes to scamming.
But the current one is owned by a reputable brand, so this should not be the case.
---
#2 – Formula

(8.50 out of 10)
---
Vision X20 doesn't have the best formula I could find in an eye supplement.
But it's not very far from the top:
The only minor complaint I have here is that some doses could be higher.
Other than that – I would divide its ingredients in 2 main groups:
Vitamins & Minerals

Vision Boosters
So let's take a closer look at each.
1. Vitamins & Minerals
---
This group covers mostly vitamins (as there are only 2 minerals – selenium and zinc).
In terms of eye benefits – they all have a clear effect:

Vitamin A – all versions promote a better sight and eye protection. [1]
Vitamin C – has some strong antioxidant benefits. [2]

Thiamin – can prevent degenerative eye disease (AMD).

Vitamin E – it's another potent antioxidant. [2]

Niacin – might reduce the progression of cataracts.

Zinc – also fights eye damage and aging.

Selenium – promotes an improved and clear vision.
It's true that some of these compounds don't promote a major change in terms of vision.
But a deficiency could be very harmful – so they do help in a major way.
2. Vision Boosters
---
These are actually the ingredients that make a difference in terms of sight.
The best thing about them is that they are not listed together (as a blend).

Instead – each comes with its clear dose and quantities:
Bilberry Fruit Extract – helps vision in lower light environments.

Fish Oil Complex – prevents against macular degeneration and dry eyes. [3]

Lutein – it's considered "the eye vitamin" because it protects the eyes.

Zeaxanthin – it's another antioxidant with a major role in eye health.

Astaxanthin – reduces eye strain and prevents against aging. [4]
Basically – all of these ingredients have some major eye benefits.
That's why they are the main responsible for Vision X20's effect.
---
Conclusion
---
These supplement's ingredients are very promising overall.
Vision X20 contains the essential eye substance – so it's above the average.
It's not the very best formula I came across, but it's surely better than many.
So this actual composition is far from a scam.
---
#3 – Pills & Dosage

(9 out of 10)
---
Here's what you should know about Vision X20 here.
1. The Pills
---
As many vision supplements – this product is formulated as capsules:
gelatin cover

average dimensions

easy to swallow
So when it comes to taking Vision X20 – it shouldn't be too hard.
Since it's designed as gelatin capsules – it doesn't have a sour or unpleasant taste.
2. The Dosage
---
According to its label – here's how you should take Vision X20:
Daily dosage is 2 pills/day.

There is no clear recommendation about when you should take them.

That's why I would say you can take the capsules however you want.

My advice is to take them after eating.
Now – 2 pills per day is not a huge serving size.
So it should not be too uncomfortable or hard to take.
---
#4 – Results

(6 out of 10)
---
The best way to see how a supplement works is by looking at its customer feedback.
And that's exactly what I did with Vision X20.
Note: I only analyzed authentic reviews, not promotional ones.
1. Positive Opinions
---
First of all – I will start with the reviews on the actual version of this product (X20 – not Rx20).
And luckily, this version has a couple of reviews on Amazon (which are known to be legit):
average rating is 4/5 stars

total number of reviews is around 45
Now – these numbers are not bad overall.
So here are what most satisfied users say about Vision X20:
Some claim they noticed an improvement in their vision.

Others say there were some changed after a few months.

A few others swear they would buy it again.

The problem with these reviews is that most 5 star opinions were extremely brief.
This is why I cannot guarantee they are 100% true.
They give out very few to no details about the product or about how it worked.
As for the previous version (Rx20) – I couldn't find too many praises:
it was only sold on the official website

no actual 3rd party reviews (except for those promotional ones)
2. Negative Opinions
---
Once again – I'm going to start with the current form (Vision X20).
And on its first Amazon page, most reviews are either complaining or criticizing it.
The most common issues are:
No effect even after several months.

Mostly helps eye strain (not sight).

Expensive for the value.

Increases blood sugar.

However – things get more serious when it comes to the previous version (Rx20).
It has no real reviews on Amazon or 3rd party websites.
Still – the product has a Facebook page with lots of serious complaints among its comments:
most of them are written in foreign languages (especially Portuguese)

those people claim they were scammed

they say their paid for the product but never got their order

others even claim they were charged a lot more afterwards
Basically – these complaints must be real.
But as far as I believe, they are no longer available because the product improved a lot in terms of trustworthiness.
So at this point – the actual version is not a scam.
In the worst case, it might not work – but it will not scam people in terms of money and shipping.
---
Conclusion
---
Vision X20 doesn't have a great reputation when it comes to customer feedback.
But that's mostly because of its previous version (that was indeed a scam).
However – the current product doesn't make the best choice ever, if you ask me.
So it's not an eye supplement I would recommend.
Especially when there are better alternatives out there, in my view.
---
#5 – Side Effects

(8 out of 10)
---
Surprisingly – Vision X20 has a few complaints about secondary reactions.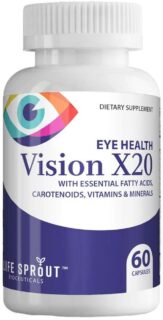 On the other hand, vision supplements are usually very safe.
Now – the most common complaints are related to issues like:
Worsened sight

Higher blood sugar

Headaches
However – these side effects should be pretty rare, normally.
That's because Vision X20's composition does not seem dangerous any single bit:
doses among the average limits

mostly classic ingredients
So in my view – these possible side effects should not be a reason to worry.
---
#6 – Price

(6 out of 10)
---
Price is surely not the best thing about Vision X20.
That's because it's rather on the expensive side – given its value.
1. The Exact Price
---
First of all – this supplement is currently available only on its official website.
It does have an Amazon page, but it's been unavailable for a long while there.
So the lowest price for it is on its official website:
A 30-days bottle costs $39.95 normally.

A 60-days supply costs $64.95 normally.

That's somewhere around $33/bottle.

Price gets better if you buy it in bulk.

However, there's a discount only for 60-days supply bottles.

The 30-days version doesn't come with a discount for larger quantities.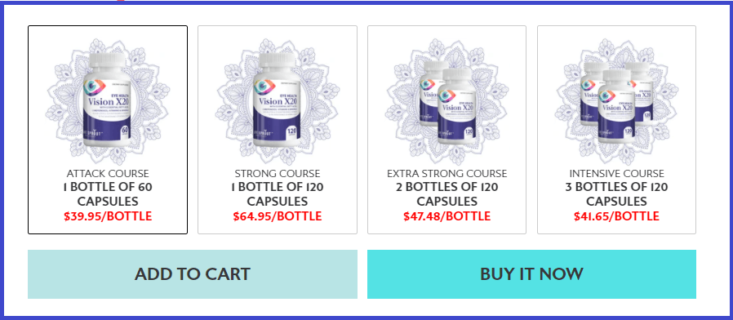 Now – even $33 is a lot for Vision X20, if you ask me.
But in order to get this price, you should go for the 60-days supply from the start.
If you order the 30-days one (as most people do), the price is even higher ($40).
So judging after its value, I don't really feel like it's worth it.
2. Competitors' Price
---
I will only compare Vision X20 with my #1 recommended eye supplement.
I'm talking about a product called Lutenol:

In terms of formula, it's much better than Vision X20.

But the actual different is related to their pricing.

Vision X20 costs $40 normally.

In the best case, it costs about $33/bottle.

Lutenol costs $28 normally.

Its lowest price is about $20/bottle.
Basically – Lutenol has better ingredients compared to Vision X20.
But surprisingly, its price is also much lower.
That's why it makes my top recommended vision supplement.
So this is why I don't recommend Vision X20 when there's an alternative like Lutenol for less money.
---
Conclusion
---
Vision X20 is not the priciest eye supplement from the market.
But it is a bit expensive, given its composition.
That's why I don't recommend it at this point (despite not being a bad product).
It's only that there is a better alternative that costs a lot less.
---
#7 – Final Conclusions
---
Here's how I would sum up my opinion on Vision X20 (in 3 ideas).
1. Scam History
---
This supplement has been on the market for a long while.
And its previous version (Vision Rx20) has a pretty negative reputation:
no authentic 3rd party reviews

many complaints on its Facebook page
So from this point of view – buying the old version was very risky.
2. Safe To Buy Right Now
---
The current version of this product (Vision X20) seems a lot more trustworthy:
also sold on Amazon

pretty good reviews overall

no complaints about being actually scammed
So the actual version might not be the most potent, that's for sure.
But at least you're not going to get scammed buying it.
So it's safe to try from this point of view.
3. A Bit Pricey
---
Vision X20 doesn't have the most potent ingredients from the market.
That's why its price seems a bit too high to me.
So I wouldn't recommend it at this chapter.
---
My Verdict – Worth Or Not?
---
Short answer: No, at least not at this point.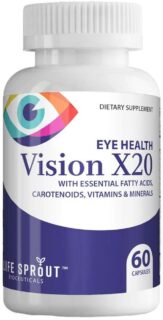 The current version of Vision X20 is different from the previous one (meaning that this one is safe to buy).
So it's not a scam – but it's not the best eye supplement out there either:
Formula could be better.

Some of its doses aren't very high.

Many unsatisfied users (especially in terms of effect).

Quite expensive for is real value.
Now – if you decide to buy Vision X20, you're not going to get scammed (as it might have been in the past).
So it's safe to buy from this point of view.
But in terms of quality/price – it's far from the best choice.
So what do I recommend instead? A supplement called Lutenol:
best eye & vision product I know

contains the best formula from the market

one of the lowest prices available
If you're looking for the best supplement for your eyes, that's the product I strongly recommend.
But whether you decide for it, for Vision X20 or for any other – it's totally up to you.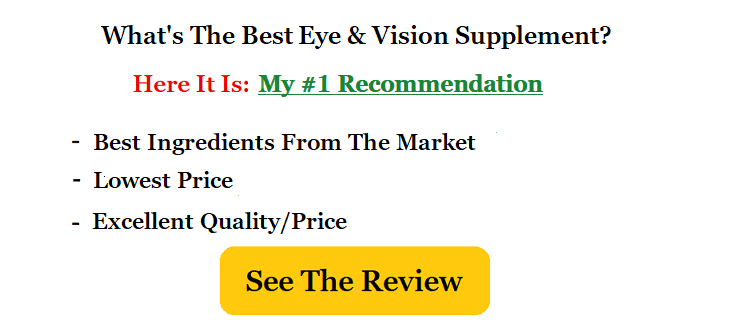 References:
1 – https://iovs.arvojournals.org/-article.aspx?articleid=2159159
2 – https://www.ncbi.nlm.nih.gov/-pmc/articles/PMC3693724/
3 – https://www.ophthalmologytimes.com/-view/omegas-dry-eye-disease-beyond-dream