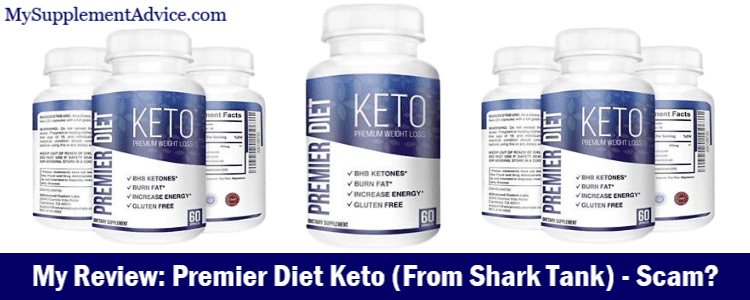 It's time to review Premier Diet Keto (from Shark Tank).
Honestly – it's a very sketchy product and you can probably tell that.
So the main question is – is it a scam? If not, is it worth it to try at all?:
really hard to find right now

extremely overpriced

very few reviews from actual people
In my view, there's a high chance that this product is only meant to rip you off, so let's talk more about it below.
Note: This review is based on my opinion + research on Premier Diet Keto.
Review Summary
---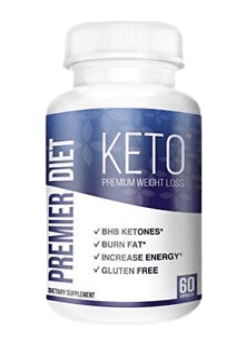 Full Name: Premier Diet KETO by Advanced Custom Labs

Product Type: Weight Loss Supplement
Best Actual Price: Around $25
Cheapest Place To Buy: eBay (though I cannot guarantee it's the original product)
It's not available anywhere else right now.
Designed For: Burning fat and increasing energy.
There isn't much info about it – so I can't really guess all of its goals.
My Rating: 2 out of 10
Recommended?: No – there's a really high chance that it's a scam:
no official website

super expensive

original product is pretty hard to spot

very few legitimate people who have actually tried it
Even from the first sight, it's pretty obvious that it's not trustworthy or safe to take.
So I recommend you the best weight loss supplement I personally know.
What I Liked About It
---
Pretty small serving size (2 pills/day)
What I Didn't Like About It
---
No available official website

Pretty pricey for its (known) features

Not affiliated with Shark Tank in reality

No reviews from authentic users

Has a high chance of being risky for your health

Overall formula is very weak for weight loss

Some of its essential details can't be found
---
Premier Diet Keto In A Nutshell
---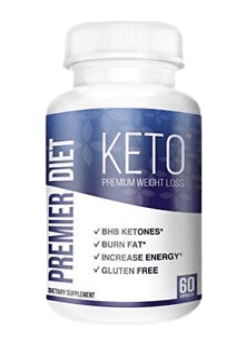 In my view, Premier Diet Keto looks very much like a scam.
There are a lot of question signs behind it.
I don't even know where to start from:
no official website

very hard to find anything real about it

only used Shark Tank for fame
What you need to know is that Premiet Diet Keto has never actually been on Shark Tank.
Even more – it hasn't received any kind of funding/investments, simply because the product is most likely a scam.
Its formula works by imitating the mechanism of a keto diet.
That's on paper – because in reality, I doubt it actually contains the ingredients listed on its label.
Since its brand lied about participating in Shark Tank just to get famous, I expect the worse from this product.
So it's clearly not helpful in most cases.
In terms of weight loss, it's not the best formula and you can easily find a much better one.
Also – since it doesn't have a solid background, it can be very risky.
As I said, I doubt its composition is the same as that listed on its formula.
So for the price of $25 for one bottle, it's not really worth it.
But even if it cost less than that, I would still not recommend it.
Overall – I seriously advise that you stay away from it.
---
#1 – How It Works & Producer
---
Honestly – Premier Diet Keto has very few details about it.
But let's still check out the following product info:
the manufacturer behind it

its mechanism of action

the types of weight issues it helps
1. How It Works
---
As early as now, I would like to say that Premier Diet Keto is far from amazing.
I only found some basic details about it on some 3rd party websites.
Now – it claims to help in several ways:
boosts energy

burns fat/weight
How exactly does it burn fat? You can't really tell.
From the name itself, I would say it works by raising the ketone levels in the blood.
This gives you more energy without following the actual keto diet.
Also – its most important ingredients (BHB salts) claim to help:
reduce cravings

manage appetite

induce fat burning

improve mood
But then again – those are just pure promises.
I don't really believe any of them, since everything about the product is sketchy.
Also – there are several articles that mentioned it's not affiliated with Shark Tank and that it has never been there.
So I'm really worried about the people it has scammed.
It only uses a credible affiliation just to be sold.
I would definitely trust a product like this one and I advise you to do the same.
2. Company Behind
---
Firstly, the manufacturer behind Premier Diet Keto is Advanced Custom Labs.
As usual – I looked for it online and here are my observations:
mentions that it's a manufacturer of nutraceuticals products

contact info includes phone number, address and email
Now – it doesn't really list down the products/supplements it sells.
So it's really just a manufacturing company.
In other words, it only offers its services if you want to produce your supplement.
This means it takes the producer's formula and simply manufactures it into a product.
It doesn't have the rights over the formulation and it's not responsible by it in any way.
That's why I don't think the company carries the brand.
But Premier Diet Keto's real producer remains secret, which speaks for itself,
---
#2 – Ingredients (2 out of 10)
---
The formula of Premier Diet Keto is not that impressive.
But let me share my thoughts about it first:
no clear photo/document for the label

the photos found online have very low resolution

there's not a lot of additional info about its formula

Based on what I saw, it only contains a blend with an 800 mg dose.
Most of the ingredients are BHB (β-hydroxybutyrate).
BHB is a ketone body that is a carrier of energy from the liver to tissues [1]
In terms of the supplement, it helps the body reach ketosis faster.
This will boost metabolism and reduce cravings.
With that, let's see the few compounds mentioned in the blend:
Calcium BHB – promotes fat and weight loss [2]

Sodium BHB – provides energy when there are not enough sugars in the body

Magnesium BHB – supports the body's metabolism [3]
On paper, the supplement will basically curb your appetite and promote weight loss.
But this is definitely not the best formula.
In fact – the keto diet or its mechanism of action is not suitable for all people.
There are only specific medical conditions that are allowed to follow this type of diet.
I'm talking about people who are clinically diagnosed with obesity, type 2 diabetes and epilepsy.
So for most people, it's not too healthy.
Since I'm not a fan of the diet itself – it's clear I wouldn't recommend a product that doesn't even respect the classic keto diet.
And honestly, I don't really trust its formula – that's the top point.
---
Conclusion
---
To summarize, Premier Diet Keto's formula imitates the keto diet.
First of all – the diet itself isn't a good fir for everyone.
But the formula itself looks very sketchy and hard to trust.
So there's no way I could recommend you such a questionable product.
---
#3 – Pills & Dosage (3 out of 10)
---
As I've mentioned, most essential info about Premier Diet Keto can't be found.
So I will try my best to supply you with the details you need here.
1. Pills
---
I'm guessing here's what Premier Diet Keto looks like:
formulated as a gelatin capsule

white/cream powder

normal pill size
But again – I have no means of confirming those details.
The gelatin cover can indeed be seen on its list of ingredients.
But other than that, the pills seem to be a major secret.
2. Dosage
---
I only found out Premier Diet Keto's serving size from its supplement facts.
Also – some 3rd party websites also mentioned the same dose, so it's probably the right one.
The recommendation is by taking 2 capsules a day.
Again – I saw a photo of its product label.
But the ones available right now have a very low resolution.
Other than that, it's pretty easy to take and swallow it.
---
#4 – Results

(2 out of 10)
---
First of all, don't expect to see a lot of reviews from previous buyers – there aren't too many.
So let's just list down the comments I found about Premier Diet Keto.
Note: I only analyzed authentic reviews, not promotional or fake ones.
1. What People Say
---
Now – I saw Premier Diet Keto being sold on eBay.
But I looked at its reviews and there's absolutely nothing.
Fortunately, I found a social media account connected to it.
Also – I gathered some comments from several 3rd party websites.
So let me list down what people say about it:
A lot of biased websites said that it works for weight loss.

Some 3rd party sites mentioned that it has no reliable information.

Other comments on social media stated that it doesn't work at all.

The rest experienced being scammed and not refunded.
If you ask me, I believe the people who mentioned that it's a scam.
I'm not biased, it just perfectly aligned with its sketchy features.
Its positive reviews are highly praising the product, without any evidence or proof that it worked for the users in real life.
On the other hand – the complaints come with a lot of details and they seem very authentic.
So I'm even more convinced this product was created to scam people.
On paper, I would say that it won't do much in reducing fats.
It can only help you control your cravings and heighten your energy.
But in reality, I would say it's even more dangerous and useless.
---
Conclusion
---
To be very honest, there are a lot of complaints about Premier Diet Keto.
All of them were about how those people got scammed.
So it's a big red flag for a weight loss supplement.
If I were you, I would not waste my time with it and go for a legit alternative instead.
---
#5 – Side Effects

(3 out of 10)
---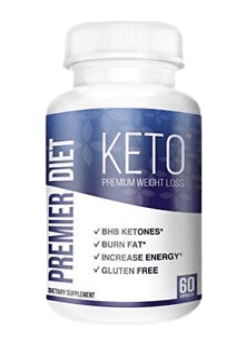 Now – I don't know if Premier Diet Keto caused side effects in anyone.
As I said, there are almost no real reviews you can count on.
But after knowing its question signs, I find it quite dangerous:
no real testimonies about its positive effect

some people didn't even get their orders

no solid official info about its source
Also – the type of mechanism that it promotes is not safe for a lot of people.
I'm talking about the keto diet (which is only applicable for selected medical conditions).
Honestly, I would never recommend a product whose real source is unknown.
There's a chance that its formula is not real.
It's pretty risky to try a supplement like this one.
So make sure to stay away from it and tell your friends and family the same.
---
#6 – Price

(2 out of 10)
---
Honestly, any price Premier Diet Keto had, it would still not be worth it.
Again – considering its questionable features, I wouldn't really recommend you to buy it.
1. The Exact Price
---
I searched for Premier Diet Keto online and it's currently being sold on eBay only.
Obviously – it's not available on its official website, simply because the website itself can't be found.
So let me tell you about its pricing:
Single bottle costs $24.99

Shipping fee depends on the seller

Returns are not accepted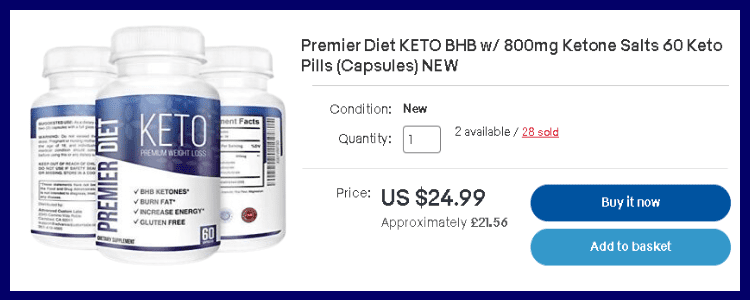 Honestly – I don't even know if it's the real version of the product, as I said.
But if there really was a legit version, we could have found it easily.
Also – considering all the red flags mentioned above, it has all chances to be a scam.
So any amount you would spend on it would be wasted.
It's really expensive for a sketchy product, so make sure to stay away from it.
2. Competitors' Price
---
My advice is to skip Premier Diet Keto and choose a legit weight loss supplement instead.
The product I want you to try is called PhenQ: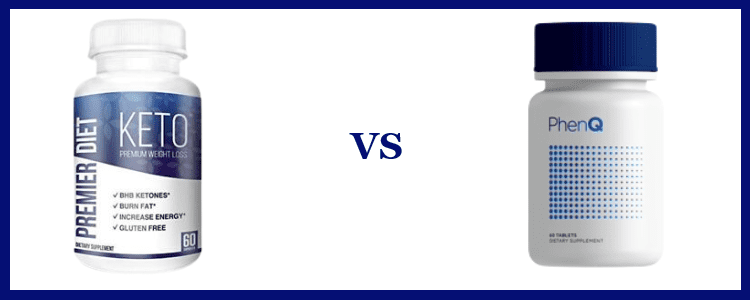 PhenQ is a legit supplement with many details about its features.

Its ingredients are proven to reduce fats and burn weight.

The product itself is safe for all categories of people.

Premier Diet Keto has a high chance of being a scam.

The formula resembles the keto diet and it's only made from a weak blend.

Both supplements require 2 capsules daily.

The lowest price of PhenQ for one bottle is $37 from its original price of $69.

Premier Diet Keto costs $25 for a month's supply.
Actually – you won't take a lot of time to choose between the 2 supplements.
PhenQ is the safer and it's clearly better from all points of view.
It's legitimate and there are no secrets about it.
Besides being effective in reducing excess weight, it also has so many satisfied users behind.
That's quite the opposite of what others experienced with Premier Diet Keto.
---
Conclusion
---
Honestly – I wouldn't consider buying Premier Diet Keto at all.
It has a lot of questionable patterns and it's not safe to use.
So it's not worth risking your money and health with a product like this.
---
#7 – Final

Conclusions
---
Let's list down the important details you need to know about Premier Diet Keto.
1. Weird Formula
---
As I've mentioned, Premier Diet Keto's formula is only a blend:
ingredients are all BHB

the formula promotes ketosis (same as the keto diet)

effect includes metabolism enhancement and cravings suppression
But I wouldn't count on any of its promises.
Even if it was a legitimate product, not all people could tolerate it.
That's because the keto diet itself is only suitable for people with specific health states.
So in terms of weight loss, it's a pretty terrible formula.
2. Questionable
---
If you ask me, Premier Diet Keto's has a lot of secrets:
official website can't be found

doesn't have any user reviews to prove its effect

almost impossible to find (the original version)
Also – I want to mention that it's not really affiliated with Shark Tank.
It only used the TV show's name to gain popularity, but the product was never mentioned at the show.
So it's even more clear that it's a super sketchy supplement.
3. Super

Overpriced
---
Considering all the red flags I mentioned, Premier Diet Keto is not worth it at all.
I saw on one online marketplace that one bottle costs $25.
But again, we don't know if it's the authentic version of the product.
Overall – regardless of its price tag, it's not a reasonable purchase.
---
My Verdict – Worth It Or Not?
---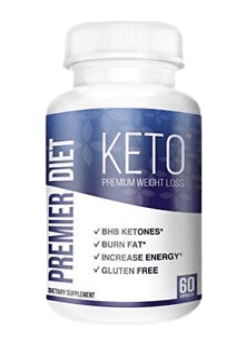 Short answer: No – it's clearly a scam that can't be trusted in a lot of aspects:
Its official website can't be found

Has never been in Shark Tank or any other show

Expensive for its real quality

Almost no reviews/comments from real users

Can be very dangerous to consume

No solid info about its producer

A lot of its vital info is missing
Honestly – Premier Diet Keto is a rip off.
The questionable features are there and they can't be denied.
A product like this one shouldn't even be considered an option at all.
It can be very dangerous to your health, so it's not worth the risk.
With that, what do I recommend instead?
I strongly suggest you to try the #1 product in this category – PhenQ:
Targets weight loss through 5 different wats

Comes with superior features at a reasonable pricing

Is very safe to use

Has one of the best formulations for weight loss

A lot of people tried it
Overall – PhenQ is a real supplement and it's definitely not a scam.
Besides its authenticity, the features are superior (compared to those of similar products).
So if you really want to burn those fats and remove that excess weight, go it instead.
It's the best investment you can make for your health.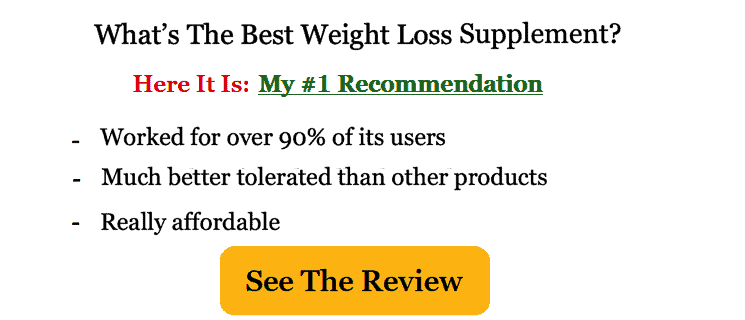 References:
1 – https://www.ncbi.nlm.nih.gov/pmc/articles/-PMC6640868/
2 – https://www.ncbi.nlm.nih.gov/pmc/articles/-PMC8044842/
3 – https://www.mdpi.com/-2072-6643/