It's time for my SeroVital review, which is one of the most popular anti-aging supplements.
But if you take a closer look – it might be a scam:
many complaints and unsatisfied users

lots of side effects behind

extremely expensive
So is this product potentially dangerous?
Well – I tried to dig really deep into it, so here's what I discovered (+ video).
Note: This review is based on my opinion + research on SeroVital.
Review Summary
---
Full Name: SeroVital by SeroVital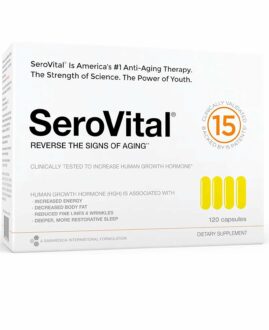 Product Type: Anti-Aging/HGH Boosting Supplement
Best Actual Price: Between $78-$107 (depending on the version)
Cheapest Place To Buy: Probably Amazon
Designed For: Anti-aging prevention and reduction – according to its claims:
rejuvenates skin

increases energy levels and promotes sleep

supports immunity
My Rating: 4 out of 10
Recommended?: No, for sure – it's far from a high-quality product:
based on pretty weak ingredients in low doses

requires too many pills per day

lots of complaints about its effect

very high price
Instead – I recommend a cheaper alternative with a much higher rate of satisfied users.
What I Liked About It
---
Made by a reputable company with a professional website
Available on 3rd party retailers as well
Many authentic opinions available about it
What I Didn't Like About It
---
Pretty weak ingredients (especially in the Original version)

Most compounds don't have any individual doses given out

Huge serving size (4/6 pills per day)

Many complaints about its poor effect

High risk of severe side effects

Very expensive for its real value

Prices are much higher on its official website than on retailers
---
SeroVital – A Quick Overview
---
Shortly – SeroVital is an anti-aging supplement that claims to have some unique benefits.
But judging after its customer feedback, that's not really the case (or at least not in the positive way).
Now – SeroVital comes in 3 main versions:
Original

Advanced

Powder

The first 2 are the most popular (since they are the supplements).
As for the powder version – it contains the same ingredients as the Original form, but in a soluble version.
Other than that, SeroVital sells some additional products (which are not very popular or amazing, though).
Now – it's true that this product looks awesome on paper.
But it's quite the opposite in reality.
And it's not me saying this:
it has lots of complaints in all chapters

most of its first pages reviews are very negative

many of its users say they regret buying it
So SeroVital might have been a good product in the past – but it's clearly not one anymore.
That's why, given all the problems it currently has, it's a supplement I would stay away from.
---
#1 – Claims & Producer
---
I will begin by giving you some general info on this supplement:
how exactly it works

what issues it addresses

who is the company behind it
1. Claims
---
This supplement claims to be "America's #1 anti-aging therapy".

And according to its website – its main goal is to reduce the signs of aging.
In terms of action mechanism – it's the typical HGH booster:
formula designed to increase HGH production

this has several health benefits

its anti-aging proprieties are the biggest one
Now, when it comes to its claims – I doubt SeroVital does what it promises.
If it really did, it would not have such an impressive number of complaints.
Plus – it's surely not America's top anti-aging product:
no study that proves this

not too many satisfied users

no awards that certify this
So when it comes to these claims, I personally don't trust SeroVital too much.
2. Company Behind
---
This product's name is actually its brand name.
Its producer is called SeroVital – or at least there's no other name given out:
have several products in their portofolio

the main ones are 3 anti-aging supplements (2 versions + powder)

there is also a hair supplement

additionally, they also sell topical skin products (mostly cleansers)

In terms of authenticity – SeroVital looks like a trustworthy brand.
So I'm pretty sure it's not a scam from this point of view.
Still, I personally don't consider its products are amazing (as they also cost quite a lot).
---
#2 – Formula

(6 out of 10)
---
SeroVital's composition could be much better overall.
However – it's worth noting that its 2 versions have some different formulas:
Original form only contains 6 active compounds

Advanced version contains Original + 7 extra compounds

Now – the Advanced version has a pretty good formula overall.
In terms of ratings, I would give it an 8/10.
But the Original form is much weaker (probably a 4/10).
So as an average – SeroVital's formula isn't worth more than 6/10.
Now, let's take each version by turn.
1. SeroVital Original
---
Basically, the original version contains one main ingredient (Renewal Complex – 2.9 g).
This complex is made from 6 active substances.
However – the individual dose of each isn't mentioned:
most likely the quantities are extremely low

the overall dose (2.9 g) is very low itself
So from this point of view – the formula looks very disappointing and weak.
Now, here are the 6 active compounds inside the Renewal Complex:
L-Lysine HCl – it's used together with arginine to increase its efficiency.

L-Arginine HCl – stimulates HGH production up to 3 times. [1]

Oxo-Proline – promotes cellular repair and health.

N-Acetyl L-Cysteine – it's an antioxidant that fights free radicals and improves sleep.

L-Glutamine – works best for muscle support and maintenance.
As you can see – SeroVital Original's formula isn't anything special.
It mostly contains some pretty common amino acids and no original/trademark compound.
2. SeroVital Advanced
---
Compared to the Original version, this one is clearly superior.
That's because it contains all the ingredients from the previous version – plus some additional ones:
Vitamin C (22 mg) – it's a very strong antioxidant with skin benefits.

Vitamin D (33 mcg) – boosts general health and energy.

Riboflavin (30 mg) – it's essential for a health skin and hair. [2]

Zinc (14 mg) – increases immunity and improves skin.

Selenium (60 mcg) – acts as a powerful antioxidant.

Copper (0.9 mg) – helps immunity and increases energy.

Proprietary Blend (1016 mg) – it's a mix of several herbal extracts.
Now – out of all these ingredients, it's mostly the Proprietary Blend that has an anti-aging role.
The others are mostly meant for energy and general health.
So let's see the substances inside this blend (again, there are no individual doses):
Chorella

Herbal Extracts: Lady's Mantle, Olive, Cumin, Coffee, Wild Bean

Smart Release Purified Japanese Glucomannan

Triticum Aestivum Extract
Peptides: Collagen, Keratin [3]

Hyaluronic Acid
Now – even this composition isn't amazing, compared to other supplement.
But it's definitely better than the Original version.
---
Conclusion
---
SeroVital's composition is pretty disappointing overall.
Especially if we're talking about the Original version.
The Advanced form is indeed better (mostly because of its Proprietary Blend).
But none of them is extremely valuable, if you ask me.
Considering that both of them cost a little fortune – I would surely not recommend any.
---
#3 – Pills & Dosage

(2 out of 10)
---
There are some really weird things about SeroVital here, if you ask me.
1. The Pills
---
Surprisingly or not – the 2 versions of this supplement have some totally different pills.
Let me explain – first of all, the Original form:
it's designed as capsules

they have a bright yellow cover

their dimensions are a bit larger (than most gelatin capsules)
Now – swallowing these pills should not be too hard.
They are indeed a bit bigger than most capsules – but you should be able to take them easily.
Secondly, things look quite different when it comes to the Advanced form.
That's because there are 3 types of pills:
yellow ones (exactly like those from the Original version)

red ones (tablets)

white ones (tablets again)

Basically – you have to take a certain amount of each type of pills (more in the lines below).
Surprisingly or not, the 2 tablets are actually smaller than the yellow capsules.
So swallowing them should be even easier actually.
2. The Dosage
---
Now – let's see how exactly you should take these pills (because the serving size is quite tricky).
First of all, the Original version:
serving size is 4 capsules per day

it's recommended to take them all together (in the morning/evening)
As for the Advanced form:
serving size is 6 pills per day (4 yellow capsules + 1 red tablet + 1 white tablet)

morning dose is the 2 tablets (red + white)

evening dose is the 4 yellow pills
Basically – the daily dosages of SeroVital are huge.
It's true that in terms of quality, you're not getting a lot of the active ingredients.
But in terms of quantity – 6 (or even 4) pills every day is very inconvenient.
And there's one more thing.
The label recommends not to eat/drink anything for 2 hours before and after taking the 4 yellow pills.

Honestly – this recommendation is extremely hard to follow.
That's why SeroVital's dosage is very uncomfortable and inconvenient.
In fact – it's probably the hardest-to-take supplement among anti-aging products.
---
#4 – Results

(5 out of 10)
---
In order to see how this supplement works – I decided to look at its customer feedback.
Since SeroVital is a very popular product, find some real opinions on it was quite easy.
Note: I only analyzed authentic reviews, not promotional ones.
1. Positive Opinions
---
This product is available both on Amazon and on its official website.
However – the reviews it has on both pages are quite different:
Amazon has lots of complaints (especially recent ones)

SeroVital's website has mostly positive reviews
As I always say – official websites tend to show only (or mostly) positive reviews.
That's why I consider those opinions false-positive.
For this reason, I will only include here the reviews SeroVital has on Amazon.
So here's what most satisfied users say about it:
Some people say they can really spot a difference in their skin.

Others claim they started looking younger after a few months.

Some praise its effect on their energy.

A few others say it's really good for general well-being.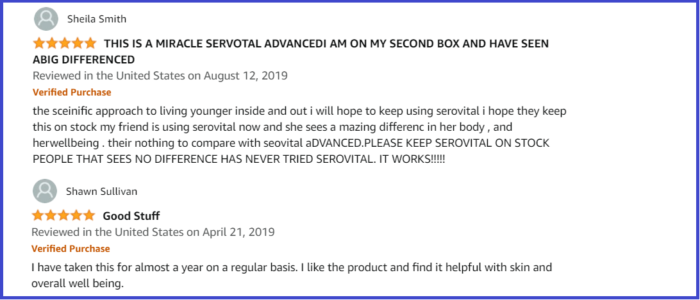 However, it's worth noting that many of these positive reviews are rather old (2017 or less).
There are some actual ones, as well.
But most of the recent opinions (and the more important ones) are rather negative.
2. Negative Opinions
---
For both versions – most reviews from Amazon's first page are extremely negative:
Many people complain about side effects.

Lots of users claim it's a scam that didn't help them at all.

Some others say it's too pricey for its value.

Many users claim it actually made them feel much worse than before.

In my opinion, all these similar complaints cannot be a coincidence.
Especially since they are all on top of SeroVital's reviews.
That's why I honestly doubt this product's effectiveness.
---
Conclusion
---
SeroVital has a huge number of authentic reviews.
But surprisingly or not – many of them are severely criticizing it.
So both versions of this supplement seem pretty dangerous overall.
That's why there's no way I could recommend SeroVital.
Especially when there's a much cheaper alternative with a way better effect.
---
#5 – Side Effects

(3 out of 10)
---
Unlike most anti-aging supplement, SeroVital has a huge per cent of negative reviews.
And a big part of these complaints are actually related to side effects:
Severe exhaustion and loss of energy

Headaches and vertigo

Edema, swelling and inflammation

Acne and breakouts

General weakness and pain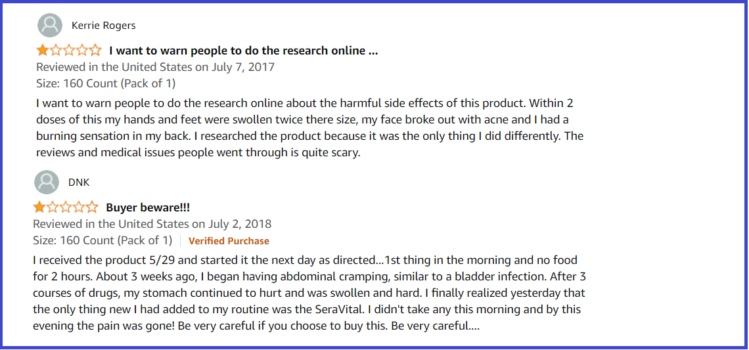 Now – most of these complaints are quite uncommon for HGH boosters.
They usually cause issues like stomach cramps, nausea, minor headaches.
And even so – those secondary reactions usually appear quite rarely.
On the other hand, they seem to be extremely common when it comes to SeroVital.
That's why I advise you to think twice before going for this supplement (in any version).
---
#6 – Price

(3 out of 10)
---
Another bad thing about SeroVital is that it's extremely expensive.
HGH boosters tend to be quite pricey in general – but SeroVital is way above the average.
1. The Exact Price
---
As I already told you – this product is mostly sold in 2 places:
Its official website (higher prices)

Amazon (much cheaper)
It's somehow an irony that its website offers much higher prices than Amazon (which is a retailer after all).
Official websites tend to have much better deals than 3rd party sellers.
But that's obviously not the case here.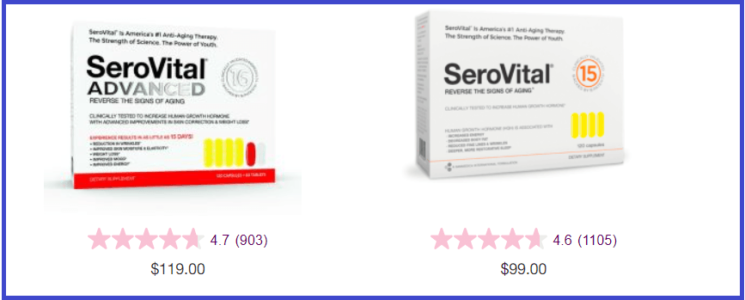 That's why I'm going to analyze Serovital's price on Amazon (and I recommend you to get it from there):
Original version costs $99 normally (around $78 at the moment due to discounts).

Advanced version costs $119 normally (and about $107 right now).

These are the prices for a monthly supply.

There's no discount if you buy several boxes at once.
Basically – this product is extremely expensive itself.
Not to mention that its formula is very disappointing and that it could be pretty dangerous (according to its reviews).
So I would clearly not recommend it in any form.
2. Competitors' Price
---
I only want to compare SeroVital with my #1 recommended anti-aging supplement.
It's a product called GenF20 Plus:

Compared to SeroVital, GenF20 Plus has a much better formula.

It also has a high number of satisfied users.

In terms of price, SeroVital costs between $99-$119.

Due to Amazon discounts, you can get it for $78-$107.

GenF20 Plus is much cheaper, in comparison.

Its regular price is about $70.

However, it offers a discount for larger quantities (around $58).
Compared to SeroVital – GenF20 Plus is a better choice from all points of view.
It's stronger, cheaper, highly praised and it has a much smaller serving size.
So it's a much better deal overall.
---
Conclusion
---
SeroVital is one of the priciest HGH-boosters from the market.
It's true that it's been very popular at one point.
But at the moment – it's clearly not a good option anymore.
So there's no way I could recommend a supplement of this kind.
---
#7 – Final Conclusions
---
Here's how I would sum up my opinion on SeroVital (in 3 ideas).
1. Disappointing Composition
---
Both versions of this supplement have some pretty basic formulas.
It's true that the Advanced form is superior (since it contains some extra stuff).
But compared to other HGH-boosters – they could be a lot better in terms of ingredients.
2. Huge Serving Size
---
This is a specific problem of this supplement:
Original version requires 4 capsules (taken at once)

Advanced form requires 6 pills (2 tablets in the morning and 4 capsules in the evening)
Moreover – it also recommends not eating/drinking 2 hours before and after taking the 4 capsules.
To be honest, this dosage is extremely difficult to follow.
3. Potentially Dangerous
---
Judging after the huge number of complaints it has, SeroVital is far from a safe product:
many negative reviews (especially recent ones)

lots of complaints on side effects

a lot of unsatisfied customers
Besides – the side effects reported by many users are not very common for HGH-boosters.
That's why you're taking a risk if you go for Serovital.
---
My Verdict – Worth It Or Not?
---
Short answer: Definitely not worth it.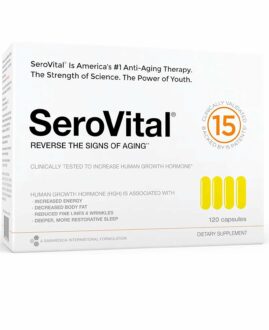 I cannot call it a scam – since I have no actual proof that it is one.
But it's far from a good supplement (from most points of view):
Pretty weak formula and ingredients.

Huge serving size (4-6 pills/day).

Many users that didn't notice any change.

Lots of complaints about side effects.

Very expensive for an anti-aging supplement.
So SeroVital scored pretty low in most chapters I analyzed – that's why there's no way I could recommend it.
But what should you go for instead?
My top pick is another HGH-booster called GenF20 Plus:
much better ingredients in higher doses

high rate of satisfied customers

considerably cheaper
Compared to SeroVital, GenF20 Plus is much better in every aspect.
So between these 2 – I would definitely go for it.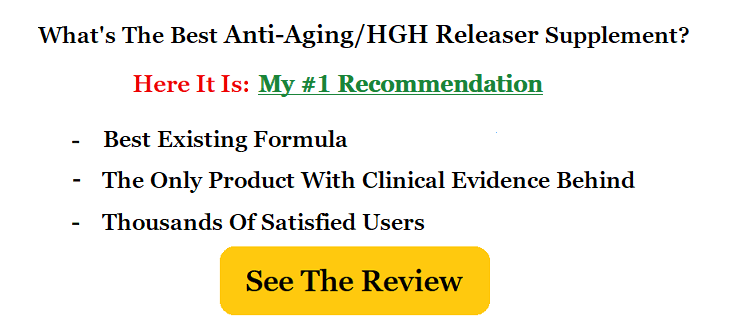 References:
1 – https://www.intechopen.com/books/-amino-acid-new-insights
2 – https://pubmed.ncbi.nlm.nih.gov/-27029320/