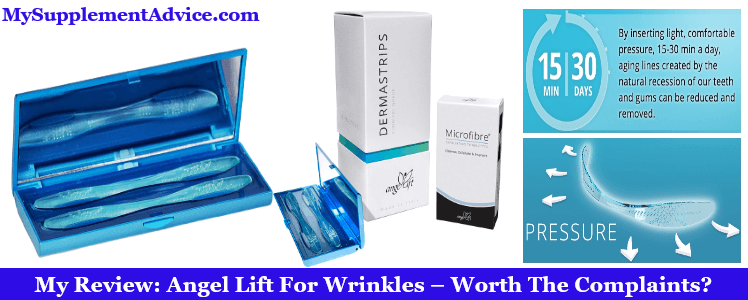 It's time for my Angel Lift For Wrinkles review – a product that claims to be a non-invasive way to lift the skin.
But is it really that good? Not quite:
for short term only

doesn't really treat the actual cause

too expensive for its value

biased reviews from 3rd party websites
So could it actually be another type of scam?
Let's take a look at the things I found out after analyzing this product.
Note: This review is based on my opinion + research on Angel Lift For Wrinkles.
Review Summary
---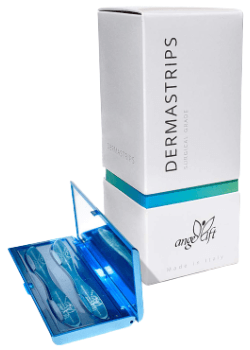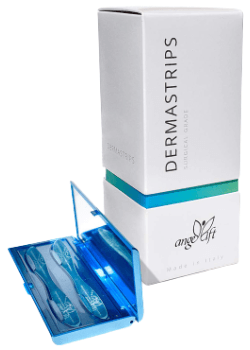 Full Name: DermaStrips Anti-Wrinkle Starter Kit by Angel Lift
Product Type: Anti-Aging Treatment
Best Actual Prize: Starting from $72
Cheapest Place To Buy: Official Website
Designed For: Reducing lower facial lines – it promises to:
lessen wrinkles

increase lips volume

restore facial contours
My Rating: 3 out of 10
Recommended?: Not really. It's not a bad choice – but it's definitely not the best one either:
its effect is only temporary (and pretty weak)

pretty hard to use

very expensive for its value
I personally recommend another anti-aging product with a much better formula instead.
What I Liked About It
---
Based on a new technology against wrinkles

There are 3 versions available

Pretty safe to use 

Low risk of side effects

Has some detailed contact info available
What I Didn't Like About It
---
Very pricey for its effect

No active ingredients (so it doesn't treat the actual cause)

Quite difficult to use for some people

Only a temporary solution

Lots of biased 3rd party websites

Bad customer service (according to many users)
---
Angel Lift For Wrinkles In A Nutshell
---
The best part about this product is that it seems to have a new approach to treating wrinkles.
Angel Lift is formulated as dermastrips that should be applied inside your mouth (above the teeth).
In this way, it claims to rejuvenate the skin from the lower part of your face, without any pain.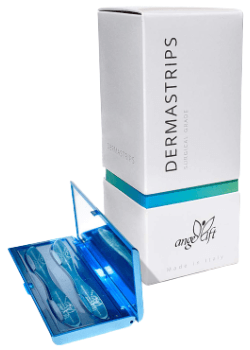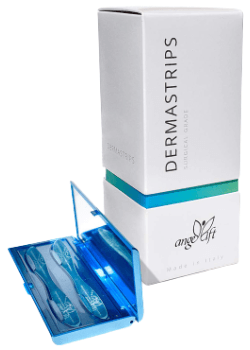 But this effect is actually more theoretical than practical.
And you will see why throughout this review.
Now – Angel Lift comes in 3 versions:
Personal – the version sold online

Professional –  offers some customization to fit your facial contours

Prescriptive – it's custom made oral implant only by Angel Lift dentists
Among these 3 versions, only the Angel Lift Personal is available online.
The rest can only be purchased after personal consultations (particularized for every user).
However, things aren't that positive Angel Lift in reality: 
effect doesn't last too long

only works for a small part of your face

many complaints behind
Again, if you ask me – these strips are not as good as topical products.
They only work by giving a little muscle stretch or form.
But that will definitely not last long (in terms of anti-wrinkle effect).
Given its super high price, I suggest you to go for a better product that costs less – but it also has a long-term effect.
Since there are so many quality alternatives out there, this is totally possible.
---
#1 – Claims & Producer
---
Since it's not the typical skin care product, here's what you should know about Angel Lift:
how it works

who is the company behind

which skin issues it targets
1. Claims
---
This product's claims are given out right away.
According to its website, it's a "non-invasive way to lift out lower facial lines and wrinkles – in the natural way."
And here's what it claims to do:
promotes collagen regeneration

lasts longer than injection and fillers

helps replace pressure list through aging

adds volume under the skin

improves cellular function

decreases aging lines

restores lip contours


Basically, this product works based on light subdermal pressure.
This pressure focuses under the lip – in order to stimulate the body's own regenerative response.
Now – stimulating facial muscles and skin once in a while is helpful.
However, I doubt it's very effective (especially in terms of full anti-aging benefits).
Lastly, the claim that it's better than injection and fillers is hard to believe, honestly.
As I always say, topical treatment is never the same as surgical treatment.
If it was – no one would use surgery, when they can get the same benefits much easier.
2. Company Behind
---
The company behind this product is called Angel Lift (like the strips' name):
offers only 3 products

has a lot of 3rd party website features

no contact info available

limited info on the official website
So if you want to contact the company, the only option so far is to leave your name, info and concerns.
And according to their claims, they will get back to you.
If you ask me, this is a red flag and far from a good idea.
That's because there's a chance that they might not get back to you.
A company that is willing to be reached out by its customers will give out its contact info.
For now – I suggest you to buy products only from trusted companies. 
Angel Lift isn't quite there yet, if you ask me.
---
#2 – Formula (3 out of 10)
---
Angel Lift isn't a cream or any topical product – so don't expect to find a lot of info here.
I looked into Angel Lift's website, in order to see what DermaStrips are made of.
And it seems like each patented strip is manufactured from a special surgical-grade hydrogel.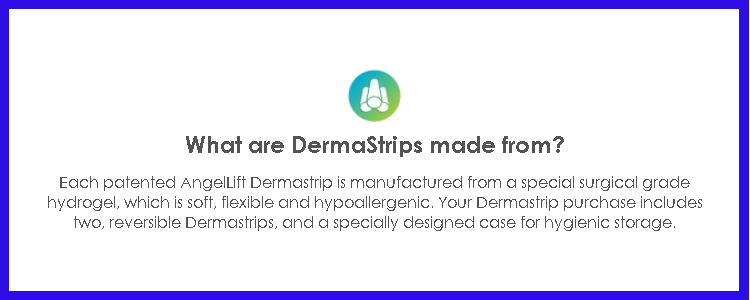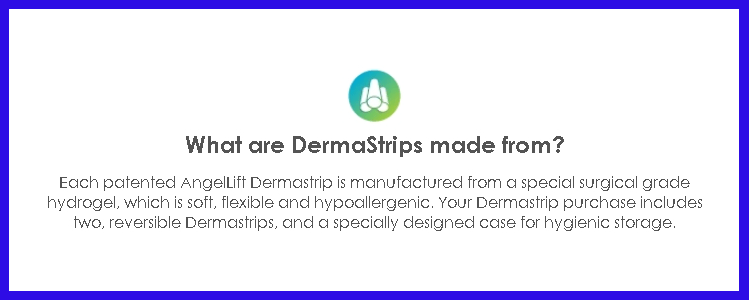 Now, I tried finding more about this hydrogel.
And apparently – its most common use is for wound dressing [1].
So based on this, it's surely safe to use for the human body.
In terms of mechanism of action – here's exactly how Dermastrips work:
First, they replace the pressure lost as gums naturally recede.

They then adds volume under the skin in a natural way.

The skin will react quickly to lifting beneath the surface.

The skin will end up getting smoother, younger and tighter.
Now – this mechanism of action is surely uncommon for an anti-aging product.
And even though it sounds impressive, it's not really so.
All it does is to put pressure on the facial muscles, that's it.
It surely reduces the fine lines for a couple of hours, but they come back in the same form afterwords.
So if you ask me, it has little to do with actually reducing wrinkles.
In terms of mechanism of action – it can mostly lead to a temporary effect (if any).
---
#3 – Consistency & Use (5 out of 10)
---
Let me give you an idea about how you should use these DermaStrips.
1. Consistency
---
As I said – these strips are mostly made of a special surgical-grade hydrogel.
Here's what you should know about the properties of this material:
soft

flexible

hypoallergenic
The hydrogel looks just like a clear film – but it's more flexible and soft.
2. Use
---
Based on Angel Lift's website, here's how you should apply this product:
Moisturize your face first.

Place a DermaStrip under either your upper or lower lip (as high as comfortable).

Once the strip is in place, close your mouth and relax your face.

Do not talk, eat, drink, or sleep while wearing it.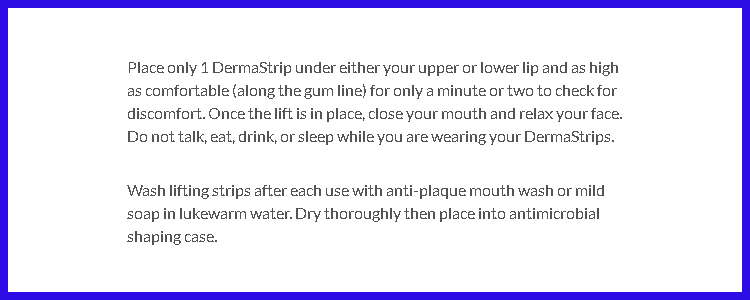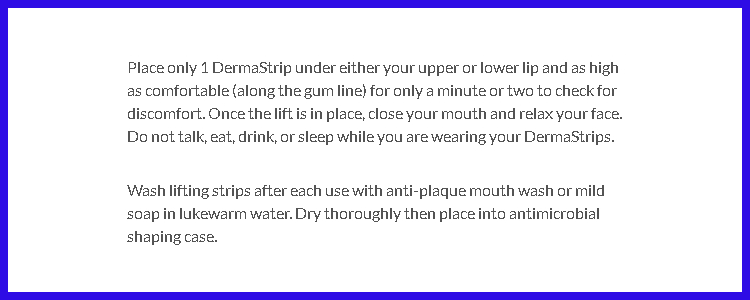 It's s also recommended to wash the lifting strips after each use (with anti-plaque mouth wash).
You can also use a mild soap in lukewarm water.
Afterwards, you can dry it carefully.
If you need to store the DermaStrips, there's an antimicrobial shaping case that comes with it.
However, there is no indication of how frequently you should use it. 
Also – you can't tell how long you should keep these strips inside your mouth.
These are both some major problem, if you ask me – since they are probably the most essential issues.
---
#4 – Results

(5 out of 10)
---
I'm quite curious about what people say on this product.
To see the truth, I analyzed the customer's opinions from different websites.
I avoided Angel Lift's site, as most opinions there are biased.
Plus – I also found lots of opinions on various websites, but they all seemed extremely biased.
This is why I paid close attention to the reviews I looked into.
Note: I only analyzed authentic reviews, not promotional or fake ones.
1. Positive Opinions
---
Finding some positive reviews on this product was quite easy.
I chose the opinion from Amazon, since they are usually legit.
And here's what most satisfied customers say:
Many customers say that it's a good alternative for fillers.

A lot of people notice that their fine lines reduced.

The rest promise that it's a good product and will repurchase it.


The DermaStrips got an overall rating of 4 stars out of 5.
It looks like a lot of people really liked it – however, only few of them left a written review.
Most of the ratings come with no comments.
Also, these reviews seem either exaggerated or very generic.
In other words – they are either highly praising the product or giving out very little info about it.
There are almost no opinions in between, with average details (as the highest part of reviews from other products).
2. Negative Opinions
---
I also looked for other opinions on this product in different websites.
On HighYa – the reviews from previous users are brutally honest.
So here's what unsatisfied customer tell about this product:
A lot of people swear that they have the worst customer service.

Some say that it's very hard for the product to stay in place.

Many claim that using it is very hard.

A number of people experienced no result at all.

The others say they receive incomplete products or that they didn't receive any at all.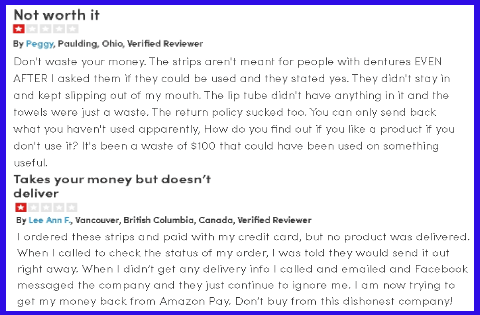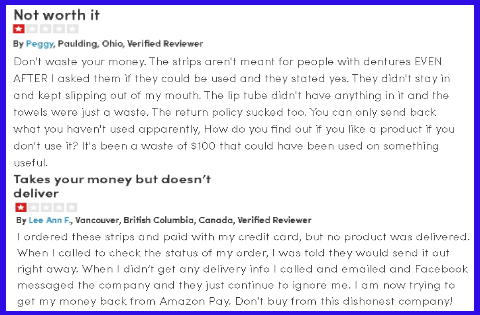 The most common denominator from people who rated DermaStrips is that they have high hopes.
That's because this product was featured in Shark Tank.
You probably heard about this reality show – it's an award-winning entrepreneurial-themed program.
But in the end, most users were very disappointed with the results.
---
Conclusion
---
There are a lot of people who tried this product and liked it.
But there are also some customers who were disappointed and even say that it's a rip-off.
What makes it more interesting (in a bad way) is the bad customer service.
Also – many users talked about difficulty of using these strips.
So once again, I'm pretty sure DermaStrips is far from a good product.
---
#5 – Side Effects

(9 out of 10)
---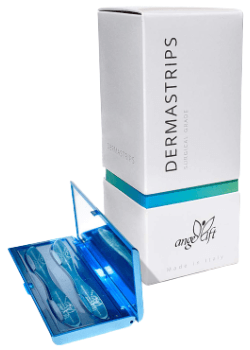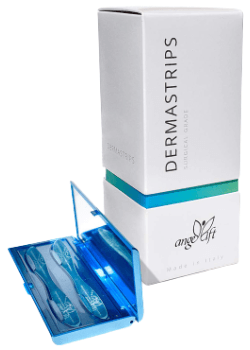 Since this product isn't made for topical use, it's not very dangerous.
There can be one most probable side effect you can experience with this DermaStrips.
This is the allergic reaction to the material used (surgical-grade hydrogel).
Now – the fabric is listed as "surgical-grade", which means it's quite safe.
There's still a possibility that it can cause some secondary reactions, though.
But if you ask me – it should happen very rarely.
So this chapter is one of its few advantages.
---
#6 – Price

(2 out of 10)
---
I consider Angel Lift DermaStrips very expensive (given that it's not a topical product).
So for now, it's far from a great option.
1. The Exact Price
---
This product can be bought from DermaStrips' Official Website and Amazon.
The price from Amazon is high, but there are a lot of perks there:
DermaStrips Starter Kit costs $76

Kit includes 4 items (2 Strips, 1 Aluminum Tube Case and 1 Free Gift)

Shipping is free in most cases


Although it costs $72 on its official website, there are no other perks offered there.
It's also said that the product can last for 4-6 months (depending on how you take care of it).
That's a pretty long time, to be honest.
But judging after its effect and benefits, it's not really worth it.
Even if it did help with wrinkles – it's only designed for the lower face area.
On the other hand, most products are meant not only for the entire face – but also for the neck area.
So you're paying a lot of money for a product that works on a small area (on paper, at least).
That's why I don't really recommend DermaStrips, it's not a good option at all.
2. Competitors' Price
---
I only want to compare these strips with the best anti-aging cream I know.
I am talking about Kollagen Intensiv: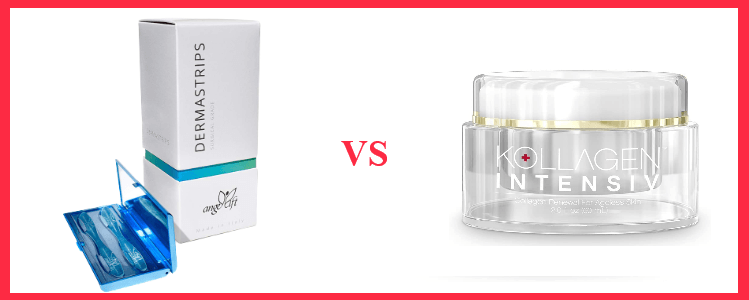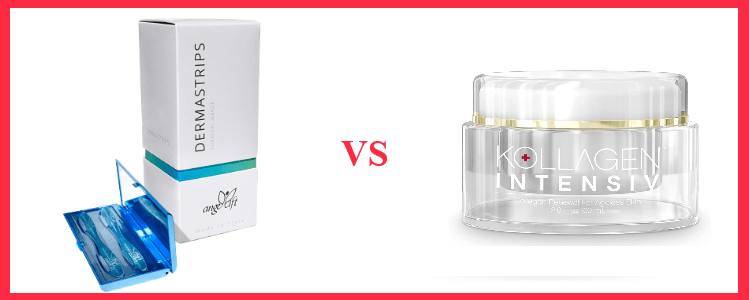 Kollagen Intensiv is a topical product with some really good ingredients.

It targets the cause of the problem deep inside the skiin.

Angel Lift DermaStrips is made of surgical-grade hydrogel.

It works by inserting light pressure into the facial muscles.

Kollagen Intensiv costs about $60 but can be bought for as low as $36.

It can last for 5-6 weeks for one jar.

On the other hand, DermaStrips costs $72 (at least).

It can be used for 4-6 months.
Between these 2, the product that can definitely supply you with long-term effects is the topical one.
That's why between these two, Kollagen Intensiv cream is the best choice. 
It penetrates the skin deeply and gives you the best results in the long run.
So it's not a short-term remedy whose effect only lasts for a couple of hours.
It's a real treatment that will help your skin for the long term.
---
Conclusion
---
Angel Lift DermaStrips can be used for 4-6 months.
At first sight, this seems like a really good deal.
But if you take a closer look, its mechanism of action is only a short-term effect.
And I have a strong feeling that once you stop using, the fine lines will come back pretty fast.
So for this value and effect, it's extremely expensive.
---
#7 – Angel Lift For Wrinkles In 3 Ideas
---
This is how I would summarize my opinion about this product. 
1. Short-Term Effect
---
Again – this product is not a cream or any form of topical anti-aging treatment.
It's a surgical-grade hydrogel that inserts light pressure to provide several benefits:
promotes collagen regeneration

lasts longer than injection and fillers.

decreases aging lines and wrinkles
But since it doesn't treat the problem deep inside, I don't think the its result can last long.
2. Expensive Price
---
The product comes in a box and costs at least $72.
The box is also called the Starter Kit and it includes the following:
2 Reversible, Reusable, Removable, DermaStrips

A Reshaping Aluminum Tube Case

A Free Gift (Microfibre pH Towelettes)
Now, the product is said to last for 4-6 months (with proper maintenance).
But given the temporary effect that you can get from it, I still don't think it's worth it.
3. Negative Reviews
---
Even though it's hard to find unbiased reviews about this product, I still managed to come across some.
However – there are lots of unsatisfied users.
They point out that the company's customer service is terrible and even unreachable.
Some also complain about wrong/incomplete orders.
And honestly – I don't think these are some good signs.
---
My Verdict – Worth It Or Not?
---
Short answer: Not really.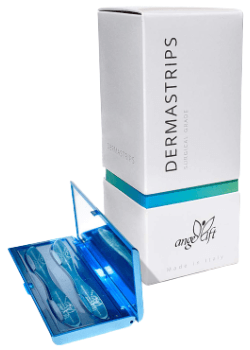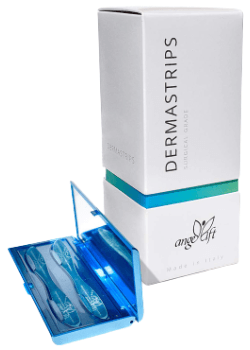 If you need long-term effect and a product that treats the root cause, DermaStrips is not for you.
As I said – it uses light pressure to hide the lower face wrinkles for a while.
But once again, its effect is only temporary.
If you stop using it for a short while, the aging signs return immediately.
So it's clearly only a "temporary hiding solution".
Given its super high price and poor success rate, I surely don't recommend it.
So, what would I go for instead? A product called Kollagen Intensiv:
Best anti-aging formula that penetrates the skin deep inside.

Potent composition to combat the visible signs of aging.

Long-term effect in the long run.

Recommended by specialists.
I still consider this cream as my #1 recommendation against aging.
That's because it treats the real cause and its benefits are not temporary.
So overall – it's clearly the best choice.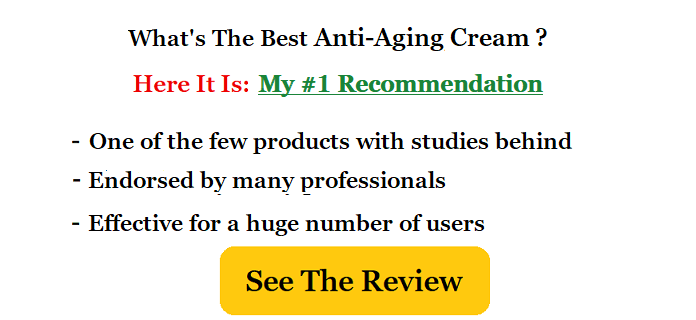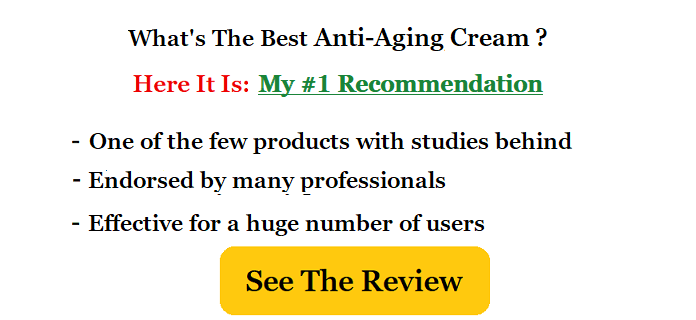 References: